Hopper Family Crest, Coat of Arms and Name History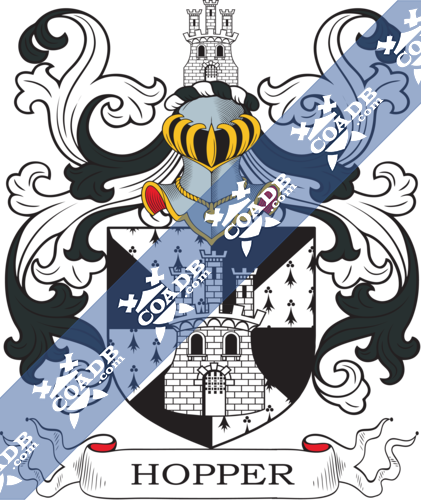 Hopper Coat of Arms Gallery
Don't know which Coat of Arms is yours?
We can do a genealogical research. Find out the exact history of your family!
Learn More
Hopper Origin:
England, Scotland
Origins of Name:
The Hopper surname was an occupational surname and used as a nickname. It was used for workers who were professional acrobats or tumblers. The surname Hopper was also used as a nickname for someone who had a lot of energy and was restless. The Old English word "hoppian" and later the Middle English word "hoppere" were origins for the surname Hopper. The German form of the surname derives from the Middle Low German, Middle High German word "hoppen" meaning to limp or stumble. The surname can be found again in Dutch and derives from the Middle Dutch word "hoppe", which was the occupational name for hop seller or grower.
Variations:
More common variations are: Hoopper, Hoepper, Hopperr, Hoppeer, Hoppery, Hoper, Hoppr, Hooper, Hepper, Hipper
History:
England:
The first known instance of the surname is in Durham. The family Hopper were lords of the manor in ancient England possibly a considerable time before the Norman Conquest.
The name would eventually spread to Northumberland and Yorkshire where the highest concentration of Hopper families can be found. Later it would move down south to Essex, Kent and finally London.
In the 13th century, the surname would also be recorded as Le Hoppere or Le Hopper in Cambridgeshire, Lincolnshire, Bedfordshire, and Suffolk.
The surname Hopper is the 6291st most common name in Great Britain. The highest concentrations are in Poole.
Ireland:
The Hopper surname in Ireland was frequently spelled Happer, and often times on deeds and wills it was spelled both ways.
The first known instance of the surname Hopper in Ireland was in the 17th century. At the turn of the 17th century, the King of England confiscated all the Hopper land in Ulster County and handed it out to Scottish and English Protestants. Soon after many were slaughtered by Oliver Cromwell, and the many of the remaining were sent off to Barbados as slaves.
Scotland:
The surname Hopper is well known in Midlothian, Lanarkshire, East Lothian, Dumfriesshire, Aberdeenshire, and Angus counties.
The first known recording of the name is Robert Hopper in 1275 in Coldingham. He received an acre of land, and later witnessed a charter of lands to Abbey of Coldstream in Raynigton.
David Hopper owned a multifamily dwelling in Edinburgh in 1486. Adam Hoppar in 1524 was a notary public in the diocese of St. Andrews.
In 1593, the Hopper family still resided in Coldingham, which could possibly be the origin of the Ulster Hopper family.
United States:
The Hopper families would first settle in states Pennsylvania, Maryland, Virginia, Tennessee, New Jersey, Ohio, Missouri, Indiana, and Illinois.
One of the first Hopper to come to America was Robert Hopper from North Ireland in the 18th century.
Here is the population distribution of the last name Hopper:
31,000 in the United States, 5,000 in England, 2,000 in Australia, 2,000 in Canada, 1,000 in Germany
Notable People:
DeWolf Hopper (1858 – 1935), American actor. He was most famous for performing the poem Casey at the Bat.
Edward Hopper (1882), American painter. He was a realist and printmaker. His oil paintings were famous, and equally famous were his watercolors and etchings.
Hedda Hopper (1885 – 1966), American actress. She was a famous gossip columnist, and was known for her column "Hedda Hopper's Hollywood" which was published in the Los Angeles Times.
Isaac Hopper (1771), American abolitionist. He was very active in the Philadelphia anti-slavery movement. He protected fugitive slaves and free blacks from slave kidnappers. He co-founded the Children's Village.
Dennis Hopper (1936 – 2010), American actor. Academy award nominee. Famous for many films such as "Rebel Without a Cause" and "Easy Rider".
Thomas Hopper (1776 – 1856), English architect. He was a favorite of King George IV. He worked on many country houses across southern England and occasionally into Wales and Northern Ireland.
Blazons & Genealogy Notes
1) (Hermitage, co. Durham). Motto—Subditus fidelis regis et salus regni. (Silksworth, co. Durham). Gyronny of eight sa. and erm. over all a tower triple-towered ar. masoned of the first. Crest—A tower, as in the arms.
2) (co. Devon). Gyronny of eight or and erm. over all a tower triple-towered ar.