Hutchens Family Crest, Coat of Arms and Name History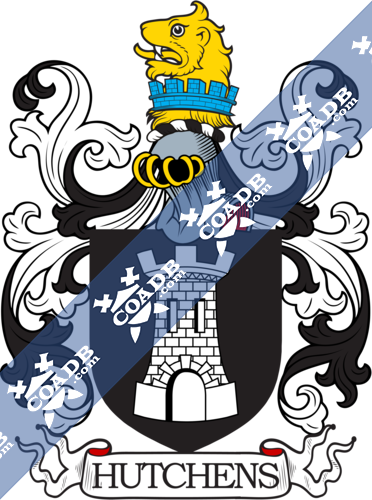 Hutchens Coat of Arms Gallery
Don't know which Coat of Arms is yours?
We can do a genealogical research. Find out the exact history of your family!
Learn More
Origins of Hutchens:
Listed as Hutchen, Hutchin, Huchin, Hutchence, Hutchens, Hutcheon, Hutcheons, Hutchins, Huchings and Hutchinges, this is an English surname although ultimately of Norman-French and even Germanic origins.  It acquires from the old given name "Huchin", a diminutive of the particular name "Hugh", introduced into Britain by the Normans after the Invasion of 1066.  It starts from the pre 5th century Germanic word "hug", meaning "heart, mind or, spirit". The suffix "s" where it exists shows "son of".  The surname dates back to the early 14th Century, and other early records include as Richard Huchins in the Premium Rolls of Worcestershire in 1327, Edith Huchenes in the Subsidy Rolls of Staffordshire for the same date and John Huchouns in the Court Rolls of the Borough of Colchester in 1357.  Records from the church records of Greater London contain like the christening of Elizabeth, daughter of Wylliam Hutchinges, in January 1585, at St. Giles' Cripplegate, and the christening of Alice Hutchens at the St Mary Whitechapel, Stepney, in August 1597.  A coat of arms related to the surname has the blazon of a gold tower embattled, on a red shield, the crest being a red lion's head, crowned gold.
Variations:
More common variations are: Hitchens, Hutchins, Hutchns, Hutchenes, Hutcheans, Hautchens, Hutchiens, Houtchens, Hutchense.
England:
The very first recorded spelling of the family was shown to be that of Gilbert Huchun, dated 1296, in the Subsidy Tax Rolls of Sussex. It was during the reign of King Edward 1st, who was known as "The Hammer of the Scots", dated 1272-1307.  Surname all over the country became a necessity with the introduction of personal taxation.  It came to be known as Poll Tax in England.  Surnames all over the country began to develop with unique and shocking spelling varieties of the original one.
United States of America:
Some of the people with the name Hutchens who arrived in the United States in the 17th century included Sarah Hutchens, who landed in New jersey in 1675 The following century saw more Hutchens surnames arrive.  Some of the people with the surname Hutchens who arrived in the United States in the 20th century included Emily Hutchens, aged 37, who emigrated to the United States, in 1904.  Harriet Hutchens, who landed in America, in 1904.  William Hutchens, aged 37, who settled in America from Liverpool, in 1904.  Mrs Frank T. Hutchens, aged 28, who landed in America, in 1905.  William H. Hutchens, aged 42, who emigrated to the United States from London, England, in 1913.
Blazons & Genealogy Notes
Sable a tower argent. Crest—A lion's head erased or, gorged with a mural coronet azure.