Isaac Family Crest, Coat of Arms and Name History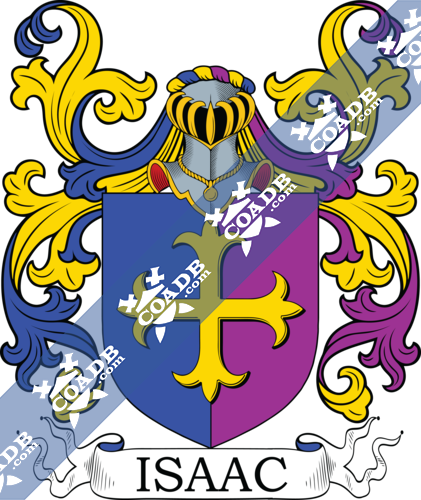 Isaac Coat of Arms Gallery
Don't know which Coat of Arms is yours?
We can do a genealogical research. Find out the exact history of your family!
Learn More
Surname Name Meaning, Origin, and Etymology
This is a patronymic or baptismal surname meaning "the son of Isaac", an ancient Hebrew personal (first name), also spelled Isaak, Yitzhak, or Yitzcock, born by one of the three patriarchs of the Bible, living in Canaan (ancient Near East or the Levant), son of Abraham, whose story is told in the book of Genesis, loosely translating to "laughing" or "laughter". The Greek translators of the Old Testament changed Yitschak to Isaak, it was later it was Romanized to Isaac. Tradition or legend states that when Abraham and his wife gave birth to Isaac at an old age, they laughed with joy, but another interpretation is that God laughed, meaning God smiled upon him. The name is frequent in Wales and is a popular Welsh surname because it was popular among nonconformists in the seventeenth through nineteenth centuries. The name became associated with Crusaders who invaded the Holy Land in the 1000s and 1100s AD. The name was introduced into Britain around the time of the Norman Conquest (1066 AD).
Spelling Variations
Common spelling variants or names with similar etymologies include Issaac, Isaack, Isaacs, Isacke, Isaacson, Eiskik, and Aicic. One author, Mark Anthony Lower, in his book Patronymica Brittanica, states the last names Hick, Hickes, Hickson, Hickey, and Hickie are also related to the Isaac surname.
Popularity & Geographic Distribution
The last name Isaac ranks 2,039th in popularity in terms in the United Status as of the 2000 Census. The name ranks particularly high in the following five states: New York, South Carolina, Kentucky, Maryland, and Louisiana.
The surname Isaac frequency/commonness ranks as follows in the British Isles: England (1,433rd), Scotland (2,391st), Wales (280th), Ireland (5,083rd) and Northern Ireland (3,642nd).  In England, it ranks highest in Devon In Scotland, the surname Isaac is rankest highest in county Aberdeenshire. In Wales, it ranks highest in Cardiganshire. In Ireland, it ranks highest in Kerry. In Northern Ireland, it ranks highest in Tyrone.
The name is also present throughout the remainder English speaking world:  Canada (1,462nd), New Zealand (1,654th), Australia (1,969th), and South Africa (1,315th).
The 1890 book Homes of Family Names by H.B. Guppy, states the following in regard to this surname: "Isaac is also an old Exeter name still represented in that city. Isacke or Isack was the name of the mayor of Exeter in 1665, and of two chamberlains of the city in 1653 and 1693. In the reign of Edward I. John Isaak lived in Wiltshire and Walter Isaac in Oxfordshire, and the name occurs in Domesday. Devonshire is now the great home of the name, Isaacs being a rare form found in this county, but the name is also represented in Gloucestershire".
Early Bearers of the Surname
The earliest known bearer of this surname was Conrad Ysak who was documented in charters of Koln, Germany in 1170 AD. Henry Isaac was documented in Worcester, England in 1275 AD. The Hundred Rolls of 1273 AD, a census of Wales and England, known in Latin as Rotuli Hundredorum lists three bearers of this surname: Robert filius (son of) Isaac (Lincolnshire), Johannes Isaak (Norfolk), and John Ysac (Oxfordshire). Walter Isak was recorded in Somerset in Kirby's Quest in 1327 AD. The Poll Tax of Yorkshire in 1379 AD lists one bearer of this last name: Johannes Isakson. The Close Rolls record one William Isaak during the reign of King Henry VI of England in the fifteenth century. Early marriages involving this surname include 1) John Isick to Ursual Lawes in London in 1618, 2) Richard Isaacs and Mary Peters at St. George's Hanover Square in 1790, and 3) Caroline Isaacson to John Foster in 1808. An early baptism involving this name was Thomas, son of Thomas and Barbara Isaac at St. James Clerkenwell in 1745 AD.
History, Genealogy, and Ancestry
George Fraser Black's 1946 book The Surnames of Scotland, states the following in regard to this last name:  "Isaac was prior of Scone from 1154 till 1162, and Magister Isaac was a cleric of St. Andrews, 1201. Ysaac of Brechin was a charter witness there c. 1178—98, and Ysaac de Banevin (Benvie) was one of a jury regarding the Kirketun of Aberbuthenoth, 1205. Isaac, son of Samuel, was one of the witnesses to the gift by Walter, son of Alan, to the monks of Scon, c. 1214 , and Isaac, burgess of Aberbrothoc, witnessed a charter by Matilda, countess of Anegus c. 1242—43. Isaac of Scone witnessed a quit-claim of the land of Drumkarauch in 1260, and Gillandes Macysac witnessed a charter in favor of the priory of Beauly in 1231. Sir Thomas Isaac was a witness in Edinburgh in 1358, Andrew Isak of Scotland had a safe conduct into England in 1405, John Ysaac had a safe conduct to pass to France in 1447, and Thomas Esok was canon of a church of Argyll in 1448. Thomas Esak was messenger-at-arms for Dunbartane in 1569, Jonet Isack was a witch in Kilwinning, 1662, and in 1671 a charge of usury was brought against Robert Isack in Kirkcaldy. A certain squire named Thomas Isaac married Matilda, daughter of King Robert Bruce. Concerning this singular mesalliance the late eminent genealogist, Mr. Alexander Sinclair, writes: 'The name was not so low as it seemed. It was disguised into Ysac, Ysaac, and de Ysaac to make it appear noble This individual not long after had his name borne by gentry bearing the same name with coat armour, in the south of England. In Devonshire there were Isaacs of Buriat, temp. Henry III, who bore Sable, a bend or, on a canton argent a leopard's face gules. In 1460 there was also John Isaac of Bekesbourne, sheriff of Kent, who had the same arms, but the leopard's face or. Probably Thomas, the lucky adventurer was connected with one of these old families. Isaac, clericus, was bailie and burgess of Aberdeen in 1332. Eizack 1694".
Isaac Family Tree
Sir Thomas de Isaac was born in Fifeshire, Scotland (in the 1200s or 1300s AD). He married Matilda Bruce and had two issue: Catherine Isaac and Joanna (Isaac) MacDougall.
John Isaac was born in Kent, England in 1450. He married Agnes Grubbe and had a son with her named John. His son John was born around 1380 and married a woman named Cecily. They had a son also named John. This John Isaac was born in Kent in 1422 and he married Joan Toke with whom he had three issue: Anne (Derell), John, and James. His son James was born in Partixbourne, Kent, England in 1461 and he married Bennet Guildford. He had two issue: William and Elizabeth (Grey). His son William was born in the same town in around 1483 and he married Margery Haute, with whom he had a son named Edward. Edward Isaac was born in Well Court, England in around 1510. He married Margery Whitehall and had two (or three?) children: Mary, Margaret, and John.
Richard Ysac was born in Foston, Lincoln in 1485. He married Agnes Tilney (or Bourchier) and had a son with her named William. This William Isaacke was born in the same town in 1511. He in turn had a son named Richard. Richard was born in 1543 and he married a woman named Alice. They had a son together named Edward. Edward Isaacke was born in Foston, Lincoln, England in 1585 and he married Jane Chayney, with whom he had a son named Richard. Richard was born in Fulbeck in 1606. He married Elizabeth Sharpe and had a son with her named Sutton. Sutton Isaac was born in Great Gonerby in 1638 and he married a woman named Elizabeth, with whom he had a son, also named Sutton. His son Suton Isacke or Isaac was born in 1686. He married Penelope Millar and had a daughter with her named Penelope who was born in 1729 and married Stephen Young.
Early American and New World Settlers
Rebecca Isaacke, age 46, came to New England aboard the Elizabeth of Ipswich in 1634.
Herrick Isaac came aboard the William & Susan to New England in March 1678.
Morris Isaac came aboard the Beginning to New York in March 1678.
The book Genealogical Guide to the Early Settlers, mentions two bearers of this last name:
1) Joseph Isaac of Cambridge, 1636, a freeman the next year, who represented in 1638 and died in 1642. He likely married a woman named Elizabeth (who later married Nicholas Davis). He may have had a sister named Rebecca.
2) Thomas Isaac, a merchant of Boston, but perhaps was transient, recorded in 1662
Early settlers in colonial America bearing this surname include Rebecca Isaac (New England 1634), Christian Isaac (Virginia 1643), Stephen Isaac (Maryland 1676), William Isaac (Pennsylvania 1681), Mary Isaac (Virginia 1714), Elizabeth Isaac (Virginia 1714), and Joseph Isaac (Virginia 1773). In Canada, one of the earliest settlers was John Isaac who arrived in the city of Adelaide in 1839 aboard the Katherine Stewart Forbes.
Early Americans Bearing the Isaac Family Crest
I researched the following three resources and did not find any coats of arms for Isaac: Bolton's American Armory, Matthew's American Armoury and Bluebook, and Crozier's General Armory. In New Zealand, Francis and Mary Isaac, ages 27 and 29, respectively, came in 1840 aboard the Oriental to Port Nicholson.
Mottoes
I have not been able to identify the Isaac family motto.
Grantees
We have two coats of arms for the Isaac surname depicted here. These two blazons are from Bernard Burke's book The General Armory of England, Ireland, and Scotland, which was published in 1848. The bottom of this page contains the blazons, and in many instances contains some historical, geographical, and genealogical about where coat of arms was found and who bore it. People with this last name that bore an Isaac Coat of Arms (or its spelling variants) include:
1) Samuel Isaake, town clerk of Exeter, sequestered, but restored by writ of mandamus, temp of Charles II, augmentation 6 June 1670, by Walker
Notables
There are hundreds of notable people with the Isaac surname. This page will mention a handful. Famous people with this last name include: 1) Christopher Joseph Isaak (1956) who is an American musician from Stockton, California best known for his hit song Wicked Game, 2) Bobby Isaac (1932-1977) who was an American stock car racer born in Catawba, North Carolina who won NASCAR's Grand National Series in 1970, 3) Robert Michael Isaac (1928-2008) who was the Republican Mayor of Colorado Springs from 1979 to 1997 and was of Syrian Christian descent, 4) Jason Alexander Isaac (1971) who was born in Houston, Texas and became a member of the Texas House of Representatives in 2011, 5) Arthur Whitmore Isaac (1873-1916) who was an English cricketer playing for Worcestershire, 6) Rhys Llywelyn Isaac (1937-2010) who is a South African-born Australian historian of American history who won a Pulitzer Prize, 7) Glynn Llwelyn Isaac (1937-1985) who was a South African archaeologist who specialized in the early prehistory of African specializing on human movement, and 8) Oscar Isaac (1979) who is a Guatemalan-American actor and musician best known for his role in the film Inside Llewyn Davis.
Blazons & Genealogy Notes
1) (Buriatt, in Atherington, co. Devon, temp, Henry III. Visit. Devon, 1620). Per pale az. and purp. a cross flory or. (Burke's Supplement states the cross should be patonce, not flory).
2) (Boughton, co. Worcester). Sa. a bend or, on a sinister canton of the last a leopard's face sa. Crest—A dexter arm embowed in armour, the hand holding a sword, the blade enfiled with a leopard's face, the point downwards resting on the wreath all ppr.