Jean Family Crest, Coat of Arms and Name History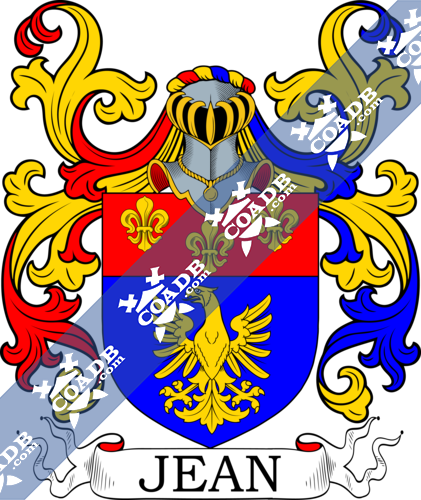 Jean Coat of Arms Gallery
Don't know which Coat of Arms is yours?
We can do a genealogical research. Find out the exact history of your family!
Learn More
We don't yet have this section of research completed for this name. If you are interested in being notified when research becomes available, please use this form to contact us and we will let you know as soon as we have something!
Blazons & Genealogy Notes
1) Languedoc, de Launac D'azur à l'aigle d'or au chef de gueules ch de trois fleurs-de-lis du second 2 et 1
2) Lorraine – (An., 1 nov. 1705) Coupé d'argent sur azur au lion tenant une épée de l'un en l'autre
3) Lorraine – (An., 1548) D'azur à la fasce d'argent acc de trois croisettes ancrées de gueules
4) Guyenne, Gascogne D'azur au lion d'or armé et lampassé de gueules
5) Ile-de-France, de Jean D'azur à la croix engrelée d'argent acc aux 1 et 4 d'un besant d'or et aux 2 et 3 d'une étoile (6) du même
6) Bretagne, de La Grandville D'or à une gerbe de sinople au chef d'azur ch d'une croisette pattée d'or
7) Normandie, de Monjean D'azur à la fasce d'argent acc de trois étoiles d'or de ch d'une colombe de sinople posée sur une branche d'olivier du même
8) Normandie, de Versainville D'azur à trois glands d'or
9) Bretagne, du Fresne D'argent à la bande de sable ch de trois losanges du champ et acc de deux coquilles de gueules
10) La Rochelle – (Arm. gén. de 1696) J. marchand graisseur De sable au lion d'or
11) Languedoc, Coupé au 1 d'or à l'aigle d'azur au 2 de gueules à un agneau pascal d'argent sa bannière du mesme
12) Jeanes – Ar. a lion ramp. betw. three escallops az.
13) Jeane or Jane – Az. an eagle displ. or. Crest—A swan, wings endorsed, devouring a trout all ppr.