Jensen Family Crest, Coat of Arms and Name History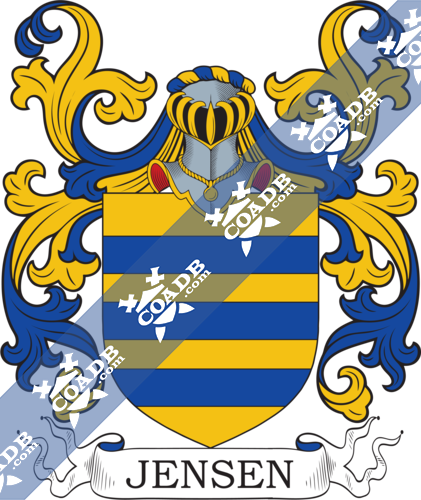 Jensen Coat of Arms Gallery
Don't know which Coat of Arms is yours?
We can do a genealogical research. Find out the exact history of your family!
Learn More
This is a Scandinavian or Nordic patronymic or baptismal surname meaning "the son of Jens". Jens is a personal (first) name that was given to males in Denmark, Norway, Sweden, the Faroe Islands, North Germany, and areas of Frisia in medieval times and the Middle Ages, itself a shortened/reduced form of the masculine given name Johannes (a medieval Latin name which traces back to a Greek name which itself derives from the Hebrew name Yehochanan, meaning Yahew, or God, is gracious). The Jensen family motto is Suum cuique et alterum non laedere, which is Latin for "To each his own, and not to injure".
Foreign equivalents of the first name Jens include John (English and Welsh), Evan (Welsh), Shane (Ireland), Ian (Scottish), Jean (French), Ivan (Russia), Giovanni (Italian), and Janus (Poland). Spelling variants of the last name include Jennsen, Jenssen, Jansen, Jenzen, Joensen, Jeansen, Jehnsen, and Jaensen.
The name is very common in the following counties in Europe: Denmark (2nd), Norway (9th), Sweden (119th), Greenland (3rd), Faroe Islands (15th), and Iceland (617th).
As of the 2000 US Census, the last name Jensen ranks 244th in terms of popularity. The name ranks in the top 100 in the following states: Utah (4th), South Dakota (9th), Idaho (14), Nebraska (15th), Minnesota (22nd), North Dakota (22nd), Iowa (23rd), Montana (30th), Wisconsin (37th), Wyoming (41st), and Alaska (54th), Washington (52nd), Oregon (60th), Nevada (90th), and Colorado (98th).
The name ranks as follows in other English-speaking nations: Canada (349th), Australia (333rd), New Zealand (221st), South Africa (2,002nd), England (2,443rd), Wales (3,358th), Ireland (2,190th), Scotland (2,871st), and Northern Ireland (2,801st).
There have been numerous notable/famous people throughout history with this popular last name, including, but not limited to: 1) Peter L. Jensen (1886-1962) who was a pioneer in the field of fidelity sound equipment that invented the first loud speaker, having been born in the Danish island of Falster, the founder of Jensen Loudspeakers, 2) Jens Jensen (1860-1951) who was a Danish-American landscape architect best known for his prairie style work, and had collaborates with others such as Albert Kahn and Frank Lloyd Wright, 3) Martin Jensen (1978) who was an Danish football (soccer) player born in Esbjerg who played for several teams from 1996-2018, 4) Rasmus Jensen (died 1620) was a Danish Lutheran priest and the first Lutheran cleric operating in Canada, 5) Wilhelm Hermann Jensen (1837-1911) who was a German writer and poet born in Holstein who is chiefly remembered for the novella Gradiva, 6) Alexander Viggo Jensen (1874-1930) who was the first Danish Olympic gold medalist, having won the two hand lift in Athens in 1896, as well as a shooter and gymnast, 7) Steven Allan Jensen (1955) who was a professional hockey player born in Minneapolis, Minnesota and plated in the NHL and WHA from 1975 to 1986 for teams such as the Minnesota North Star and Vancouver Blazers, 8) Ruben Yttergård Jenssen (1988) who is a professional Norwegian football (soccer) player who began playing in 2006 and had last made the national team in 2010, 9) Roald Jensen (1943-1987) who was a professional soccer player from Bergen known as "Kniksen" who played from 1960 to 1973 for Brann and Heart of Midlothian, and 10) Roger Jensen (1933-2001) who is considered to be the first person to have actively photographed storms beginning.
Some of the earliest immigrants bearing this surname include Peter Jensen (Missouri 1840), Peder Jensen (New York 1843), Emma Jensen (New York 1850), and Trol Conrad Jensen (New York 1850). In 1868, Johann Jensen, age 33, arrived in Quebec, Canada. In 1870, a family bearing this name came to the city of Wellington, New Zealand aboard the Halcione. This included husband and wife, Mathias and Karen M. Jensen, both 34 years old at the time, as well as their children: Peter H., Ano J., and perhaps Hans.
Jens Peter Jensen was born in Essa, Denmark in 1879. He married Tomina Hoakson and had the following issue with her: Matilda, Martina A. (Benstead), Anders C., Andrew C., Cinius M., Lilia, and Bernice.
Knud Jensen was born in Nilose, Merlose, Holbaek in 1763. He married Karen Michelsdatter and later Sidse Christensdatter. He had a son named Jens Knudsen who was born in Lynge in 1811.
A one Bent Jensen Neb was born in Stemagle, Denmark around 1300 AD. He was the son of Jens Hemmingsen Neb who was born in Vehle Kobst in 1268 AD, and the grandson of Hemming Nielsen Neb who was born in Denmark around 1236 AD. He was the great grandson of Niels Uffesen Neb who was born around 1200 AD, himself the son of a man named Uffe who was born around 1170 AD.
Blazons & Genealogy Notes
1) Danemark – (M. ét.) – D'or à trois fasces d'azur
2) Danemark – (M. ét.) – De gueules à un bouc rampant d'argent English: Gules with a goat rampant argent.
3) Danemark – (M. ét.) – Parti au 1 d'argent à une demi-ramure de cerf de gueules au 2 d'argent à trois fasces de sable English: Per pale 1st argent with an antler of a stag gules 2nd argent three bars sable.
4) Danemark – (M. ét.) – Échiqueté de gueules et d'argent English: Checky gules and argent.
5) Danemark – (M. ét.) – D'azur à une étoile d'or en chef et un croissant versé du même en pointe English: Azure with an etoile or in chief and a crescent inverted of the same in base.
6) Danemark – (M. ét.) – Coupé au 1 parti d'argent et de sable au 2 d'argent plein English: Per fess 1st per pale argent and sable 2nd argent plain [uncharged].
7) Danemark – (An., 1459. M. ét.) – D'argent à une demi-ramure de cerf de gueules posée en bande Cimier deux proboscides de gueules et d'azur ornées chacune à l'extérieur de quatre coquilles d'argent dont une dans l'embouchure English: Argent with an antler of a stag gules placed bendwise Crest: two proboscides gules and azure decorated each on the outside with four escallops argent which are in the mouthpiece.
8) Danemark – (M. ét.) – D'argent à une étoile d'azur English: Argent with an etoile azure.
9) Danemark – (M. ét.) – D'argent à un bras paré de gueules mouv du canton senestre du chef la main de carnation tenant une épée d'azur garnie d'or English: Argent with an arm clothed [dressed] gules coming from quarter sinister of the chief the hand carnation holding a sword azure hilt and pommell or.
10) Danemark – (M. ét.) – D'azur à un rencontre de buffle de sable Cimier un bras armé au naturel brandissant une épée Lambrequin de sable et d'azur English: Azure with an affronty ox head [with ring in nostrils] sable Crest: an arm armoured proper brandishing a sword Mantling: sable and azure.
11) Holstein – (Nob. du St.-Empire, vers 1780) – De gueules à trois fleurs-de-lis d'or English: Gules three fleur de lys or.
12) Jenssen-Tusch – Hambourg – Coupé-crénelé de deux pièces et deux demies d'azur sur gueules l'azur chargé d'une croix de Malte d'argent en chef et un dextrochère armé d'argent en pointe la main de carnation tenant une épée d'argent garnie d'or en bande la lame de ladite épée brochant sur la croix le gueules ch de trois fleurs-de-lis d'or Casque couronné Cimier trois plumes d'autruche une de gueules entre deux d'azur Lambrequin d'argent et d'azur Devise SUUM CUIQUE ET ALTERUM NON LAEDE English: Per fess embattled on the upper side of two pieces and two halves azure over gules the azure charged with a cross of Malta [Maltese Cross] argent in chief and a right arm armoured argent in base the hand carnation holding a sword argent hilt and pommell or bendwise the blade of the aforesaid sword covering over the cross the gules charged with three fleur de lys or Crowned with a helmet Crest: three ostrich feathers a gules between two azure Mantling: argent and azure Motto: SUUM CUIQUE ET ALTERUM NON LAEDE.