Justice Family Crest, Coat of Arms and Name History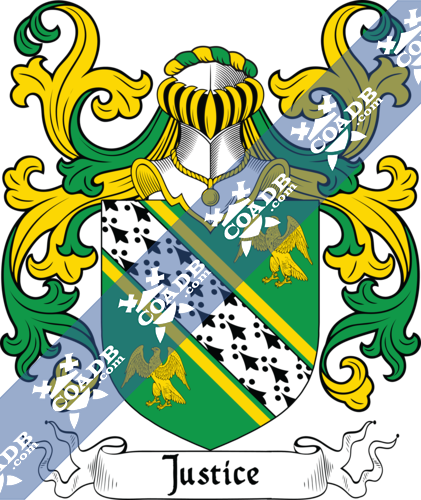 Justice Coat of Arms Gallery
Don't know which Coat of Arms is yours?
We can do a genealogical research. Find out the exact history of your family!
Learn More
Justice Origin:
England, Scotland
Origins of Justice:
The surname of Justice can be attributed to two possible origins. The first possible origin for the surname of Justice is that it is an occupational surname. This means that the original bearer of the surname of Justice most likely was a justice of the peace, or some form of judicial officer, meaning that he actually carried out this job. Occupational surnames were not originally hereditary surnames. They only became hereditary if the son followed in his father's footsteps for a career; then the surname became hereditary and was used by the children and spouse of the son. The second possible origin of the surname of Justice is that it was used as a nickname for someone who was fair-minded, or someone who played the part of a judge in the theatre. It is a common element of surnames throughout Europe that many of them originally derived from nicknames, as it was a very common practice in medieval times. In the beginning, nicknames were applied to people who had distinguishing characteristics, such as moral or mental peculiarities, a similar appearance to a bird or animal, a similar disposition to a bird or animal, occupation of an individual, their habits, or their manner of dress. This surname of Justice derives from the Old French, Pre 7th Century word of "justice" which itself comes from the Old Latin word "Justus," which can be translated to mean "honorable," or "upright."
Variations:
More common variations are: Justicee, Jusstice, Jeustice, Juestice, Juustuce, Justce, Justace, Jestice, Justuce, Jastice
England:
The first recorded spelling of the surname of Justice can be traced to the country of England. One person by the name of William La Justis, who was named in the document known as the Ancient Deeds of Suffolk in the year of 1200. This document was ordered, decreed, and written under the reign of one King John of England, who was known as one "Lackland." King John of England ruled from the year 1199 to the year 1216. Other mentions of the surname of Justice in the country of England include one Howell Justice, who was the son of Robert Justice, and who was baptized in the year of 1596 at St. Bride, which is located on Fleet Street. Another mention of the surname of Justice is when one Jeremy Justice was married to one Ann Staple at St. Dunstan's, which is located in Stepney, London, in the year of 1595. Those who are known to carry the surname of Justice within the country of England can be found in high concentrations in the areas of Lancashire, Yorkshire, Nottinghamshire, Kent, Surry, Hampshire, Gloucestershire, Oxfordshire, and the areas in and around the city of London.
Scotland:
In the country of Scotland, there is a sizable population of people who are known by the surname of Justice. The areas that have the largest concentration of those with the surname of Justice can be found in Lanarkshire, Fife, Angus, Midlothian, Argyll and in Perthshire.
United States of America:
Within the United States, those who bear the surname of Justice can be found in North Carolina, Ohio, New Jersey, Kentucky, Virginia, Georgia, Indiana, Texas, Pennsylvania, and Maryland.
Here is the population distribution of the last name Justice: United States 35,039; Nigeria 30,567; 16,375; South Africa 2,904; England 1,855; Uganda 1,494; Cameroon 1,388; Tanzania 1,289; Pakistan 1,132 Lesotho 1,038
Notable People:
Victoria Justice who was born in the year 1993 and who is a dance, singer, songwriter, and actress from America
David Christopher Justice who was born in the year 1966 in America and who is a former outfielder and designated hitter in Major League Baseball
Donald Justice (1925-2004) who was a poet and writing teacher from America who was awarded a Pulitzer prize in the year 1980 for his poetry
Edward J. Justice (1925-2004) who was a Democratic politician from America who served as a member of the North Carolina State House of representatives for the year 1899 and the year 1970 and the year 1913 to the year 1914 he was also the speaker of the house for the North Carolina State house of Representatives for the year 1907
E.J. Justice who was a democratic politician from America who also represented North Carolina as a delegate to the Democratic National Convention in the year 1912
E. E. Justice who was a Democratic Politician from America who served as one of Texas's alternative delegates to the Democratic National Convention in the year 1940
Blazons & Genealogy Notes
1) (East Crichton, co. Edinburgh). Az. a sword in pale ppr. supporting a pair of balances or, within a bordure of the last. Crest—A sword ppr. Motto—Non sine causa.
2) (Coventry; granted by Camden, Clarenceux), Sa. a fess erm. betw. three crescents or. Crest—On a garb or, a cock gu.
3) (Knighton, co. Stafford). Vert (another, az.) a bend erm. cotised or, betw. two falcons rising of the third.
4) Gu. a chev. betw. three leopards' faces or. Crest—A cat sejant ramp. ppr.
5) Gu. on a cross couped ar. five mullets sa.