Kingston Family Crest, Coat of Arms and Name History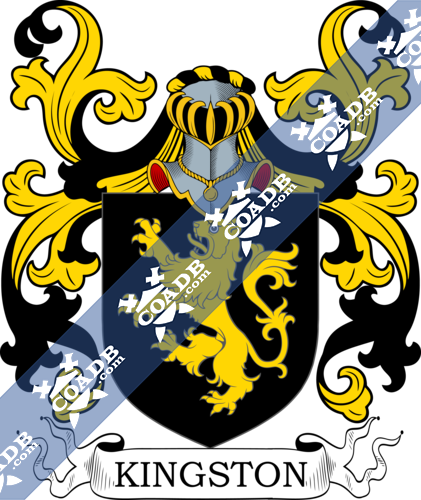 Kingston Coat of Arms Gallery
Don't know which Coat of Arms is yours?
We can do a genealogical research. Find out the exact history of your family!
Learn More
1831. Two more would also arrive in Nova Scotia, Elizabeth Kingston in 1832, and Paul Kingston in 1833.
Australia:
Some of the Kingston people who ultimately settled in Australia included Benjamin Kingston in 1823 in Van Diemen's Land. Thomas Kingston in 1826 in New South Wales, and George Strickland Kingston 1836 in Adelaide.
New-Zealand:
The settlement of the Kingston family would also reach as far as places in New-Zealand. J.L Kingston who was a surgeon settled in Auckland in 1865, and Paul Kingston in 1875.
Here is the population distribution of the last name Kingston: United States 8,516; England 6,415; Nigeria 3,821; Australia 3,511; Ireland 1,529; Canada 2,320; South Africa 968; Ghana 879; India 609; Papua New Guinea 1,494.
Notable People:
Kingston is generally referred to as the capital of Jamaica.
Kenny Kingston (1927-2014), in the American psychic medium, he executed readings about John Wayne and Harry. S. Truman, Lucille Ball and many others.
Stephen Kingston was an American politician, and a member of U.S council in Havana.
Richard Kingston was also a politician in American, and a member of Wisconsin State Senate.
John Heddens Kingston, (b. 1955), was an important person in American politics. He was a member of Georgia State House Representative. Additionally, he was U.S representative for Georgia 1st District in the year 1993.
Harry T. Kingston, a prime member of Pennsylvania State House Representatives from Philadelphia. However, he resigned from his post in the year 1903.
Blazons & Genealogy Notes
1) (co. Bedford). Sa. a lion ramp. or.
2) (co. Berwick). (Wendover, co. Buckingham). Same Arms, the lion's tail double queued.
3) (co. Derby). Az. three swords fessways in pale ar.
4) (cos. Gloucester and Leicester). Az. a cross or, betw. four leopards' faces ar.
5) (Grimslye and Bassingham, co. Lincoln). Same Arms. Crest—A goat saliant ar. against a tree vert.
6) (London). Sa. guttée d'eau a lion ramp. or. Crest—Out of a mural coronet counter-componée or and sa. a unicorn's head az. crined ar. horn gobonée of the second and first.
7) (co. York). Ar. a bend wavy cotised gu.
8) (temp. Richard II.). Ar. a steel cap ppr. in the front thereof a feather gu.
9) Az. three swords in pale ar. hilted or, two erect upwards and one betw. downwards.
10) Sa. three leopards' faccs ducally crowned ar.
11) Chequy or and gu. a bend erm.
12) Ar. a bend wavy gu. betw. two bendlets of the last.
13) Ar. guttée de sang, on a chief az. three crowns or.
14) Gu. on a chev. or, betw. three cinquefoils of the second five mullets az.
15) (temp. George III.). Per pale az. and gu. guttée d'eau a lion ramp. double queued erminois.
16) (Mosstown, co. Longford; granted to Alexander Kingston, Esq., of that place, one of the Governors of the co. Longford). Motto—Dei gratia. Per pale ar. and gu. a chev. counterchanged betw. a thistle slipped in dexter chief ppr. and a trefoil in sinister chief or, in dexter base a trefoil slipped vert, and in sinister a thistle slipped of the fourth. Crest—A swan holding in its beak a thistle slipped ppr.