Kitson Family Crest, Coat of Arms and Name History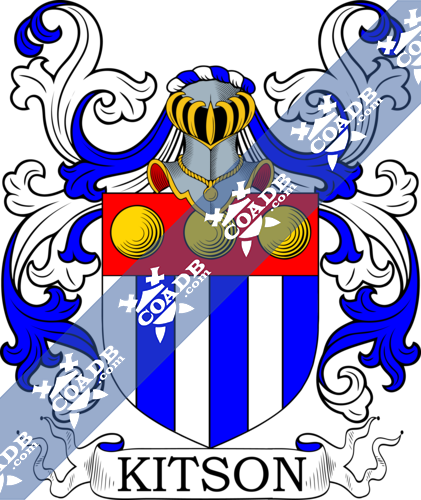 Kitson Coat of Arms Gallery
Don't know which Coat of Arms is yours?
We can do a genealogical research. Find out the exact history of your family!
Learn More
Kitson Origin:
England, Scotland
Origins of Kitson:
This interesting and uncommon surname is of English origin and is a surname of the pet name Kit, itself coming from the female Greek given name "Katharos" which means "genuine" or "clean", or from the old given name Christopher which means "agent of Christ", which acquires from the Greek "Khristas" which means "Christ", and "phor" which means "carry". The surname is sometimes dated back to the middle of 14th Century. More documentation contains one Thomas Kytson (1357) "The Lands of Crowland Abbey, Cambridgeshire," and Thomas Ketson (1379) "The Census Tax documents of Yorkshire." Differentiation in the phrase of the spelling contain as Kidson, Kytson, Kittson, etc. Frances Kytson was named in September 1562, at St. Gregory by St. Paul, London. Anthony Kitson married Mary Wood in February 1570, at St. Thomas the Apostle, London, and Elisabeth Kitson married Robert Wilson in February 1585, at St. Antholin Budge Row, London.
Variations:
More common variations are: Kittson, Kaitson, Kitsona, Khitson, Kitsony, Kittison, Kaittson, Kitteson, Kidson, Kitsen.
England:
The origins of the surname Kitson appeared in Yorkshire where people held a family seat from early times. Someone say better before the invasion of Normans and the entrance of Duke William at Hastings 1066 A.D.
The very first recorded spelling of the family was shown to be that of William Kittesson dated about 1340, in the "Estates of Crowland Abbey" Cambridgeshire. It was during the time of King Edward III, who was known to be the "The Father of the Navy," dated 1327-1377. The origin of surnames during this period became a necessity with the introduction of personal taxation. It came to be known as Poll Tax in England.
Ireland:
Many of the people with surname Kitson had moved to Ireland during the 17th century.
United States of America:
Individuals with the surname Kitson landed in the United States in three different centuries respectively in the 17th, 18th, and 19th. Some of the people with the name Kitson who arrived in the United States in the 17th century included Merma Kitson who came to Virginia in 1636. Marmaduke Kitson and Marmaduke Kitson, both settled in Virginia in the same year 1639.
People with the surname Kitson who landed in the United States in the 18th century included Mary Kitson, who settled in Virginia in 1768.
The following century saw more Kitson surnames arrive. Some of the people with the name Kitson who arrived in the United States in the 19th century included Mark Kitson, who arrived in Philadelphia, Pennsylvania in 1827. Nathan Kitson, who landed in Indiana in 1834. George, James, Nathan and Thomas Kitson, all came to Philadelphia between the years 1840 and 1860.
Australia:
Some of the individuals with the surname Kitson who landed in Australia in the 19th century included John Kitson arrived in South Australia in 1852 aboard the ship "Sultana." Henry Kitson arrived in South Australia in 1854 aboard the ship "Confiance." Bridget Kitson arrived in South Australia in 1854 aboard the ship "Confiance."
New-Zealand:
Some of the population with the surname Kitson who arrived in New Zealand in the 19th century included John Kitson landed in Wellington, New Zealand in 1840. Robert Kitson arrived in Auckland, New Zealand aboard the ship "Nimroud" in 1860.
Here is the population distribution of the last name Kitson: England 3,350; United States 2,264; Ghana 879; Australia 784; Canada 512; Jamaica 410; New Zealand 310; Scotland 269; Northern Ireland 227; South Africa 201.
Notable People:
Alison Kitson was a famous nurse.
Arthur Kitson is a British financial expert.
Barry Kitson is a British comic book artist.
Charles Herbert Kitson is an English musician.
Daniel Kitson is a British comedian.
Dave Kitson is an English football player.
David Kitson was a Cricket player.
Frank Kitson was a British officer and writer, famous as a theorist of low-intensity conflict.
Harold Kitson was a South African tennis player.
Henry Hudson Kitson is an American artist.
Jill Kitson is an Australian Radio announcer.
Blazons & Genealogy Notes
1) (Hengrave, co. Suffolk). This coat was granted 13 Feb. 1568, by Dethick, Garter, to Thomas Kitson, Esq., of Hengrave, being an alteration from the coat borne by his ancestors, which was confused, and greatly needed correction. The older coat (granted to Thomas Kitson, 14 April, 1527) was, sa. three lucies in pale ar. on a chief or, a lion ramp. of the first guttée d'or betw. two pellets, the dexter charged with a martlet, and the sinister with an anchor or. Sa. three lucies hauriant ar. a chief or. Crest—A unicorn's head ar. attired and maned or, environed with palisadoes gold. Another Crest—On a mount or, in flames ppr. a unicorn's head sa.
2) Paly of six ar. and az. on a chief gu. three bezants.