Ladd Family Crest, Coat of Arms and Name History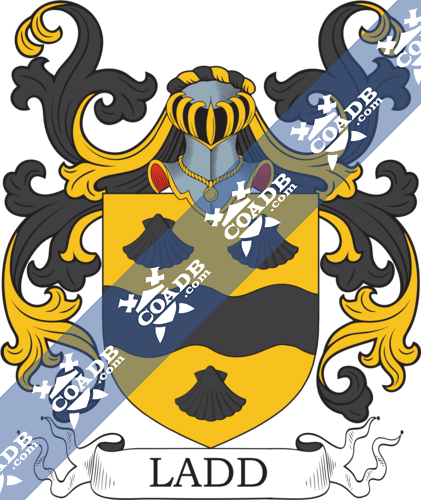 Ladd Coat of Arms Gallery
Don't know which Coat of Arms is yours?
We can do a genealogical research. Find out the exact history of your family!
Learn More
Surname Name Meaning, Origin, and Etymology
This is an official surname meaning "the lad", which was a servant, page, or young servitor. It derives from the Old English word ladde. One author notes it can anciently translated to "a man of humble birth" and it was only until after the 1200s AD that it took on the other former meaning. Another second theory is that it referred to a person who live by, or worked at, a lade, which in Old Scotch and English was a canal or duct for water. A third origin theory is that this last name derives from the Welsh word lladd, meaning "to destroy". It should be noted that Laddé is a Dutch personal name.
In his 1890 book "Homes of Family Names", H.B. Guppy writes the following regarding this surname: "During the last half of the 17th century several of the bailiffs of Godmanchester bore the name of Ladds".
Spelling Variations
Common spelling variants Lad, Ladde, Lade, Ladds, Laddy, Ladey, and others.
Early Bearers of the Surname
According to the Old English Bynames of Somerset, the first known bearer of this last name was Gordic Ladda around the twelfth century. A one Richard Ladde was documented as living in Northumberland, England in 1175 AD (per the English Feudal Names List). The Hundred Rolls of 1273 AD, a census of Wales and England, known in Latin as Rotuli Hundredorum, documents three people bearing this surname: Roger Ladde in count Huntingdonshire and Thomas Ladde in county Cambridgeshire. A one John le Ladde is listed in the Writs of Parliament in 1322 AD. The Close Rolls (reign of Edward III) recorded one John le Ladde. Early marriages involving this surname include Joane Lad to William Callaway in 1587 AD in London. An early baptism involving this surname was James, son of John Ladd, in 1688 at St. James Clerkenwell.
History, Genealogy, and Ancestry
A one John Lede was born in 1420 in Elham, England. He married a woman named Agnes and had a son named John. John was born in 1440 in the same city, and he married a woman named Cicely. They had a son named John, who was born in 1479 in Otling and in 1495 he married Alice Oldefylde. They had the following children together: Stephen, John, Thomas, Silvester, Joan, Nicholas, Joan, and Nicholas. The son john was born in 1498. He fathered two children: John and Nicholas. Nicholas was born in 1545 in Wootton, Kent, England. He married Joan Parker in 1589 and had issue with her: Nicholas, Richard, Margaret, John, Susan, Thomas, Elizabeth, Michael, Thomas, and Michael.
A one John Lad was born in Beneden, Kent, England in 1458 AD. He had nine children: Thomas, John, Christopher, Richard, Edward, James, Alice, Harry, and Johane.
Ezekiel Ladd was born in 1654 in Haverhill, Essex. He married a woman named Mary Folsom and had four issue with her prior to his death in 1723 in New Hampshire: Lydia, Mary (Shattuck), John.
Early American and New World Settlers
The book "Genealogical Guide to the Early Settlers of America" mentions three people bearing this surname: 1) Daniel Ladd of Ipswich, son of Nathaniel, came aboard the Mary and John in 1634. He was the first townsmen of Salisbury and later moved to Haverhill. His wife was named Ann and they had issue: Elizabeth (1640), Daniel (1642), Lydia (1655), Mary (1647), Nathaniel (1652), Ezekiel (1654), and Sarah (1657), 2) John Ladd who was married at Woburn in 1678 to Elizabeth Fifield, and 3) Joseph Ladd of Portsmouth, Rhode Island, who had five children (according to his will): William, Joseph, Daniel, Mary, and Sarah.
Other early settlers include John Ladd (Virginia 1653), Marmaduke Ladd (Virginia 1657), Edward Ladd (Virginia 1711) and William F. Ladd (New York 1844). There are numerous locales in the United States with this name (ex. Ladd, Arkansas and Ladd, Illinois).
Motto
The family motto is Constant et ferme, meaning "Always ready".
Notables
Famous people with this last name include: 1) Edwin F. Ladd (1859-1925) who was a United States Senator from North Dakota, 2) Willam Ladd (1778-1841) who was an early American anti-war activist and first president of the American Peace Society, 3) William Sargent Ladd (1826-1893) who was an American businessman and politician from Oregon, and 4) George Ladd (1828-1889) who was a solider in the Union Army during the American Civil War who received the Medal of Honor.
Blazons & Genealogy Notes
1) Or, a fesse wavy betw. three escallops sa.
2) (or Ladde). Or, on a fesse wavy sa. betw. three escallops of the last as many shelldrakes ar. Crest—On a cloud a crescent ensigned with a star, all betw. two branches of palm disposed in orle ppr.
3) (alias Baker) (Terrington, co. Norfolk). Or, on a fesse wavy az. betw. three escallops sa. as many shelldrakes ar.