Lamott Family Crest, Coat of Arms and Name History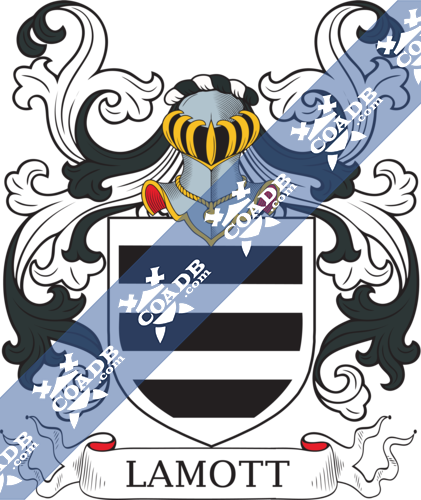 Lamott Coat of Arms Gallery
Don't know which Coat of Arms is yours?
We can do a genealogical research. Find out the exact history of your family!
Learn More
Origins of Lamott:
Lamott is one of the many new names that came to England following the Norman Invasion of 1066.  The Lamott family resided in Essex.  The name, however, drops from the family's place of the home before the Norman Invasion of England in 1066, Mott a town in Cotes du Nord, Normandy.  Anglo-Norman names tend to be marked by an large number of spelling variations.  This is largely due to the fact that Old and Middle English required any spelling rules when Norman French introduced in the 11th century.  The languages of the English courts at that time were French and Latin.  These different languages mixed quite freely in the evolving social milieu.  The final element of this mix is that old authors spelled words according to their sounds rather than any definite rules, so a name was often spelled in as many different ways as the number of documents it appeared in.  The name was spelled Mott, Motte, Mote, De Mott, De Motte, Demott and much more.
Variations:
More common variations are: Lamotte, Lamotta, Lammott, la Mott, Lamotto, Lamoutt, Lamoitt, Lamot, Lmott, la Motte.
England:
The surname Lamott first appeared in Essex, where the family held a family seat from very early times, having given lands by Duke William of Normandy, their true King, for their exceptional support at the Battle of Hastings in 1066 AD.
United States of America:
People with the name Lamott moved to the America in many centuries like Adam Mott, who arrived with his wife Sarah and five children in Boston in 1635.  Nathaniel Mott, who arrived in New England in 1681.  Peter Mott, who came to New York in 1711.
Blazons & Genealogy Notes
(London, formerly of Flanders, 1633). Ar. three bars humettée sa.