Learmonth Family Crest, Coat of Arms and Name History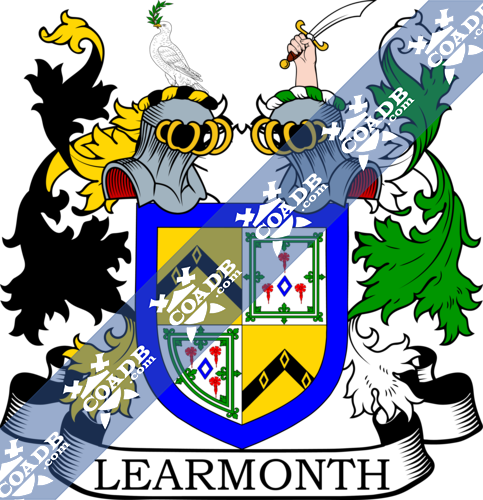 Learmonth Coat of Arms Gallery
Don't know which Coat of Arms is yours?
We can do a genealogical research. Find out the exact history of your family!
Learn More
Learmonth Origin:
Scotland
Origins of Learmonth:
This interesting surname is of Scottish origin and is habitational from a place called Learmonth in the old division of Berwickshire, of uncertain etymology. The placename may acquire from the Germanic "lar," clearing, and the Gaelic "monadh," which means mountain, moor, but since the place is in the Lowlands, an English (or Scandinavian) etymology should perhaps be sought. Andrea de Lermwth, who was noted in Edinburgh in 1413, and found again in 1426 as Lermonth, and Alexander Leyremonthe or Leremonthe were clerk of works of the town and castle of Berwick in 1434. The new surname can found noted as Learmond, Learmonth, Learmont, and Leirmonth, and in the the early 17th Century a Scot by the name of George Learmont gave services as a soldier in the Polish army, but was caught by the Russians in 1613 and settled in Russia. His ancestors include the novel writer and poet Mikhail Yurievich Lermontov (1814 – 1841). Listed in the Scottish Church Records are the wedding of John Learmond and Margarett Lockhart in January 1713 at Edinburgh Parish, Edinburgh, Midlothian, and the christening of Patrick, son of Robert Learmond and Janet Taitt, in October 1715, also at Edinburgh, Midlothian.
Variations:
More common variations are: Learamonth, Learmounth, Larmonth, Lermonth, Learmenth, Laermonth, Leemonth
Scotland:
The surname Learmonth first appeared in Berwickshire where they held a family seat from old times. Some say well before the Norman Invasion and the arrival of Duke William at Hastings in 1066 AD.
The very first recording spelling of the family was shown to be that of William de Leirmontht, dated about 1408, in the "juror on an inquisition at Swinton," Scotland. It was during the time of King James I, dated 1406 – 1437.
Ireland:
Many of the people with surname Learmonth had moved to Ireland during the 17th century.
United States of America:
Some of the people with the name Learmonth who arrived in the United States in the 18th century included B Learrnonth, aged 21, landed in Philadelphia, Pennsylvania in 1775. Euphemia Learrnonth arrived in Philadelphia, Pennsylvania in 1775.
Australia:
Some of the individuals with the surname Learmonth who landed in Australia in the 19th century included William Learmonth, aged 39, arrived in South Australia in 1857 aboard the ship "Monsoon."
Here is the population distribution of the last name Learmonth: Australia 730; England 597; Scotland 453; Canada 297; South Africa 292; United States 215; New Zealand 133; Wales 45; Portugal 28; Zimbabwe 11.
Notable People:
Ian Learmonth was a British police officer.
James Rögnvald Learmonth (1895–1967), was a Scottish surgeon.
John Learmonth of Dean was Lord Provost of Edinburgh, after whom the Learmonth district of Edinburgh was named.
Noel Fulford Learmonth (1880–1970), was an Australian writer, professor, and naturalist.
Okill Massey Learmonth VC, MC (1894–1917), was a Canadian recipient of the Victoria Cross.
Thomas Learmonth, also known as Thomas the Rhymer (c.1220 – c.1298), was a Scottish laird.
Thomas Livingstone Learmonth (1818–1903), was an early Victorian settler.
Blazons & Genealogy Notes
1) (Balcomie, co. Fife). Motto—Spero. Quarterly, 1st and 4th, or, on a chev. sa. three mascles of the first; 2nd and 3rd, az. on a bend ar. three roses .gu., for Balcomie. Crest—A rose slipped ppr.
2) (Livingstone-Learmonth, London, 1870). Mottoes—Dum spiro spero, for Learmonth; Si possim, for Livingstone. Quarterly, 1st and 4th, or, on a chev. sa. three lozenges of the first, for Learmonth; 2nd and 3rd, ar. a mascle az. betw. three gillyflowers slipped gu. a double tressure flory counterflory vert, for Livingstone; the whole within a bordure az. Crests—1st, Learmonth: A dove holding in the beak an olive branch ppr.; 2nd, Livingstone: A dexter hand holding a sabre ppr.
3) (Livingstone-Learmonth, of Parkhall, co. Stirling). As the last, but the bordure engr. ar. Same Crest and Motto.