Lind Family Crest, Coat of Arms and Name History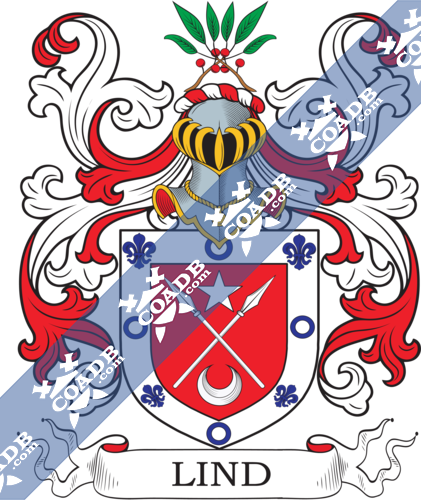 Lind Coat of Arms Gallery
Don't know which Coat of Arms is yours?
We can do a genealogical research. Find out the exact history of your family!
Learn More
LIND
The linden tree which is commonly found throughout Europe is the origin of the surname Lind. Its origins are English, Scandinavian, and Germanic. The name "lind" when translated to modern English means lime; however, linden trees are not directly related to the citrus tree. Lind is considered geographical as it was used to identified a person who lived near a linden tree or orchard.
In the world of heraldry, Linden trees are the preferred type of wood used for armorial displays. Most of the actual shields depicting the coat-of-arms of the Knights of the Garter in Windsor Chapel, Windsor Castle England are carved from Linden wood. A Linden tree proper with a blank white or argent shield has been associated with heralds, heraldic artists since the 15th century. It is thought Crusaders returning from the holy lands, brought the "Lime" or Linden tree back with them. It is a sign of consistency, steadfastness and the Germanic culture viewed the Linden tree as a symbol of selflessness. It was a custom during the middle and later medieval eras for marriage ceremonies to be performed under the branches of a Linden tree. There are many Coat-of-arms in English and Continental European heraldry which use a Linden tree to symbolize their love or faithfulness.
Surnames in Britain prior to the Norman conquest were largely unheard of. In the small settlements and villages which existed during earlier times, residents found little need for surnames as everyone in these communities new each other and a given name would usually suffice. However, with the passage of time, population growth and expansions of communities as villages gave way to towns and cities, it became necessary to add a qualifier to a people's names to distinguish them, one from another. Therefore one person may have been identified by their given name plus their occupation while another may have been identified by their given name and one of their parent's names. The introduction of surnames by the French aristocracy after the Norman invasion seemed to be the next logical step in this evolution. There was a limitless supply from which surnames could be formed, in addition to the use of patriarchal/matriarchal names or reference to the individuals occupation, there were things such as defining physical traits, a familiar geographical location or a topographical landmark found near the individuals home or birthplace, the name of the village in which the person lived, and so much more. Soon, surnames would come not just to represent an individual but whole families.
There often exists variations in spelling of many surnames, as with many given names which date back to the early centuries. The variation in spelling of both given and surnames during this time period can be attributed to a lack of continuity of rules for spelling which was compounded by the diversity of languages in use in European countries at this time. The variations in the spelling of the surname Lind include but is not limited to; Lynd; Line; Lines; Lynde; and Lynn. One of the earliest recorded variations of the surname was that of Hainrich Linde found in official documents dated 1254.
After the founding of British colonies in North America immigration was encouraged not only from the United Kingdom, but from a great many neutral Kingdoms, such as Hanover, which was allied to the Kings of England. Specifically George III, was in addition not only the King of the United Kingdom of England, Ireland, Scotland and Wales, but he was also the King of Hanover; which allowed him to promote the American colonies to his German farming subjects. One of the first generation of immigrants to America was Gerhard Lind who landed and settled in New York in 1709. Martin Lind arrived in Pennsylvania in 1743. Margaretha and Eva Lind arrived and settled in Pennsylvania in 1750 and George Lind arrived and settled in Pennsylvania in 1752.
Worldwide, the highest concentration of people with the surname Lind are found in Sweden, Denmark, Norway, Austria, and New Zealand. By state, the largest percentile of those with the surname Lind live in Minnesota, Nebraska, and North Dakota.
There are many persons of note who bear the surname Lind. Sir Albert Eli Lind was an Australian politician and agriculturist. He was born in Victoria, Australia. In 1904, shortly after he married, Lind purchased a plot of six hundred and forty acres where he partnered with his brother Ernie and established a successful dairy farm.
Lind began his political career in 1914 when he was elected councilor for the town of Bairnsdale and in 1920 he was elected to the Victorian Legislative Assembly. He held this position until 1925. In subsequent years Lind also held the positions of; Minister of Forest, President of the Board of Land and Works, and Commissioner of Crown and Lands Survey in Prime Minister Albert Dunstan's cabinet.
On October 13, 1937, Lind was elected Deputy Premier of Victoria, an office he held until 1950. After leaving political office, Lind devoted his full attention once again to the running of the dairy farm he operated with his brother. As part of the King's Birthday honors of 1951, Lind was knighted for his service in the Victorian Legislative Assembly.
Blazons & Genealogy Notes
1) (Gorgie, co. Edinburgh, and Isle of Wight). Motto—Semper virescit virtus. (Sir James Lind, K.C.B., 1815). Gu. two spears in saltire betw. a mullet in chief and a crescent in base all ar. within a bordure of the last, charged with four fleurs-de-lis and as many annulets alternately az. Crest—Two sprigs of laurel in saltire ppr.
2) (Poland, 1769). As the last, within a bordure invecked or, charged with four fleurs-de-lis and as many annulets alternately ar. Same Crest and Motto.