Litchfield Family Crest, Coat of Arms and Name History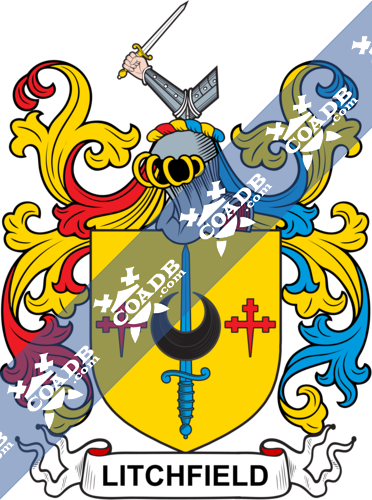 Litchfield Coat of Arms Gallery
Don't know which Coat of Arms is yours?
We can do a genealogical research. Find out the exact history of your family!
Learn More
Litchfield Origin:
England
Origin of Litchfield:
It is an uncommon surname which is associated with English locational origins either from Litchfield, southeast of Stafford in Staffordshire, or from Litchfield in Hampshire. The ancient area, first listed as Letocetum in the Romano-British times, and also listed as Liccedfeld in about 890 in "the Ancient English formation of Bede's 'Historia ecclesiastica," which is thus named from the British (Pre-Roman) "Letoceton" which means "grey woodland or forest." In Ancient English it had been shortened to Licced, combined with the component "field," which means grazing or accessible country, which is recorded as, "available or open land in Licced wild." After sometime the area, listed as Liveselle in the Domesday Book was authentically named with Ancient English before the 7th century as "Hlifgesella" acquired from the word "hilf', which means shield, and "scylf," which means shelf. After sometime it formed into "hlith" which means hill or ramp, also "feld," which means accessible or open country. In December 1544 Felyppa Lytchfeld, a child, was named in St. Stephen Coleman Street, London. An unusual name holder was Harriett Litchfield, (nee Hay), an artist at Covent Garden from 1797 to 1812.
Variations:
More common variations of this surname are: Litchfeld, Litchfild, Litchifield, Leitchfield, Lietcfield, Letcfield, Latchfield, Litchfild, Luthcfield, Lytchfield.
England:
The name Litchfield first originated in Staffordshire at Lichfied, a city and division itself. This area, known by Bede Licidfeld, and by Ingulphus and by Henry of Huntingdon Lichfeld. Both expressing "the land of the buried," is assumed to have acquired its name from the suffering of more than 1000 Christians, who are forenamed to have been murdered here in the time of Ruler Diocletian.
The very first recorded spelling of the family was shown to be that of Richard Lichfield, which was dated 1450, in the "Oxford University Register." It was during the time of King Henry VI, who was known to be the "The Founder of Eton," 1422 – 1461. The origin of surnames during this period became a necessity with the introduction of personal taxation. It came to be known as Poll Tax in England. Surnames all over the country began to develop, with unique and shocking spelling varieties of the original one.
United States of America:
Individuals with the surname Litchfield settled in the United States in two different centuries respectively in the 17th and 19th. Some of the people with the name Litchfield who settled in the United States in the 17th century included Laurence Litchfield, who landed in Massachusetts in 1639. Lawrence Litchfield, who arrived in New England in 1646.
Some of the people with the name Litchfield who settled in the United States in the 18th century included William Litchfield, who landed in America in 1805.
Australia:
Some of the people with the name Litchfield who settled in Australia in the 18th century included Charles William Litchfield, Ellen Litchfield, Agnes Frederica Litchfield, Frederica Henry Litchfield, and George Charles Litchfield; all these people arrived in Adelaide, Australia aboard the ship "D'Auvergne" in the same year in 1839.
Here is the population distribution of the last name Litchfield: United States 5,308; England 2,086; Australia 1,181; Scotland 98; Canada 369; South Africa 438; Ireland 44; Spain 38; New Zealand 215; Wales 124.
Notable People:
David Litchfield (born 1975), is a British security researcher from the United Kingdom. Anne Saita, a writer for Information Security Magazine, named him along with his brother Mark Litchfield, "World's Best Bug Hunters" in December 2003.
Edward H. Litchfield (1914–1968), is an American professor and the twelfth President (1956–1965) of the University of Pittsburgh. He is famous for a major administration of the university, he ultimately retired from his post in July 1965.
Elisha Litchfield (1785–1859), was an American businessman and congressman from New York.
Frederick Henry Litchfield (1832-1867), usually famously knowsn as Fred, is a South Australian related to the early expedition of the Northern communities, and more specifically with the discovery of gold there.
John Litchfield (1899–1918), was in the United States Navy during World War I.
Max Litchfield (born 1995), is a British swimmer who competed for Great Britain in the 2016 Olympics.
Blazons & Genealogy Notes
Motto—Semper pugnare paratus. Or, a sword in pale azure. surmounted by a crescent sable. all between two crosses crosslet fitchee gules. Crest— An arm in armour embowed, holding a sword ppr.