Logan Family Crest, Coat of Arms and Name History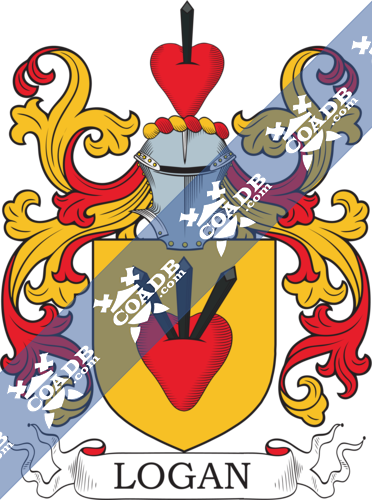 Logan Coat of Arms Gallery
Don't know which Coat of Arms is yours?
We can do a genealogical research. Find out the exact history of your family!
Learn More
Logan Origin:
Ireland, Scotland, England
Origins of Name:
The surname of Logan has roots in both Scotland and Ireland, and in many countries it is possible that it also has a Norman origin. This Gaelic surname is generally considered to derive from the Gaelic O'Leoghain, which can be translated to mean the "son of the descendant of the warrior." There is also a possibility that this name derives from the Norman "de Logan" even prior to the 1066 Conquest of England, and that the "de Logan" family actually took part in accompanying Strongbow, Earl of Pembroke, and his 1170 Invasion of Ireland. This surname may also be locational, meaning that this original bearer was the the Lord or owner of a plot of land called or named Logan. The other possibility with a locational surname is that those who carry this surname of Logan migrated out of the place of their birth in search for work, and were thus identified by where they hailed from. This surname of Logan is locational in Scotland, as there are many places in the country that are named Logan, and those places are also believed to have Norman origins.
Variations:
More common variations are:
Loggan, Lougan, Loghan, Loagan, Logani, Laogan, Logano, Logane, Logann, Logany
History:
Scotland:
The first recorded mention of the surname of Logan was in the country of Scotland, during the year of 1204. One person by the name of Robert Logan was mentioned as a witness to the Charter of Ingilbristoun, Scotland. This was ordered and decreed under the reign of King William of Scotland, who was known as and commonly referred to as "The Lion of Scotland." King William ruled from the year 1165 to the year 1214. In Scotland, early mentions of the surname of Logan include the Clan Logan, who were mentioned in the Surnames of Scotland by Black, and said to hail from "The Lands of Logan" which are located Ayrshire. Those in the Ayrshire region have the earliest Logan families. Many people who bear the surname of Logan later resettled into neighboring Renfrewshire, Lanarkshire and Midlothian counties.
United States of America:
Throughout the 17th Century, a period of time known as the European Migration began throughout Europe, though mostly centered in England. This migration was when the settlers determined that they no longer were happy with their homeland, and sought out a new place to live, one promising new freedoms and capabilities that were not afforded to them in the land of their birth. The United States of America, which at that time was called The New World or The Colonies, promised these freedoms to new settlers, and thus was a popular destination during this time for those settlers. The first person who was recorded to bear the surname of Logan was one David Logan, who settled in the state of Virginia in the year od 1740. Those who bear this surname may have tried to settle in America sooner, but died en route, because of the conditions of transport ships. Those who carry this surname are found in the states of New York, Missouri, Illinois, Ohio, Pennsylvania, New Jersey, Kansas, Texas, Washington, California and Iowa.
Logan Today:
United States 76,930
England 10,728
Canada 8,127
Liberia 6,426
Australia 6,304
Philippines 4,576
Scotland 4,509
South Africa 4,073
Afghanistan 2,847
Northern Ireland 2,105
Notable People:
Mrs. Ruth Logan, who was a 3rd Class Passenger from New York, New York, USA, who sailed on board the RMS Lusitania and survived the sinking of the vessel
Master Robert Logan (died in 1915) who was a 3rd Class Passenger from New York, New York, USA, who sailed on board the RMS Lusitania and died in the sinking of the vessel, and his remains were recovered
Brigadier-General Francis Vincent Logan (born in 1891) who was an Assistant Commanding General in the 26th Division from America, who served in this position from the year 1942 to the year 1943
John Alexander Logan Jr. (1865-1899) who was a United States Army General in America, and was the recipient of the Medal of Honor
John Logan (1747-1807) who was a pioneer and Indian fighter who fought with Daniel Boone, and was from America
James Harvey Logan (1841-1928) who was a horticulturist from America, and was the creator of the loganberry
James Marion Logan (1920-1999) who was a soldier in the United States Army, and was a recipient of the Medal of Honor
Robert Dean "Bob" Logan (1910-1978) who was an MLB pitcher from America
Blazons & Genealogy Notes
(that Ilk). Motto—Hoc majorum virtus. Or, three passion nails in point piercing a man's heart gu. Crest—A passion nail piercing a man's heart ppr.