Madley Family Crest, Coat of Arms and Name History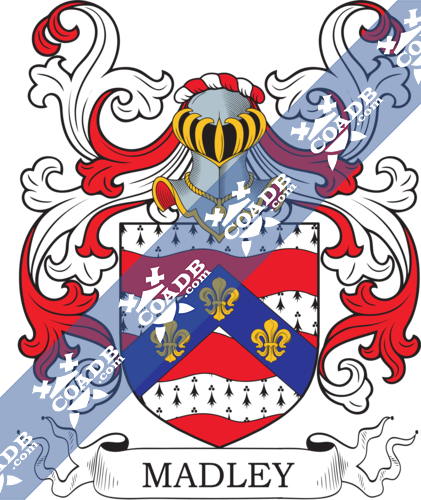 Madley Coat of Arms Gallery
Don't know which Coat of Arms is yours?
We can do a genealogical research. Find out the exact history of your family!
Learn More
The famous surname Madley acquired from the Hebrew "Magdalen," meaning "woman of Magdala."  This name was also used, fairly infrequently, as a Christian name during the 13th century. Only recently has spelling become regulated in the English language.  As the English language developed in the Middle Ages, the spelling of names changed also.  The name Madley has undergone many spelling variations, including Maudlin, Maudling, Madeline, Magdelin, Madolin, Magdelyn, Magdeleine and much more. More common variations are: Madeley, Meadley, Maidley, Maudley, Mawdley, Madiley, Maedley, Maddley, Mahdley, Madle.
The surname Madley first found in Oxfordshire, where the Madley family anciently seated as Lords of the Estate.  The Saxon rule of English history declined after the Battle of Hastings in 1066.  The language of the courts was French for the next three centuries, and the Norman atmosphere prevailed.  However, many Saxon surnames remained, and the family name Madley first referenced in the 13th century when the Madley family held lands in Oxfordshire. Some of the people with the surname Madley who arrived in the United States in the 19th century included Margaret Madley, who arrived in Virginia in the year 1722.
Blazons & Genealogy Notes
(co. Somerset). Barry wavy of six erm. and gu. on a chev. az. three fleurs-de-lis or.