Mainard Family Crest, Coat of Arms and Name History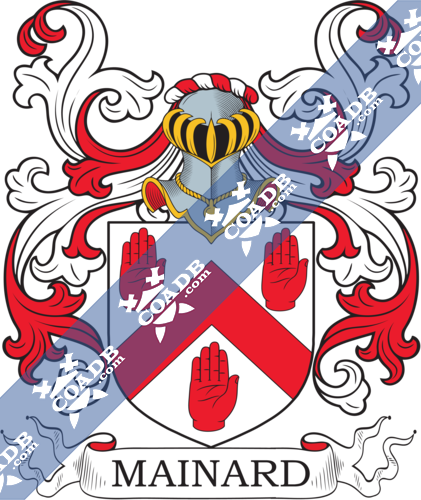 Mainard Coat of Arms Gallery
Don't know which Coat of Arms is yours?
We can do a genealogical research. Find out the exact history of your family!
Learn More
Origins of Mainard:
Mainard is a name of old Norman origin.  It brought in England with the Norman Invasion of 1066.  Mainard is a name that acquires from the Germanic personal name Mainard which is a combination of the components magin, which means strength, and hard which means hardy, brave or strong.  This specific name was popular among the Normans, and it brought to England after the Norman Invasion, when William the Champion gave his friends and relatives most of the land previously owned by Anglo-Saxon aristocrats.  The Normans imported a vast number of Norman French specific names, which largely replaced traditional Old English personal names among the upper and middle classes. Before the advent of the printing press and the first dictionaries, the English language not regulated.  The sound was what guided spelling in the Middle Ages, so one person's name was often noted under many variations during a single lifetime.  Spelling variations were common, even among the names of the most educated people.  Known variations of the Mainard family name include Maynard, Mainard and much more.
Variations:
More common variations are: Mainhard, Mianardi, Mainardo, Mainardv, Mainnard, Mayinard, Maiynard, Mainyard, Minard, Manard.
England:
The surname Mainard first appeared in Suffolk at Hoxne, a church, and the head of a union, in the hundred of Hoxne.  Hoxne Hall, for many generations the residence of the Maynard family.  In the north aisle [of the parish] is a monument, with a group of figures finely modelled in marble, to the memory of Sir Thomas Maynard, founded in 1742, by Christopher Stanley, Esq.  A school, now in union with the National Society, founded and organised by Lord Maynard."
United States of America:
Research into different historical recordings has revealed some of the first members of the Mainard family to migrate North America like Kingsmill Maynard settled in Virginia in the year 1663.  James Maynard was banished from the west of England to Barbados in the year 1685.  Nicholas Maynard settled with his wife and five children and servants in Barbados in the year 1680.
Motto:
The motto was originally a war cry or catchword.  Mottoes first started to be shown with arms in the 14th and 15th centuries but were not in general use until the 17th century.  Thus the oldest coats of arms generally do not include a motto.  Mottoes sometimes form part of the grant of arms like Under most heraldic authorities, a motto is an optional part of the coat of arms, and can be added to or changed at will like many families have chosen not to display a slogan. Motto: Manus justa nardus. Motto Translation: A just hand is a precious ointment.
Blazons & Genealogy Notes
(co. Devon). Ar. a chev. betw. three sinister hands gu.