Mapes Family Crest, Coat of Arms and Name History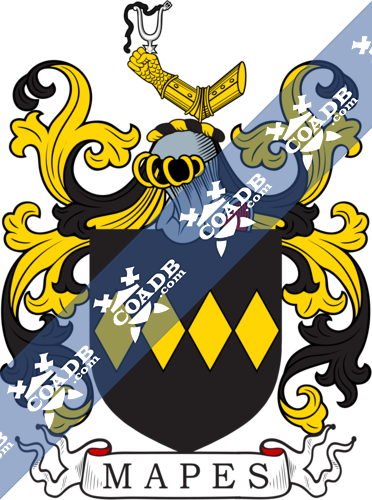 Mapes Coat of Arms Gallery
Don't know which Coat of Arms is yours?
We can do a genealogical research. Find out the exact history of your family!
Learn More
Mapes Origin:
England
Origins of Mapes:
Mapes is an English surname. The origin of this name evolved originally from the nickname of the female Mabel, itself from the Latin "amabilis" which mean loveable or lovely. In the language of Middle English and Old French, the name was presented as Amabel, with Mabilie registered in 12th Century documents. Rogerus filius Mabille was registered in the Pipe Rolls of Northumberland in the year 1130. Other examples of the surname included Arnaldus Mobile, in the Knight Templar (Crusader) rolls for the province of Essex, dated 1185, while John Mabb was registered in the Register of Letter documents of London, in the year 1278. The name with the letter "b" changed to a "p" in London Church Recordings at the end of the 16th Century. These included in November 1582, Mary Mape and George Stonestreet who married at St. Botolph's, Bishopsgate, and in the year 1625, Amy Mapp, who was newborn, was named at St. Dunstan's, Stepney. According to early recordings, the developmental names of Mapes included Mabb, Mabbs, Mapp, Maps, Mapes, Mapis, Mayps, Maypes, etc
Variations:
More common variations of Mapes are: Mapesa, Mapesi, Mappes, Mapesu, Mapeso, Mapese, Mapies, Mapoes, Mapeas, Moapes.
England:
The early origins of the surname Mapes was found in Herefordshire, where a Walter was registered in the "Documents of the Earldom of Hereford" in the years 1161 and 1181.,
The very first recorded spelling of the family was shown to be that of Walter Mapes, in the canon of St. Paul's Cathedral, dated 1200. The origin of surnames during this period became a necessity with the introduction of personal taxation. It came to be known as Poll Tax in England. Surnames all over the country began to develop, with unique and shocking spelling varieties of the original one.
United States of America:
People with the Mapes surname also settled in the United States in three different centuries respectively in the 17th and 18th and 19th. Individuals who settled in the 17th Century included John Mapes, who arrived in Massachusetts in the year 1634 at the age of 21. Thomas Mapes and Thomas Mapes who came to Long Island in the year 1640.
The following century saw many more people with Mapes surnames arrive. People who came in the 18th century included William Mapes sailed to Antigua in the year 1729 at the age of 17.
Others who arrived in the 19th century included Wilhelmine Mapes, aged 29 who came to New York in the year 1858.
Here is the population distribution of the last name Mapes: United States 6,523; England 371; Australia 71; Canada 117; South Africa 1,041; Mexico 209; France 49; Northlands 18; Russia 4; India 2.
Notable People:
Bruce Mapes (1901–1961), was an American character actor.
Carl E. Mapes (1874–1939), was an American politician. He played a major role in politics. He was born on an estate near Kalamo, Michigan, to Selah W. and Sarah Ann (Brooks) Mapes. His father was born in New York and came with his parents at the age of 7 to Kalamo Michigan, where he was selected as a teacher in the district school and controlled different offices.
Charlie Mapes was an English football player for Crawley city.
Cliff Mapes (1922–1996), was a baseball player. He played five seasons of Major League Baseball as an outfielder for the New York Yankees and St. Louis Browns.
David P. Mapes (1798–1890), was a New York steamboat commander, Wisconsin city builder, and Ripon College builder.
Elias Mapes (1833–1906), was a New York politician.
Erwin Kempton Mapes (1884–1961), was an American professor of Spanish-American history, well-known for his work on the Hispanic Modernists.
Elizabeth Bonhôte née Mapes (1744–1818), was an English novelist and writer.
J. A. Mapes was a famous politician in the state of Washington. He gave many services in the Washington House of counselors.
James Jay Mapes (1806–1866), was an American chemist, founder, and scholar, famous for his attainments in scientific agriculture.
Mary Mapes (born 1956), was an American reporter and television newscaster.
Ted Mapes (1902–1984), was an American stuntman.
Blazons & Genealogy Notes
Sable four lozenges, in fesse, or. Crest: an arm, embowed, in armour, or, holding in the gauntlet a spur argent leathered sable.