March Family Crest, Coat of Arms and Name History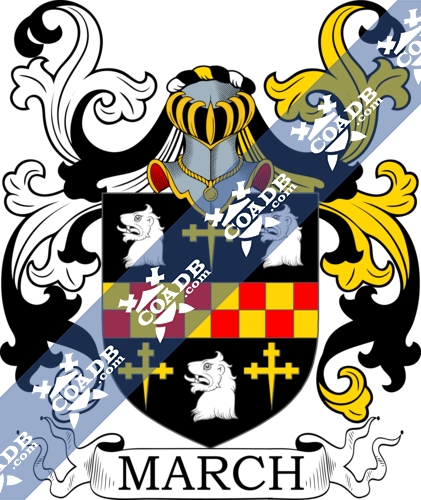 March Coat of Arms Gallery
Don't know which Coat of Arms is yours?
We can do a genealogical research. Find out the exact history of your family!
Learn More
MARCH
The surname March is English and can be geographical, habitational, or patronymic. The geographical usage would be applied to a person who lived on or near a boarded between two territories, an area referred to as the "marches". The habitational usage would be applied to a resident of the town of March in Cambridge. The patronymic usage referrers to someone with the given or nickname March a name derived from the Latin "Martius" a derivative of the god Mars. A "march" is also a medieval English boundary zone. England and Wales once had an acrimonious relationship, English lords who owned property along the border of Wales were known as "March or Marcher" Lords. These lords and their castles would be the first to experience an invasion or hostile military action taken by the Welsh. It was also a term used with limited success in the north of England in regards to the Scottish border region.
Surnames, as can be noted from the information above, often were adapted from wide variety of sources, from a person's occupation or topographical landmark found near the individual's home or birthplace, or possibly from the name of the village in which the person lived or was born. Surnames were sometimes patriarchal or matriarchal, created by combining the person's given name plus the name of their father or mother. In some instances surnames were also created from defining physical traits; such as a person's hair color, eye color, height, among other things.
While the use of surnames was a common practice in medieval France among the aristocracy, it was not until after the mid-sixteenth century that it became commonplace in the British Isles and across the remainder of Europe. The small size of the settlements and villages which existed during the earlier periods across most of Europe often meant there was no need for surnames as everyone within these communities knew each other and a given name would usually suffice. However, as communities grew and people began to migrate on a larger scale, the Norman aristocracy's penchant for using surnames was found to serve several practical purposes; it allowed people the ability to distinguish themselves, one from another, and it gave the government a reliable way to track people for tax, census, and immigration purposes.
The task of record keeping was primarily under the jurisdiction of the Church, local priories, and the government. This was due in large part to the fact that literacy was a skill usually found only among the nobles, the clergy, and government officials and scribes. Even so, there often existed multiple variations of names which may be attributed to a number of factors; the origins of the surname, the lack of guidelines which existed for spelling, and the fact that many scribes who were charged with record keeping spelled phonetically, among other things. One of the earliest records of anyone bearing the surname or any variation of its spelling is that of Henry de la Marche found in Barnwell tax rolls dated 1295. Some other early variations of the name include; March and Marche among others.
With the discovery of America and the addition to the British Commonwealth of countries such as Canada, Australia, and New Zealand, it was not long before people began to immigrate to these outlying areas. The use of surnames made tracking of immigrants easier. Some of the first recorded immigrants to America bearing the surname was Samuel March and his wife Collice who landed and settled in Virginia in 1623. Nathan March was one of the early settlers to Canada, landing and settling in Nova Scotia in 1750. Joseph and Hannah March along with their daughter were early settlers to Australia, landing in Adelaide in 1846 and Samuel and Emma March along with their children, Eliza, Esther, and Sarah landed in Wellington in 1857.
Worldwide, the highest concentration of people with the surname March are found in Canada, Spain, Australia, the United Kingdom, and the United States. By state, the largest percentile of those with the surname March live in Alaska, Connecticut, Massachusetts, New Hampshire, and Pennsylvania.
There are many notable people who bear the March surname such as Spanish born Jaume March II was a Catalan language poet. He was a member of the famous March family who had produced a number of lawyers and officers to the kingdom of Aragon. He was knighted in 1393 by King Peter the Ceremonious. Spanish born Pere March was the brother of Jaume March II and father of Arnau March. He was a knight, poet, and member of the famous March family of Valencia and Catalan. Spanish born Arnau March was the son of Pere March and nephew of Jaume March II. He was also a knight, a poet, and member of the famous March family. Jaume March II died in 1410.
Blazons & Genealogy Notes
1) (Redworth, co. Durham). Sa. a fesse counter-componée or and gu. in chief a cross crosslet fitchée of the second betw. two lions' heads erased ar. in base a lion's head erased of the last betw. two crosses crosslet fitchée of the second.
2) (Isle of Wight, co. Hants). Sa. on a cross or, betw. four lions' heads erased ar. as many crescents gu. Crest—A cubit arm erect, vested barry wavy of six or and gu. cuffed ar. holding in the hand a battle axe in bend sinister ppr. headed of the third.
3) (London). Same Arms, the cross fretty az.
4) Sa. a cross patonce betw. four lions' heads erased ar. Crest—A demi lion ramp. ar.
5) Or, a lion ramp. gu. over all a bendlet gobony of the second and first.
6) Gu. a lion ramp. ar. a bordure of the last charged with eight roses of the field.
7) Sa. a cross betw. four lions' heads erased ar. a crescent for diff. Crest—An arm bendy wavy sinister or and purp. hand ppr. holding a flower gu. leaved vert, on the top a goldfinch volant ppr.
8) (Willesly Park, co. Cambridge, and More Critchell, co. Dorset; Thomas March, Esq., of More Critchell, assumed, 1777, on succeeding to the estates of Garendon and Gracedieu, in co. Leicester, the name and arms of Phillipps). Quarterly, gu. and az. a cross erm. betw. four lions' heads erased or. Crest—A demi lion ramp. ar. holding a Maltese cross or.
9) (Haddenham, co. Cambridge. Visit. 1684; descended from Marche, of the Isle of Ely; the eventual heiress, Sarah Rowlands Marche, last surviving child of Ralph Marche, Esq., of Haddenham, to. first, Pell Gatard, Esq., who d. s. p. 1741, and second, Sir Isaac Wollaston, Bart., of Loseby). Paly of six or and az. on a chief gu. three talbots' heads erased of the first. Crest—On a ducal coronet or, a wolf pass. ar. langued gold.
10) (London; granted 1585). Gu. a horse's head couped betw. three crosses crosslet fitchee ar. Crest—A griffin's head erased az. holding in the beak a rose gu. stalked and leaved vert.
11) Ar. on a bend sa. three covered cups or.
12) Sa. a lion ramp. ar. depressed by a bend gobonated of the second and gu.