Margaret Family Crest, Coat of Arms and Name History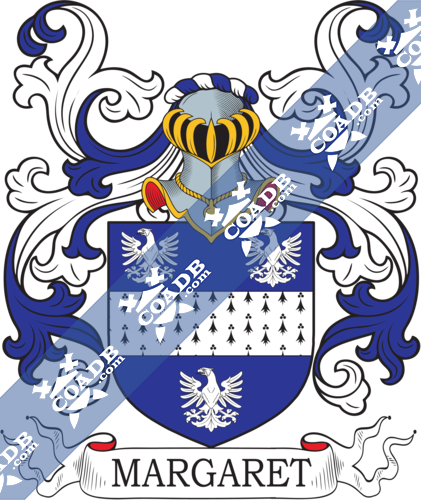 Margaret Coat of Arms Gallery
Don't know which Coat of Arms is yours?
We can do a genealogical research. Find out the exact history of your family!
Learn More
Margaret Origin:
England
Origins of Margaret:
According to the early recordings of the spelling forms of the name, this interesting and unique name was listed in many forms including Margaret, Margett, Margott, this is an old English surname. Introduced by returning Crusaders from the Holy Land in the 12th century and according to the Christian Revival period, it acquires from the Greek word "margaretes" which means pearl, although it was demanded that it is ultimately from Persian and to mean "child of light". Matronymic Surnames that are to say, surnames from a female name rather than a male name, are much more limited. As to why they occur at all is interesting. They usually show that in old times and opposite to public opinion, women were often heirs in their right. Sons of these (married) women took their name rather than their fathers. Amongst the early records are Henry Margaret who noted in the Hundred Rolls of Cambridgeshire in 1273, and Hugh Margarete in the Hundred Rolls of Buckinghamshire in the similar year, while John Margett shows in the Premium Rolls of Suffolk, dated 1524. Spelling variations of this family name contain as Marguerite, Margeride, Margaride, Margalide, Margerit, Marguerie, Marguery, Margry, Margrette, Margeridon, Marguerin, Margeron, Margulius, Margotin, Marguet and much more.
Variations:
More common variations are: Margarett, Margareta, Margareto, Margariet, Margarete, Margareht, Margareti, Maragaret, Margarety, Margaraet
France:
The surname Margaret first appeared in Languedoc, in the south of France, where the family has been a famous family for many centuries and held a family seat with lands and estates. The family were well placed in the region of Nimes and Toulouse and many members of the family identified themselves through their donations toward the community in which they lived and were rewarded with lands, names and letters confirming their nobility.
England:
The very first recorded spelling of the family was shown to be that of John Margaret, dated about 1272, in the "Hundred Rolls of Suffolk". It was during the time of King Edward I who was known to be the "Hammer of the Scots", dated 1272 – 1307. The origin of surnames during this period became a necessity with the introduction of personal taxation. It came to be known as Poll Tax in England. Surnames all over the country began to develop, with unique and shocking spelling variations of the original one.
Ireland:
Many of the people with surname Margaret had moved to Ireland during the 17th century.
United States of America:
Individuals with the surname Margaret landed in the United States in two different centuries respectively in the 17th and 18th. Some of the people with the name Margaret who arrived in the United States in the 17th century included James Margaret, who landed in Virginia in 1655. Henry Margaret, who came to Virginia in 1664.
The following century saw more Margaret surnames arrive. Some of the people with the surname Margaret who arrived in the United States in the 19th century included Mary Margaret at the age of 34, landed in Mobile, Ala in 1851. M Margaret at the age of 35, arrived in Mobile, Ala in 1852.
Here is the population distribution of the last name Margaret: Uganda 5,788; Nigeria 4,891; United States 2,648; Kenya 2,119; New Zealand 1,434; Australia 1,123; Indonesia 1,063; India 888; England 828; South Africa 804.
Notable People:
Małgorzata Jamroży (Polish pronunciation; born June 1991), was better known by her stage name Margaret, is a Polish singer and composer. She began her musical life in 2009 as a member of the band oNieboLepiej. After that, she was the singer-songwriter of the Gosia Jamroży Project, found in a musical, noted songs for television commercials and became a fashion blogger. She got worldwide attention in 2013 after the release of her debut single, "Thank You Very Much", which was later included on her presentation EP All I Need. The song was ranked in the top fifty in Austria, Germany and Italy.
Ann-Margret (born Ann-Margret Olsson; April 1941) is a Swedish-American actress, musician, and dancer. As an actress, she is best known for her roles in Bye Bye Birdie (1963), Viva Las Vegas (1964), The Cincinnati Kid (1965), Carnal Knowledge (1971), Tommy (1975), Grumpy Old Men (1993), and Grumpier Old Men (1995). She has won five Golden Globe Awards and was selected for two Academy Awards, two Grammy Awards, a Screen Actors Guild Award, and six Emmy Awards.
Blazons & Genealogy Notes
1) Az. a fesse (another, engr.) erm. betw. three eagles displ. ar.
2) Az. a fesse erm. in chief an eagle displ. ar.