Markoe Family Crest, Coat of Arms and Name History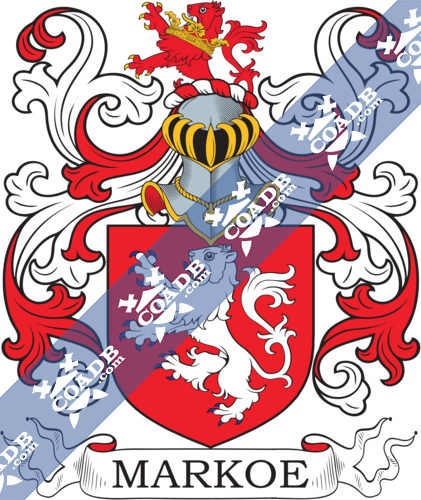 Markoe Coat of Arms Gallery
Don't know which Coat of Arms is yours?
We can do a genealogical research. Find out the exact history of your family!
Learn More
Origins of Markoe:
The prominent surname Marl-toe started in France, a country which has been a commanding presence in world affairs for centuries.  The earliest forms of hereditary surnames in France were the patronymic surnames, which acquired from the father's given name, and metronymic surnames, which acquired from the mother's given name.  The patronyms acquired from a variety of given names that were of many different origins.  The surname Marl-toe started from the old Latin personal name Marcus, which showed that the bearer was a supporter of Mars, the Roman god of war and agriculture.
Variations:
More common variations are: Markowe, Marckoe, Markhoe, Marke, Marko, Markey, Markie, Markee, Marcke, Mariko.
France:
The surname Markoe first appeared in Dauphiny (French: Dauphiné or Dauphiné Viennois), an old province in southeastern France, where they were formerly seated in a hamlet at the base of the Alps, in the valley of Loire.
United States of America:
Individuals with the surname Markoe landed in the United States in the 18th century.    Some of the people with the name Markoe who arrived in the United States in the 18th century included Francis Markoe settled in Philadelphia in the year 1795.
Blazons & Genealogy Notes
Gu. a lion ramp. ar. Crest—A demi lion gu. ducally gorged or (another, ducally gorged ar.).