Marlow Family Crest, Coat of Arms and Name History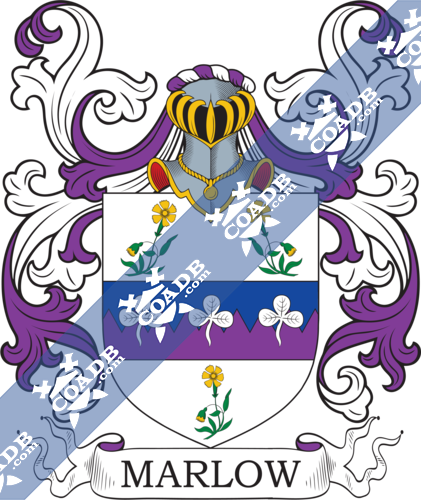 Marlow Coat of Arms Gallery
Don't know which Coat of Arms is yours?
We can do a genealogical research. Find out the exact history of your family!
Learn More
Surname Name Meaning, Origin, and Etymology
This is a locational name from a place named Marlow in Hertfordshire, England and a parish in Buckinghamshire, on the River Thames, as well as various other locales. It derives from the Old English or Saxon word mere (lake or pool or marsh) and lafe (remnants or leavings) or law or low (hill). Hence it makes a boggy area that remains after a lake has been drained. Another source states it means the hill or tumulus by the lake. The Domesday Book of 1086 AD two locations named Merlawe or Merlvae and Merelafan.. Today, Great Marlow is a civil parish in the Wycombe district of county Buckinhamshire located north of the town of Marlow. The surname could also be a variant of Marley or Morley.
Another source states the original locale it derives from is Morlaix in Bittany, France. It was a former territory of the Roman Empire known as Armprica that is a deep plateu near the coast with hills intertwined.
Spelling Variations
Common spelling variants inclue Marlowe, Marlo, Marleau, and Marloe.
Popularity & Geographic Distribution
The last name ranks Marlow ranks 2,512nd in popularity in terms in the United Status as of the 2000. The name is particularly dense (in terms of percentage of the population) Tennessee, Indiana, North Carolina, Oklahoma, and Alabama. The name is common in England where it ranks 1,265th where it is particular common in Northamptonshire, Leicestershire, and Rutland. The spelling variants Marlowe and Marlo rank 5,097th and 52,558th, respectively.
Early Bearers of the Surname
The first known bearer of this last name was Edric Merlaue wh lived in Berkshire and was documented in the Domesday Book of 1086 AD, which was a census of England and Wales ordered by William the Conqueror.  The Curia Regis Rolls of Buckinghamshire in 1225 AD list one Wido de Merlaue. The Coroners Rolls of London lists one Richard de Merlawe in 1325 AD.
History, Genealogy, and Ancestry
A one Deodutus Marlow married a woman named Rebecca and had a daughter named Rebecca who was born in 1595 in London England. She had a daughter named Elizabeth (Josselyn) Kilby.
Allen Marlow was born in Virginia in 1771. He married Jane Jean Asbury and had two issue: Roben Marlow and John Allen Marlow. John Allen was born in 1819 in Tennessee. He married Nancy Trip in 1848 and Nancy Gibson in 1872 and left issue with her: Joseph C. Sarah M., Nancy, Henry, Easter, George W., and Lafayett J. His son Joseph C. was born in 1855 in Missouri. He married Elizabeth Rachel Atterbery and had the following children with her: William Oscar, Ora Azilee (Jackson), David Allen, George Elmer, Cora Pathina, Joseph Eugene Marlow.
William Marlow was born in 1645 and had three children: Edward, William, and John. Edward was born in Price George's, Maryland in 1666. He married Mary Shaw and they had one issue: a son named Ralph. Ralph was born in 1695 in the same city and married Anne Middleton in 1717. They had numerous issue together: Elizabeth (Bayne), Martha, Middleton, Dorothy, Mary, John James, Sarah, Ann (Wynn), Eleanor, Susannah, Rebecca, and Samuel Middleton. His son John James was born in 1726 in Maryland. He married Eleanor Dorsett on June 21st, 1775. They had a son named William S. Marlow, who was born in 1759. He in turn had a son named John William, who was born in 1807. John married Mary Ann Wellmore and died in 1877 and is buried in Glenwood Cemetery in Washington, DC.
Robert Marlow was born in 1618 AD in Manchester, United Kingdom. He had a son named William who was born in 1636 in the UK and had two sons: Edward Marlow and William Henry Marlow II. Edward was born in 1666 in Charles County, Maryland. He married Maryu Shaw and had two issue: William and Mary Josephine.
Early American and New World Settlers
The book Genealogical Guide to the Early Settlers, mentions five people bearing this surname: 1) Thomas Marlow of Westfield, who in 1681 married Martha, daufhter of Abel Wright. Together they had numerous children: Martha (1682), Thomas (1684), Mary (1686), Abel (1689), Elizabeth (1691), Thankful (1693), Mary (1695), John (1699), and Ebenezer (1701). The family changed their last name to Morley, 2) William Marlo who was a solider under Captain Turner in 1676, and 3) Edward Marlow of Hartford in 1667 (also known as Marlo or Morley).
Other early settlers include Joseph Marlow (Virginia 1662), Mary Marlow (Virginia 1662), Edward Marlow (Virginia 1663), Robert Marlow (Virginia 1699), Daniel Marlow (Virginia 1699), and Samuel Marlow (New York 1778). One of the earliest settlers in Canada with this last name was John Marlow who came to Halifax in 1749.
Mottoes
There is no documented motto for the last name Marlow.
Grantees
We have six coats of arms for the Oakes surname depicted here. These six blazons are from Bernard Burke's book The General Armory of England, Ireland, and Scotland, which was published in 1848. The bottom of this page contains the blazons, and in many instances contains some historical, geographical, and genealogical about where coat of arms was found and who bore it.  Later grantees of arms bearing this last name include: 1) Marlow, of Shirley Milkbrooke, Hampshire, granted in 1784, 2) Marlow, late Vaughan, Captain in the Royal Army, of Gosport, Hampshire, granted in 1784, and 3) Sidney Marlow, late Crowe, of county Herefordshire (of St. Benet, Gracechurch Streen, London) granted on April 13, 1776.
Notables
Famous people with this last name include: 1) Christopher "Kit" Marlowe (1564-1593) who was an English poet and playwright known for Elizabethan tragedy, 2) Anthony Alfred Hamsworth Marlow (1904-1965) who was a British politician who served as a Member of Parliament for Brighton, 3) Frederick Marlow (1928-2013) who was a famous Englush footballer (soccer player), and 4) Robert Marlow (1961) who is a English musician known for synthpop.
Blazons & Genealogy Notes
1) Ar. on a fesse per fesse indented az. and purp. betw. three pinks vert, flowered or, as many trefoils of the first.
2) Or, a bend sa. Crest—A cross moline pierced erm.
3) Quarterly, az. and or, three bendlets gu.
4) (borne by Rev. Michael Marlow, D.D., Prebendary of Canterbury, and President of St. John's College, Oxford). Quarterly, or and az. three bendlets gu. quartering Kent, viz., Az. a lion pass. guard. or, a chief erm.
5) (Lord Mayor of London, 1409 and 1417). Quarterly, gu. and az. an orle of martlets or.
6) Ar. a fesse vairé or and gu. betw. three billets of the last.