Martineau Family Crest, Coat of Arms and Name History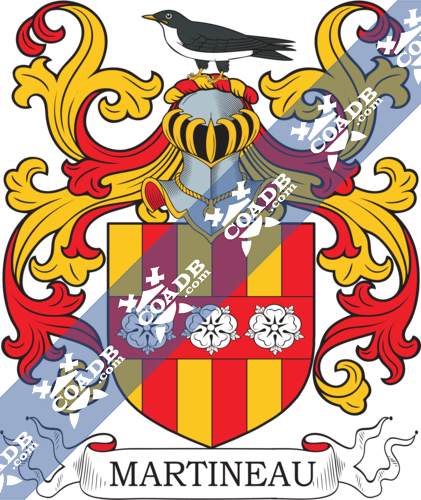 Martineau Coat of Arms Gallery
Don't know which Coat of Arms is yours?
We can do a genealogical research. Find out the exact history of your family!
Learn More
Martineau Origin:
England, France
Origin of Martineau:
This unique and fascinating surname is listed in almost two hundred various forms from Martin and Martini to Marti and Martinovich, which is associated with a Roman origin. It derives from the word "Mars," creator of productivity and battle, while it can also be stated that "Mars" itself can derive initially from the word "mar," which means "to shine." The surname has been used in every state of Europe since the Crusades of the 12th century, which were to free the Holy Land from the Muslims. It is believed that Martin is one of the few martyr names which the Christians adopted afterwards. There are many derived forms like Martineau (France) and Martinelli (Italian). Especially the forms of Marcinkowski and Marciszewski which are regional and from a town called Martin, for example – Czech Martinovsky. There are some examples which came from documentation which consists of various names like John Martin of Plymouth, England, who was a pilot to Sir Francis Drake, on his first "Around the World" travel of 1577, at the same time Christopher Martin was a representative of the Pilgrim priest in 1620. Suarez-Martinez named at Asuncion, Mexico, in October 1774, at the same time Jack Martinet listed at Berkeley, California in September 1909, and Jeffrey Lynn Martineau at Los Angelos in April 1948.
Variations:
More common variations are: Martineaux, Martinneau, Martineu, Martinea, Martinau, Martneau, Martiniau, Martinaux, Martinaeu, Martineua.
England:
The origins of the surname Martineau was found in Normandy the ancient Duchy of Normandy, where people held a family seat from old times.
The very first recording spelling of the family was shown to be that of Walter Martin, which was dated 1186, in the document of the division of Northampton, England. It was during the time of King William I, who was known to be the "The Conqueror," 1066 – 1087. The origin of surnames during this period became a necessity with the introduction of personal taxation. It came to be known as Poll Tax in England. Surnames all over the country began to develop, with unique and shocking spelling varieties of the original one.
Canada:
Individuals with the surname Martineau settled in Canada in two different centuries respectively in the 17th, and 18th. Some of the people with the name Martineau who settled in the Canada in the 17th century included Louis Martineau at the age of 27, arrived in in Quebec in 1656. Jean Martineau and Jehan Martineau both came to Montreal in the same year in 1659.
Some of the people with the name Martineau who settled in the Canada in the 18th century included Antoine Martineau who settled in Quebec in 1758.
New Zealand:
Some of the people with the name Martineau who settled in New Zealand in the 19th century included Henry Martineau landed in Wellington, New Zealand in 1841 aboard the ship Arab and Henry Martineau arrived in Wellington, New Zealand aboard the ship "Arab" in 1841.
Here is the population distribution of the last name Martineau: United States 6,089; England 457; Haiti 1,482; Chile 135; Argentina 105; Malaysia 101; Mexico 419; Canada 8,752; Germany 202; France 10,776.
Notable People:
Alice Martineau (1972–2003), was an English pop musician and composer.
Alfred Albert Martineau (1859–1945), was a French administrator.
Alfred Martineau (cricketer) (1868–1940), was an English cricket player.
André Martineau (1930–1972), was a famous French Mathematician.
Barrett Martineau (born 1991), was a Canadian racer.
Don Martineau (1952–2006), was an American player in ice hockey.
Earl Martineau (1896–1966), was an American football player and referee.
Emmanuel Martineau (born 1946), is a French scholar.
Eugène Martineau (politician) (1837–1880), was an Ottawa politician.
Eugène Martineau (athlete) (born in 1980), was a sportsman from the Netherlands.
France Martineau is a Canadian philologist and teacher.
François Martineau (1844–1911), was a Canadian congressman.
G. D. Martineau (1897–1976), was an English author.
George Martineau (1905–1969), was an administrator of Edinburgh
Gérald Martineau (1902–1968), was a Canadian congressman.
Géraldine Martineau (born 1985), was a French artist and entertainer.
Gilbert Martineau (1918–1995), was a French writer and Honorary advocate on St Helena
Gord Martineau (born 1948), was a Canadian television reporter and announcer.
Blazons & Genealogy Notes
1) (Basing Park, co. Hants, and Stamford Hill, co. Middlesex). Paly of six or and gu. on a fesse of the last three roses ar. Crest- A martin ppr.
2) Per fess paly of six or and gu. counterchanged on a fess of the second three roses ar.
3) Ar. a fesse betw. three pairs of wings conjoined az. Crest—A ram's head erased gu.
4) Ar. a cinquefoil gu.