Masters Family Crest, Coat of Arms and Name History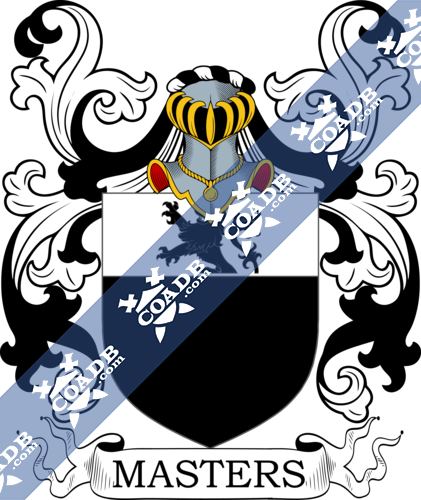 Masters Coat of Arms Gallery
Don't know which Coat of Arms is yours?
We can do a genealogical research. Find out the exact history of your family!
Learn More
Surname Name Meaning, Origin, and Etymology
The last name Masters is a patronymic (son of) from the word master. The name likely was given to a person who lived or served as a master's house, was an apprentice of a person who was a master of a trade. Ultimately, this Anglo-Scottish name derives from the has Latin/Roman origins and derives from the word magister, meaning a superior or a person in charge (ex. a teacher, or a person in charge of a village or tribe in ancient times). In his book, Patronymica Britannica, Mark Antony Lower writes the following about the name Masters: "Apparently a Norman local name. Robert de Mosters occurs in the Domesday Book". It derives from the Old French word maistre and the Old English word maister. Once source asserts the family held land and titles in county Kent, England, which they received from Duke William of Normandy for their allegiance to him during the Battle of Hastings in 1066 AD.
Spelling Variations
Common spelling variants or names with similar etymologies include Master, Masterton, Measter, DeMaster, and Mosters.
Popularity & Geographic Distribution
The last name Masters ranks 1,412nd in popularity in terms in the United Status as of the 2000 Census. The name ranks particularly high in the following seven states:
The surname Masters frequency/commonness ranks as follows in the British Isles: England (680th), Scotland (1,558th), Wales (582nd), Ireland (4,128th) and Northern Ireland (2,305th). In England, it ranks highest in Warwickshire and Dorset. In Scotland, it ranks highest in Ross and Cromarty. In Wales, it ranks highest in Denbightshire. In Ireland, it ranks highest in Waterford.
The name is also present throughout the remainder English speaking world:  Canada (2,251st), New Zealand (560th), Australia (628th), and South Africa (2,270th).
The 1890 book Homes of Family Names by H.B. Guppy, states the following in regard to this surname: "From the time of Cromwell to the reign of George I. several of the mayors of Bath bore the name of Masters".
Early Bearers of the Surname
The last name atte Maysters was recorded ion 1327 AD. The Hundred Rolls of 1273 AD, a census of Wales and England, known in Latin as Rotuli Hundredorum lists two bearers of this surname: Angues le Maistre in Cambridge and Thomas Magistre. The Poll Tax of Yorkshire in 1379 AD list one bearers of this last name: Johannes Maister. There are also numerous early records of the surname Masterton and it's spelling variations, which can be searched for on this website separately.
History, Genealogy, and Ancestry, and Masters Pedigree
Thomas Masters were born in England in 1420. He married Denyse (last name not known) and had issue with her. His son Thomas was born in Wye, Kent, around 1462. This Thomas married Agnes and had issue with her: Agnes, Peter, John, William, Thomas, and Alice (Martin). His son John Masters was born in Sandwich, Kent in 1488 and he became mayor of his hometown. He had the following issue: Agnes (Gifford), Thomas, Peter, James, John, Mary, William, and Susane. His son John Masters was born in Aldenham, Hertfordshire in 1555 and he went to colonial America. He married Elizabeth Thompson and had children with her, one named John. This John was born in 1581 in Finglesham and went to Massachusetts with his father. He married twice: Mary Goodall and Jane Cox, and he had the following issue with her: Lydia (Taber), Sarah (Dobson), Ruth (Lockwood), Abraham, Nathaniel, and another son whose name is not known. He was a tavern keeper by occupation.
Benjamin Masters was born in Ameliasburgh, Ontario, Canada in 1807 and he married Letitie Peterson in 1827, with whom he had the following issue: Margaret, Samuel, Phebe Ann, Nancy Ann, Elizabeth, Permilla, Emily Amelia, Sarah Jane, and Daniel. His son Samuel was born in the same town in 1834 and he married three times: Amanda Zufelt, Mary E. Bull, and Elizabeth A. Wait, and he had numerous issue: James Wallace, Elizabeth, Ann Clara, Salaem H., Charity Ann, Arnold, Ernest E., Sanford Henry, Florence May, Mary Edith, and Ella Elizabeth. James Wallace Masters was born in 1856 in Cramahe Township, Ontario, Canada and he married Harriett Burley with whom he had the following issue: William Wallace, Harry, Myrtle May, Walter Evan, and Alvin.
Early American and New World Settlers
The book Genealogical Guide to the Early Settlers, mentions 7 people bearing this surname:
1) Abraham Masters of Cambridge in 1639, either son or grandson of John
2) Giles Masters, Boston, died in 1688 and lived there only for a short amount of time, described as the "King's attorney" who was "not sympathetic toward our people".
3) John Masters of Cambridge, who likely came in the fleet with Governor Winthorpe, freeman in 1631, with wife Jane. He had daughters named Sarah and Lydia
William Masters, age 21, came to the Barbados in February 1634 aboard the Hopewell.
Michell Masters, age 21, came to Virginia in August 1635 aboard the George.
Joseph Masters, age 23, came to Virginia in October 1635 aboard the Abraham.
Other settlers in early colonial America were Nathaniel Masters (New England 1659) and Rich Masters (Virginia 1664). In New Zealand, one of the earliest settlers bearing this last name was Arthur Masters who landed in Wellington in 1840. In Australia, one of the earliest settlers bearing this name was Joseph Masters, a cooper, who came to Tasmania (then called Van Diemen's Land) in the late 1820s or early 1830s.
Mottoes
I have been unable to identify the Masters family motto.
Grantees
We have four coats of arms for the Masters surname depicted here. These four blazons are from Bernard Burke's book The General Armory of England, Ireland, and Scotland, which was published in 1848. The bottom of this page contains the blazons, and in many instances contains some historical, geographical, and genealogical about where coat of arms was found and who bore it. People with this last name that bore a Masters Coat of Arms include:
1) John Smalman Masters, M.A. at Jesus College, county Oxfordshire, of Edwdon, parish of Shelton in Shropshire and Greenwich in county Kent (and to his descendants of his father William, 21 March 1834
2) Masters (Smith-), late Cowburn, Reverend Allen, of county Kent, 1862
Notables
There are hundreds of notable people with the Masters surname. This page will mention a handful. Famous people with this last name include: 1) Blythe Masters (1969) who is an economist from Oxford, England who is a former exective of JPMorgan Chase and the current CEO of Digital Asset Holdings, 2) Charles Harcourt Masters (1759) who was an English surveyor and architect in Bath, 3) Edgar Lee Masters (1868-1950) who was an America attorney and poet from Garnett, Kansas, 4) Geoff Masters (1950) who was an Australian tennis player who was part of a doubles pair that won the US Open, Australian Open, and Wimbledon in the 1970s, 5) James Marvin Masters Sr. (1911-1988) who was a Lieutenant General in the Marine Corps who fought in the Pacific during World War II and was nicknamed El Tigre, 6) Josiah Masters (1763-1822) who was a member of the US House of Representatives from New York who was born in Woodbury, Connecticut, 7) Maxwell Tylden Masters (1833-1907) who was an English taxonomist and botanist, and 8) Robert Masters (1713-1798) who was an English academic, historian, and clergymen from Hetherset, Norfolk.
Blazons & Genealogy Notes
1) (Ewdon, co. Salop). Gu. two chevronels betw. two falcons belled, rising in chief or, each charged on the breast with a cross pattée fitchée az. and in base a cross pattée fltchée of the second. Crest—A cock's head erased ar. combed and wattled gu. in the beak an ear of wheat slipped or, betw. two wings az. semée of estoiles gold.
2) Or, on a fesse betw. three pheons gu. two lions pass. of the field. Crest—An arrow in pale sa. barbed and feathered ar. enfiled with a Ieopard's face or.
3) Sa. on a chief ar. a demi lion ramp. of the field.
4) Sa. on a fesse or, betw. three flowers ar. leaved of the second two lions pass. az. Crat—An arm gu. Holding two branches flowered ar. leaved vert.