Maxfield Family Crest, Coat of Arms and Name History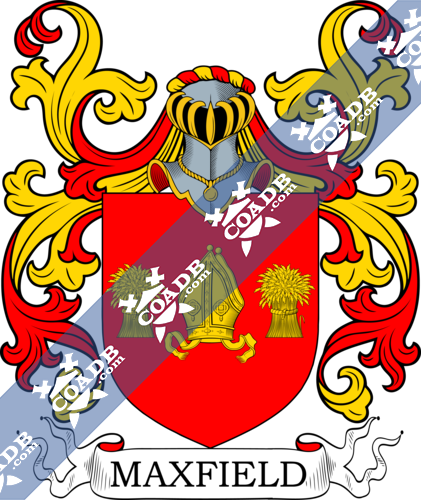 Maxfield Coat of Arms Gallery
Don't know which Coat of Arms is yours?
We can do a genealogical research. Find out the exact history of your family!
Learn More
Maxfield Origin:
England
Origins of Maxfield:
The origin of this unique surname evolved originally from the little town of Macclesfield in the province of Cheshire, and it is a locational and English name. According to early recordings, it is known as 'Maclesfeld' in the famous Domesday document of the year 1086. However, most of these names of various places had evolved originally from the ancient Old English pre 7th Century as a particular or inherited name 'Macca', and 'leah, which means a clearing or green land and 'farm,' a vast farm land without any barrier which suitable for biting or grazing. Thus it means "Macca's farm by the unfenced area." It is not sure that when the surname was first registered, but according to early examples taken from accurate remaining registers of the church included on 14th March in the year 1564, Ales Maxfield married Robert Hale at the church of St. John the Baptist, Chester. While on 17th August 1646, John Maxfield married Katherine Burslam at Audley Lawton, near Astbury also in Cheshire.
Variations:
More common variations are: Maxffield, Maxifield, Maxfeld, Maxfild, Mxfield, Maxfeldt, Maxfeild, Maxfiled, Maxvield, Mexfield
England:
The origins of the surname Maxfield first found in Cheahire East at Macclesfield, a shopping city in the church of Prestbury and hundreds of Macclesfield where people there held a family seat from early times. Earlier to the Normans success, this area considered a part of the authority of the Lord of Mercia, who held a court here for the early hundreds of Hamestan. So, according to the records of Domesday book, it is appeared to have been one of the seats of King Edwin. And also according to the Domesday Document, the land name as Maclesfeld and perhaps which mean as " open country of a man named Maccel," and Old English name "Feld."
The very first recorded spelling of the family was shown to be that of John Maxfield, dated 1539, when he was a blessing observer at St. Antholin's Church, in the city of London. It was during the time of King Henry VIIIth of England who was known to be the 'Bluff King Hal', but more familiar with the behavior of his six wives. He retired from his service in 1509 to 1547. The origin of surnames during this period became a necessity with the introduction of personal taxation. It came to be known as Poll Tax in England. Surnames all over the country began to develop, with unique and shocking spelling varieties of the original one.
United States:
People of the Maxfield surname also settled in the United States in different centuries respectively in the 17th and 18th. Individuals who settled in the 17th Century included Clement Maxfield, who landed in Dorchester, Massachusetts in the year 1658 and Richard Maxfield, who arrived in Maryland in the year 1665.
The following century saw many more Maxfield surnames arrive. People of the Maxfield surname, who came in the 18th century included William Maxfield and Mary Maxfield, aged 12, arrived in Philadephia, Pennsylvania respectively in the years 1772 and 1773.
Here is the population distribution of the last name Maxfield: United States 7,269; England 1,323; Australia 577; Canada 354; India 23; Spain 11; Japan 6; Northlands 13; Scotland 59; New Zealand 50
Notable People:
Mike Maxfield was born on February 23 1944 in Manchester, England. He is an English songwriter and musician, who became famous as a representative of The Dakotas. He wrote "Cruel Sea," a song which was first listed by The Ventures. After that, The Dakotas recorded an instrumental version of the song, which was one of the group's biggest success.
Richard Vance Maxfield (1927 – 1969) was a writer of instrumental, electro-acoustic, and electronic songs and music. He was born in Seattle, and he studied at Stanford University, the University of California, Berkeley (with Roger Sessions) and individually with Ernst Krenek in Los Angeles
Stuart Maxfield was born in 1972. He is a retired Australian rules football player. He played in Australian Football League (AFL) for Richmond and the Sydney Swans. He was the Swans' commander till 5 May 2005, when he retired from the position.
Blazons & Genealogy Notes
1) Gu. a cross engr. erm. Crest—On a ducal coronet a dolphin naiant.
2) (Macclesfield Priory). Gu. a mitre betw. two garbs or.