Melton Family Crest, Coat of Arms and Name History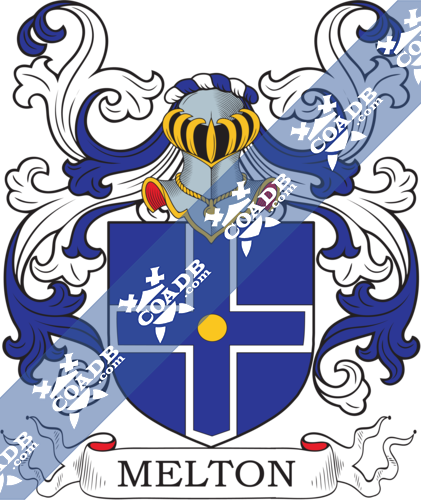 Melton Coat of Arms Gallery
Don't know which Coat of Arms is yours?
We can do a genealogical research. Find out the exact history of your family!
Learn More
Melton Origin:
England
Origins of Name:
The surname of Melton originated with an Anglo-Saxon and Old Scandinavian origin, and it is a topographical and locational surname deriving from one of the many places that was called Melton. These places are in Leicestershire, Lincolnshire, Norfolk, and East and West Yorkshire. These places are known because they were recorded in the Doomsday Book of 1066, which covered the "Great Survey" of England. These names are recorded as "medeltone" or "meltuna" and all come from the same meaning and derivation. All of these places literally translate to "the middle settlement." The derivative is from the Old English, Pre 7th Century, "middel" and "middle" which referred to the place between two other places, and "tun" which which translated to settlement and enclosure. Eventually, the Old English word "middel" was later altered to the Old Norse "menthal" and "medal" because of an influence from the Scandinavian people. It is important to remember that locational surnames were used as an identifier for people who moved from their birthplace.
Variations:
More common variations are:
Meliton, Meleton, Meilton, Meltone, Meltoni, Meltonn, Meloton, Meulton, ,Mealton, Mellton
History:
England:
The first recorded spelling of the surname of Melton was was dated in the year 1273. One John de Melton was recorded and mentioned in the Hundred Rolls of Norfolk, under the reign of King Edward I, who was referred to as "The Hammer of the Scots" and who ruled from the year 1272 to the year 1307. Other mentions of the surname of Melton were most commonly found in church registers. John Melton was recorded as being christened in Huggate, Yorkshire in November of the year 1539, and the marriage of Thomas Melton and Agnes Barkworth in July of the year 1571 at Tattershall in Lincolnshire. In England, those with the Melton surname were living on the eastern coast, in the counties of Lincolnshire, Essex, Suffolk, Yorkshire, Norfolk and the city of London.
Scotland:
Those who bear the surname of Melton are often found throughout the country of Scotland. Those with the surname of Melton are found in high concentrations in the counties of Banffshire, Midlothian, and Lanarkshire.
United States of America:
During the European Migration, it was common for these disgruntled European citizens to migrate to the United States in search of something better for them and their families. Among these citizens were people who carried the surname of Melton. Henry and Thomas Melton both arrived in Virginia in the year 1635, and shortly following them were Thomas and Hannah Melton, who also arrived in Virginia in the year 1638. Those who bear the surname of Melton are often found in the southern states in America. Those with high concentrations of people with the surname of Melton are Texas, Oklahoma, Kentucky, North Carolina, Virginia, Tennessee, Missouri, Georgia, and South Carolina, as well as out West in California.
Canada:
In the 20th Century, settlers started migrating up North into Canada, oftentimes because of the rift between England and the United States. Settlers with the surname of Melton moved into Canada as well. Among those were Fred Melton, who was 42 years of age, and Tom Melton, who was 38 years of age, who both arrived in Vancouver, Canada in the year of 1923.
Melton Today:
United States 55,651
England 1,882
South Africa 603
Philippines 580
Germany 504
Australia 499
Canada 373
New Zealand 166
Scotland 98
France 61
Notable People:
Emery Melton (1923-2015) who was American politician, Member of the Missouri Senate from the year to 1972 to the year 1996
Matthew Melton (born in 1982) who is an American musician, songwriter, producer, and photographer
Reuben Franklin Melton (1917-1971) who was an American Major League Baseball pitcher who played for the Brooklyn Dodgers from 1941 to 1947 and later for the Philadelphia Phillies
Kaitlyn "Kate" Melton (b. in 1992) who is an actress in America, best known for her acting in the two popular Scooby Doo films
Clifford George "Cliff" Melton (1912-1986) was a left handed pitcher who played in the American Major League Baseball League. He played for eight seasons from the year 1937 to the year 1944
Patrick Melton (born in 1975) who is an American screenwriter, producer, and novelist
Parvathi Melton (born in 1988) who is an American actress and former model, most notably known for her work in India
James Melton (1904-1961) who was an American pop singer in the 1920s and early 1930s best known his work on The Firestone Hour in the year 1933, on Ward's Family Theater in 1935, The Sealtest Sunday Night Party in 1936, and The Palmolive Beauty Box Theater 1937
Blazons & Genealogy Notes
1) (Tottenham High Cross, co. Middlesex; granted 1 Sept. 1626). Az. a cross voided ar. in the centre a bezant.
2) (co. York). Ar. a cross patonce voided az.
3) Az. a cross patonce ar. surmounted of another of the first betw. four cinquefoils or. Crest—A lion's head erased az. guttee d'or, ducally gorged gold.
4) (South Hayne, co. Devon, and co. York). Az. a cross flory voided ar. Crest—A snake nowed and erect in pale ppr. ducally gorged ar.
5) (co. Lancaster). Ar. a cross pattée voided gu. Crest—A dolphin haurient devouring a fish ppr.
6) (co. Middlesex). Ar. a cross flory az. voided of the field, charged with a bezant (another, the field erm. cross gu.).
7) Az. a cross patonce or, charged with another of the field.