Merley Family Crest, Coat of Arms and Name History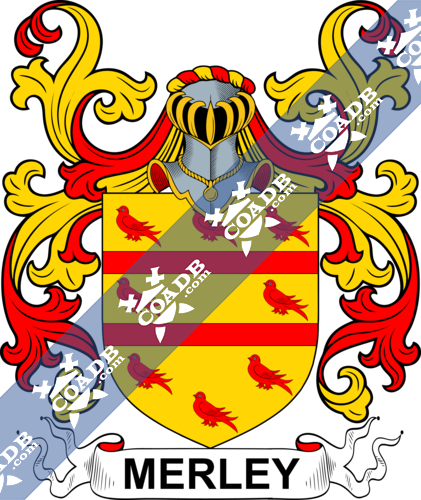 Merley Coat of Arms Gallery
Don't know which Coat of Arms is yours?
We can do a genealogical research. Find out the exact history of your family!
Learn More
Origins of Merley:
The Merley name is habitational, acquired from any of many places so named like Morley in Cheshire, Derbyshire, District Durham, Norfolk, and West Yorkshire, and Moreleigh in Devon.  These place names acquire from the Old English words "mor," which means "marsh" and "le-ah," which means "a clearing in the woods. "It is only in the last few hundred years that the English language has regulated.  For that reason, early Anglo-Saxon surnames like Merley described by many spelling variations.  As the English language changed and combined components of other European languages, even educated people changed the spelling of their names.  Authors and priests in the Middle Ages spelled names they sounded, so it is common to find many variations that refer to a single person.  The variations of the name Merley include as Morley, Mawley, Morely, Moorley, Maughley, Morleigh, Moorley and much more.
Variations:
More common variations are: Mierley, Mehrley, Merhley, Myerley, Mearley, Mereley, Merrley, Merleya, Moerley, Meurley.
England:
The surname Merley first appeared in Derbyshire at Morley, a church, in the union of Belper, hundred of Morleston and Litchurch. "In Domesday Survey this place explained as one of the estates of Henry de Ferrers.  In 1235 the manors of Morley and Smalley were held by the abbot of Chester as of the fee of Hugh, Lord of Chester and Morley was afterwards held by a family who took their name from the place."  Some of the family appeared at Wennington in Lancashire in old times.  "William de Wennington was in possession of the estate, which about the 4th of Edward III.  (1330) passed to the family of Morley, of Great and Little Morley, with whom it survived until 1673." The township of Mearley in Lancashire played an important role in the family history.  "The main part of the township given by Jordan le Rous to Stephen afterwards called de Merley, whose daughter married Adam de Nowell, and carried the Hall and manor into that family, 38th of Edward III."
United States of America:
An inquiry into the early roots of North American families has revealed some immigrants bearing the name Merley as Catherine Morley, who came to Salem in the year 1630.  Henry Morley, who arrived in Virginia in the year 1635.  Robert Morley, who came to Virginia in the year 1653. Charles Morley, who came to Virginia in the year 1658.
Blazons & Genealogy Notes
(France). Or, two bars gu. an orle of martlets ofthe last.