Moorman Family Crest, Coat of Arms and Name History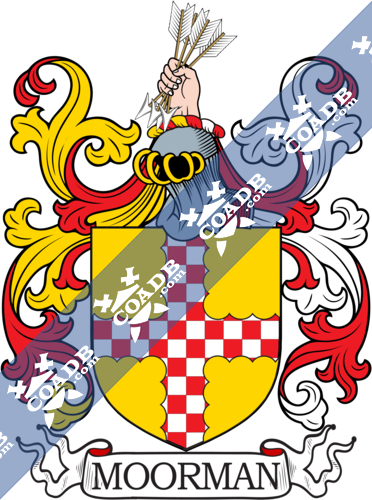 Moorman Coat of Arms Gallery
Don't know which Coat of Arms is yours?
We can do a genealogical research. Find out the exact history of your family!
Learn More
This distinguished British surname noted in a wide range of spellings including as More, Mores, Moor, Moores, Moors, Moreman, Morman, Moorman, and in Scotland Muir, has some possible origins.  The first is a geographical name for someone who resided on a moor or in a fen, both of which showed by the Olde English pre 7th Century word "mor", or from one of the various hamlets so named such as Moore in the division of Cheshire, or More in Shropshire.  Secondly, it may have been a nickname for someone of dark or swarthy complexion.  In this example, the origin is from the Old French "more", meaning dark-skinned.  There was also a personal name of the same origin, which was borne by many early saints.  The given name was introduced into England by the Normans but was never as popular in England as on the Continent.  In Ireland, the surname started as a form of the Gaelic O'Mordha, a combination of the components O', meaning descendant of, and Mordha, a byname changing as proud or stately. More common variations are: Moormann, Mooreman, Moormani, Moormain, Moormman, Mooriman, Morman, Mooremane, Moorimani.
The surname Moorman first appeared in Suffolk where they held a family seat as Lords of the Estate.  The Saxon force of English history declined after the Battle of Hastings in 1066. Some of the people with the name Moorman who arrived in the United States in the 17th century included  Zachariah Moorman, who arrived in South Carolina in 1671.
Blazons & Genealogy Notes
Or, a cross engrailed chequy gules and argent. Crest— A hand holding four arrows points downward all ppr.