Morley Family Crest, Coat of Arms and Name History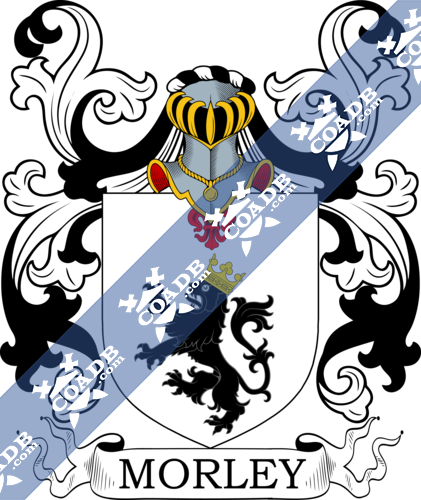 Morley Coat of Arms Gallery
Don't know which Coat of Arms is yours?
We can do a genealogical research. Find out the exact history of your family!
Learn More
MORLEY
The English surname Morley derives from anyone of the locations of the same name found throughout England, or from the town named Moreleigh in Devon. Both names come from the old English words "mor" which translates to marsh and "leah" which translates to clearing or glade. A second source of origin also indicates the name is the Anglicized version of the French name "Morlet "which translates to brown or dark. It is believed this version of the name came to England after the Norman invasion in 1066.
Surnames in Europe prior to the mid-sixteenth century were largely unheard of. Residents found little need for surnames in the small settlements and villages which existed during earlier times as everyone in these communities new each other and a given name would usually suffice. However, with the passage of time, population growth and expansions of communities as villages gave way to towns and cities, it became necessary to add a qualifier to a people's names to distinguish them, one from another. Therefore one person may have been identified by their given name plus their occupation while another may have been identified by their given name and one of their parent's names. There was a limitless supply from which surnames could be culled, in addition to the use of patriarchal/matriarchal names or reference to the individuals occupation, there were things such as defining physical traits, a familiar geographical location or a topographical landmark found near the individuals home or birthplace, the name of the village in which the person lived, and so much more. Soon, surnames would come not just to represent an individual but whole families.
There often exists variations in spelling of many surnames, as with many given names which date back to the early centuries. The variation in spelling of both given and surnames during this time period can be attributed to a lack of continuity regarding guidelines for spelling which was compounded by the diversity of languages in use in European countries at this time. The variations in the spelling of the surname Luke include but not limited to; Morely; Moorley; Moorley; Morleigh; and Mawley among others.
The earliest record of any variation of this surname is that of Adam Morlay which appears in the Norfolk tax rolls dated 1319. These tax rolls were a series of census and tax records kept by the English Treasury by order of King Edward II, with the oldest dating back to the 12th century. They hold the distinction of being the oldest consecutive set of records detailing English governance in the United Kingdom. These records span a period of over seven hundred years and have proven invaluable to researches over the years.
One of the first recorded immigrant to America bearing the surname or any variation of the spelling was Catherine Morely who arrived in 1630 and settled in Salem, Massachusetts. Henry Morely landed and settled in Virginia in 1635.
There were also many immigrants to the British Common Wealth countries of Canada, Australia, and New Zealand bearing the surname. Thomas Morely landed in 1820 and settled in New South Wales, Australia. James Morely landed and settled in South Australia in 1849. George and Elizabeth Morely landed in 1842 and settled in Nelson, New Zealand.
Worldwide, the highest concentration of people with the surname Morely are found in Ireland, Spain, the United Kingdom, Argentina, and the United States. By state, the largest percentile of those with the surname Morely live in Maine, Massachusetts, Connecticut, Delaware, Indiana, Oklahoma, and Oregon.
There are many persons of note who bear the surname such as British born statesman, writer, Member of Parliament, and newspaper editor, John Morely, 1st Viscount Morely of Blackburn. Viscount Morely also served as the Secretary of State for India.
British born pediatrician and Professor of Child Health at the UCL Institute of Child Health, Professor David Morely. Morely spent many years working in underdeveloped countries and is credited with saving the lives of thousands of children.
American born journalist, Felix Muskett Morely was the recipient of a Pulitzer Prize in 1936,
for "distinguished editorial writing during the year." He was working as a journalist for The Washington Post at this time.
Noted actor, playwright and author Robert Adolph Wilton Morely CBE, was known for his wit, and his numerous double chins. He was an Oscar nominated actor, who once was seen as the epitome of what it meant to be British. Robert Morely passed away in 1992.
Blazons & Genealogy Notes
1) (Morley, co. Lancaster; descended from Richard Morley, Esq., of Morley, temp. Edward III., whom. Margaret, dau. and heir of Gilbert Winnington). (Glynde, co. Sussex; descended from Nicholas Morley, second son of Francis Morley, Esq., of Morley, co. Lancaster, who m. the dau. and co-heir of Sir John Walleys, Knt., of Glynde). Sa. three leopards' faces or, jessant-de-lis ar. Crest—A man in complete armour ppr. garnished or, in the dexter hand a baton gold, across his body a sash az.
2) (Marrick Park, co. York). Motto—S'ils te mordent, mord les. Sa. a leopard's face or, jessant-de-lis ar. Crests— 1st: A leopard's face jessant-de-lis or; 2nd: Out of a ducal coronet or, a griffin's head betw. two wings expanded, all ar.
3) (East Lavant, co. Sussex). Same Arms. Crest—A griffin's head betw. two wings expanded, issuing out of a ducal coronet all ar.
4) (Halnaker, co. Sussex; descended from John Morley of Saxham, who purchased Halnaker, temp. James I.) Sa. a leopard's head ar. jessant-de-lis or. Crest—On a chapeau gu. turned up. erm. a leopard's face ar. jessant-de-lis or.
5) (co. Hants; granted, in 1575, to John Morley, of Barnes, co. Southampton). Same Arms. Crest—Out of a ducal coronet a demi talbot or.
6) Same Arms, a bordure engr. or, semée of torteaux. Crest—A talbot ermines pass, reguard. collared or.
7) Per pale gu. and az. a leopard's face jessant-de-lis or. Crest—Out of a mural coronet a griffin's head betw. two wings.
8) (France). Or, two bars gu. an orle of martlets ofthe last.
9) (co. Norfolk). Ar. a lion ramp. sa. crowned or (another, the tail double queued).
10) (Morley, co. Derby). Same Arms, a fleur-de-lis for diff.
11) (Norwich, co. Norfolk). Barry of six az. and or, on a chief ar. three lions' heads erased sa. Crest—A wolf sejant sa. maned, tufted, collared, and lined or.
12) (Halsted, co. Essex; granted by Anstis, Garter). Motto—Nec errat nec assat. Vert three leopards' faccs in pale jessant-de-lis or. Crest—A demi man ppr. habited az. holding a poleaxe bendways or, on his head a steel cap with three feathers gu., or, and az.
13) (Craven, co. York). Sa. a leopard's face or, jessant- de-lis ar.
14) (Hackney, co. Middlesex; granted to John Morley, Esq., of that place, and the other descendants of his father, Samuel Morley, Esq., of Honiton, co. Notts). Motto—Tenax propositi. Ar. a leopard's face jessant-de-lis sa. betw. three griffins' heads erased gu. Crest—A demi griffin ar. wings elevated erm. holding betw. the claws a leopard's face jessant-de-lis, as in the arms.