Muirhead Family Crest, Coat of Arms and Name History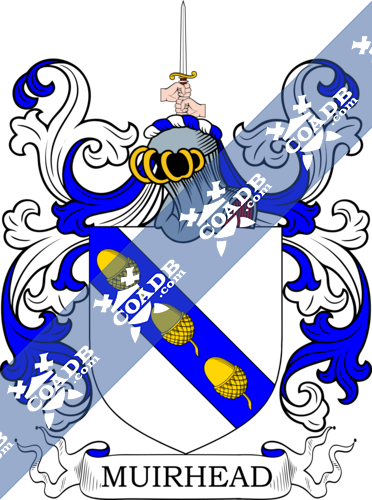 Muirhead Coat of Arms Gallery
Don't know which Coat of Arms is yours?
We can do a genealogical research. Find out the exact history of your family!
Learn More
Muirhead Origin:
Scotland
Origins of Muirhead:
Listed in many spelling forms such as Mairhead, Morehead, Moorehead, Moorhead, and Muirhead, this is a Scottish surname. It is of geographical origin from any of the regions in southern Scotland named with the northern old English words "muir" which means "anchor," and "heid," which means head or end of a Dale. These places consist of Muirhead in the barony of Bothwell, and Mureheid in the district of Ross. The surname first shows on record at the end of the 14th Century. First documentations contain as William de Murehede who supported a charter of estates of Cranshaw in 1401. Andrew Morheid, assizer at Lanark in 1432 David de Murhed, a minister in Glasgow (1471): Richard Murhede, administrator of Glasgow (1491) and Thomas Mureheid or Moirheid, quarryman at Dunkeld (1507). In January 1630 Jeane Morehead, a new-born baby, named in St. Swithins London- Stone, and in August 1641 John Moorehead named in St. Anne Blackfriars, London. James Patrick Muirhead (1813 – 1898), got an education at Glasgow College was the author of James's Watt.
Variations:
More common variations are: Muirheadh, Muierhead, Muirheadd, Muirheid, Murrhead, Muirhed, Muirhad, Murhead, Muirheade, Muirhiead.
England:
The surname Muirhead first appeared in Lanarkshire, an old division in the central Strathclyde area of Scotland, now parted into the Conference Areas of North Lanarkshire, South Lanarkshire, and the City of Glasgow. Today, Muirhead is a small village of Glasgow, about 7 miles North-East of the city center.
The very first recording spelling of the family was shown to be that of Sir William Muirhead, dated about 1399, in the "Records of Lachope," Scotland. It was during the time of King Robert III of Scotland, dated 1399-1406. The origin of surnames during this period became a necessity with the introduction of personal taxation. It came to be known as Poll Tax in England.
Ireland:
Many of the people with surname Muirhead had moved to Ireland during the 17th century.
United States of America:
Individuals with the surname Muirhead settled in the United States in two different centuries respectively in the 17th, and 19th. Some of the people with the name Muirhead who settled in the United States in the 17th century included James and John Muirhead, both dismissed to the New World in 1685 by Judge Jeffreys. George Muirhead, who arrived in New Jersey in 1685. John Muirhead, who arrived in Perth Amboy, NJ in 1685.
The following century saw much more Muirhead surnames arrive. Some of the people with the surname Muirhead who settled in the United States in the 19th century included Alexander Muirhead, who landed in America in 1810. James Muirhead, who landed in Charleston, South Carolina in 1813. Alexander Muirhead arrived in Pennsylvania in 1847. Robert Muirhead, who landed in Allegany (Allegheny) Division, Pennsylvania in 1874.
Australia:
Some of the people with the surname Muirhead who settled in Australia in the 19th century included Samuel Muirhead arrived in Adelaide, Australia aboard the ship "Helen Thompson" in 1840. Jane Muirhead arrived in South Australia in 1854 aboard the ship "Joseph Rowan." William Muirhead arrived in South Australia in 1854 aboard the ship "Marion."
New-Zealand:
Some of the people with the surname Muirhead who settled in New Zealand in the 19th century included Margaret Muirhead and Christina Muirhead, both arrived in Auckland, New Zealand aboard the ship "Duchess of Argyle" in 1842.
Here is the population distribution of the last name Muirhead: United States 2,904; England 2,285; Canada 1,423; Scotland 1,299; Australia 1,166; South Africa 986; Jamaica 625; New Zealand 362; Malaysia 101; Northern Ireland 83.
Notable People:
Aaron Muirhead (born 1990), is a Scottish football player.
Alexander Muirhead (1848–1920), was a Scottish scientist.
Andy Muirhead (born 1975), is an Australian radio and television announcer.
Anthony Muirhead (1890–1939), was a British soldier.
Arch Muirhead (1876–19??), was an Australian rules football player.
Ben Muirhead (born 1983), is an English football player.
Bruce Muirhead is a Canadian professor.
Charlie Muirhead is a British internet businessman.
Corey Muirhead (born 1983), is a Canadian basketball player.
David Muirhead (1918–1999), was a British diplomat.
Doug Muirhead (born 1962), is a Canadian soccer player.
Blazons & Genealogy Notes
1) (Lauchop, Scotland). Motto—Auxilio Dei. Ar. on a bend az. three acorns or. Crest—Two hands supporting a sword erect in pale ppr.
2) (Bredisholm, co. Lanark). Same Arms, with a crescent betw. the acorns.
3) (Du Vernet-Grossett-Moirhead, of Bredisholm; his dau. and heir m. Robert Steuart, of the family of Alderston). Motto—Pro patria auxilio Dei. Quarterly, 1st and 4th, as the last; 2nd, az. three stars in fess ar. and as many bezants in fess or, below the middle of the shield, in chief an acorn of the second, for Grossett; 3rd, az. a chev. betw. two mullets in chief or, and a unicorn ramp, in base ar., for Du Vernet. Crest—A demi unicorn ramp. ar.