Mumford Family Crest, Coat of Arms and Name History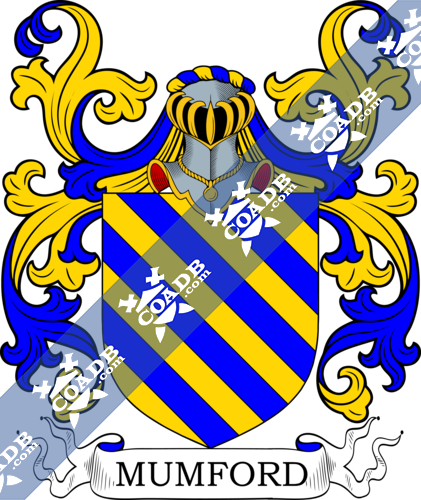 Mumford Coat of Arms Gallery
Don't know which Coat of Arms is yours?
We can do a genealogical research. Find out the exact history of your family!
Learn More
Mumford Origin:
France, England.
Origins of Mumford:
This surname is a famous and well known one, tracing its roots all the way back to Montford-sur-Risle in Normandy, France. It is a locational surname which has its roots from the Olde French "mont", basically meaning a hill combined with "fort" – defined as resilient and secure or impregnable. However, it could also be possible the name arose from different villages in Montford, but they all have French origin. It was recorded in the Oxford University Register in 1597, one John Mountford, and another time in the register of St. Margarets, in Westminster where William Momeforde was christened there in 1546. The first known recording of the surname was for Hugo de Montford, from the year 1089 in the doomsday Book. This book was used as the beginning of personal taxation also known as the Poll Tax in England.
Variations:
More common variations are: Mumfored, Mamford, Momford, Mumferd, Memford, Mimford, Mumfred, Mumfort, Mumfird, Mumfurd, Mumphord, Mumfraid, Mumfreda, Mumfried, Mumfarida, Mumfaridah, Momfort.
England:
The first known recording in England was during the reign of King William I. However, other names like Ralph de Munford came into record in the year 1159, in "Pipe Rolls of Kent" while Simon de Munford was recorded in 1242, in "Fine Court Rolls of Kent".
France:
Mumford, an Anglo-Saxon name is said to have evolved from a family that resided in the settlement, of Mumford in areas of Norfolk, Montford-Sur-Risle and such similar places in France. These surname belongs to huge category of Anglo-Saxon community, locational names deriving from pre-existing towns, villages, farmstead or parishes. Various elements of Latin, French and some other languages got mixed together and incorporated into English that lead to differentiation in spellings.
United States:
A group of people bearing the Mumford surname would eventually settle in the United States. Some of them include, Richard Mumford, William Mumford and Thomas Mumford who landed in Rhode Island, Thomas Mumford would eventually become an inspector general. During the 18th century, Debora Mumford arrive in Virginia in 1706 and Margaret Mumford settled in Maryland in 1729. John Mumford in 1846 would arrive in New York.
New Zealand:
Some of the people who settled in New Zealand in 19th century includes, Jonathan Mumford and Ann Mumford in 1863, James Mumford in Wellington in the year 1866, Thomas Mumford in 1874, Amelia Mumford, a 41-year-old women arrived in the year 1874.
Canada:
George Mumford is noted to have arrived in Nova Scotia in the year 1760.
Australia:
James Friend Mumford, a 25 old man landed in South Australia in 1858 from the ship "Coniance".
Here is the population of the distribution of the last name Mumford: United States 7,312; England 3,883; Australia 1316; South Africa 731; Canada 716; Wales 452; Scotland 276; New Zealand 154; France 147; Germany 134.
Notable People:
Alice Mumford (born in 1965) was born in Colombia and would be an artist and teacher at the Royal West of England Academy.
David Mumford (born ion 1937), he was a renowned famous American mathematician. He won the Fields Medal and was a MacArthur Fellow. He is a current professor at Brown University.
Eloise Mumford (born in 1986), is an American Television Actress.
Ethel Mumford (1878-1940), he was a famous American writer from New York.
George Mumford (died in 1818) turned out to be an American politician. He was the Congressional Representative from North Carolina.
Marcus Mumford (born in 1987), is part of the musical group Mumford and Sons. He was born in California to English parents.
Shane Mumford (was born in 1986), is a successful Australian footballer.
Mick Mumford, is a high ranking Australian military officer. He is now a part of the Australian Army Reserves.
Stephen Mumford, (born in 1965), is a current professor at The University of Nottingham. He is a philosopher and a professor of Metaphysics at the University.
James E. Mumford, is a successful educator and musician. He teaches at Indiana University.
Stephen Mumford is an expert on fertility and population growth and lives in Louisville, Kentucky.
Thomas Mumford is noted as one of the earliest Mumford ancestors in America. His family left England and landed in Rhode Island in 1664. His descendants would go on to populate much of the northeast.
Blazons & Genealogy Notes
1) (Burport, co. Dorset). Bendy of ten az. and or.
2) Or, a lion saliant az. Crest—A demi cat ramp. guard. ppr.