Murdoch Family Crest, Coat of Arms and Name History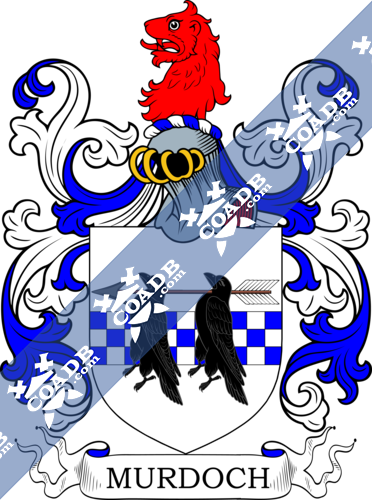 Murdoch Coat of Arms Gallery
Don't know which Coat of Arms is yours?
We can do a genealogical research. Find out the exact history of your family!
Learn More
Murdoch Origin:
Ireland
Origin of Murdoch:
The origin of this unusual surname originally derived from Gaelic, and is the Anglicized type of two Gaelic particular names that, have combined into one, frequently composed as "Muire(adh)ach." The two real names were "Muiredach," acquired from the word "muir," which means sea, which meant "related to the sea," a sailor and the word "Murchad," wich means "sea-fighter." The resulting particular name developed into Yorkshire before the Norman invasion of the year 1066 by Norwegians from Ireland, and listed in the Domesday Book of the year 1086 as "Murdac, Murdoc" and "Meurdoch." The new surname is considered as Scottish, but it was not until the period of William the Lion, Lord of Scotland (1165 – 1214) that one Walter Murdoch is listed in many documents. William Murdoch (1754 – 1839), the creator of gas-lighting, announced a creator by the Shah of Persia, who considered him to be a re-personification of Merodach or Marduk, "Lord of Light."
Variations:
More common variations of this surname are: Murdouch, Mourdoch, Murdoc, Murdock, Mordoch, Murdach, Murdoca, Murduch, Murdcoh, Murdoco.
Scotland:
The surname Murdoch first organized in Ayrshire, anciently a division in the southwestern Strathclyde area of Scotland, that today build the Council Area of South, East, and North Ayrshire, where they held a family seat from ancient times. And their first lists developed on the early census rolls derived by the former Kings of Scotland to develop the rate of taxation of their activities.
England:
The very first recording spelling of the family was shown to be that of Geoffrey Murdac, which was dated 1130, in the "Pipe Rolls of Yorkshire." It was during the time of King Henry I, who was known to be the "The Lion of Justice," dated 1100 – 1135. The origin of surnames during that time became a necessity with the introduction of particular taxation. It came to be known as census Tax in England. Surnames all over the country started to develop, with different and shocking spelling varieties of the original one.
United States of America:
Individuals with the surname Murdoch settled in the United States in two different centuries respectively in the 18th and 19th. Some of the people with the name Murdoch who settled in the United States in the 18th century included John Murdoch settled in New England in 1718. Robert Murdoch landed in New Hampshire in 1718. John Murdoch arrived in North Carolina in 1774. John Murdoch, at the age of 17 landed in Wilmington, North Carolina in 1774. Archibald Murdoch, at the age of 17 came in New York, NY in 1774.
Some of the people with the name Murdoch who settled in the United States in the 19th century included Sarah Murdoch, who landed in America in 1805. Thomas Murdoch, at the age of 8, arrived in New Castle or Philadelphia in 1805. Thomas Murdoch, who came to America in 1805. Margaret Murdoch, at the age of 10 arrived in New Palace or Philadelphia in 1805. Alexander Murdoch, who settled in Allegany (Allegheny) Division, Pennsylvania in 1811.
Canada:
Some of the people with the name Murdoch who settled in Canada in the 19th century included William Murdoch at the age of 22 landed in Saint John, New Brunswick aboard the ship "Eweretta" in 1833.
Australia:
Some of the people with the name Murdoch who settled in Australia in the 19th century included John Murdoch arrived in New South Wales, Australia sometime between 1825 and 1832. George Murdoch arrived in Van Diemen's Land sometime between 1825 and 1832. John Murdoch, Margaret Murdoch, and Andrew Murdoch all arrived in Adelaide, Australia aboard the ship "Indus" in the same year in 1839.
New Zealand:
Some of the people with the name Murdoch who settled in New Zealand in the 19th century included Robert M. Murdoch, at the age of 21, who was a worker settled in Auckland, New Zealand aboard the ship "Rangitikei" in 1884. H. Murdoch came in Wellington, New Zealand aboard the ship "Tongariro" in 1888.
Here is the population distribution of the last name Murdoch: United States 5,094; England 5,657; Australia 4,330; Scotland 3,688; Canada 3,007; South Africa 1,954; Germany 269; Paraguay 964; Argentina 448; New Zealand 1,692.
Notable People:
Alexi Murdoch is an outstanding Scottish musician.
Beamish Murdoch is a justice and professor at Nova Scotia.
Ben Murdoch-Masila is a New Zealand player in Rugby League.
Billy Murdoch is an Australian cricket player.
Blair Murdoch is a Canadian television reporter.
Glenn Murdock is a former Justice of the Alabama Supreme Court, who was first elected to that court in 2006 and re-elected in 2012. He was previously elected in 2000 to a six-year term on Alabama's Court of Civil Appeals.
To receive a complete surname meaning report by PDF you can order our SURNAME MEANING PACKAGE for $129.   This report is great to share with family and friends.  It includes everything you see above plus any other information we can find on the specified surname.  It does take approximately 10 to 15 days for us to complete this custom report.
To receive a direct lineage & coat of arms search for your specific line(s) you can order one of our GENEALOGY PACKAGES ranging in price from $249 to $999.   All research is completed by a professional genealogist with over 30 years' experience.  All reports and coat of arms files are sent by email in PDF and JPG format.
Blazons & Genealogy Notes
1) (Rosshall, co. Renfrew, 1779). Motto—Omine secundo. Ar. a fesse chequy az. and of the field, over all two crows sa. pendent on an arrow fesseways ppr. Crest—A lion's head erased gu.
2) Or, on a chev. gu. three mascles ar. Crest—A sword in pale enfiled with a savage's head couped ppr.