Nelson Family Crest, Coat of Arms and Name History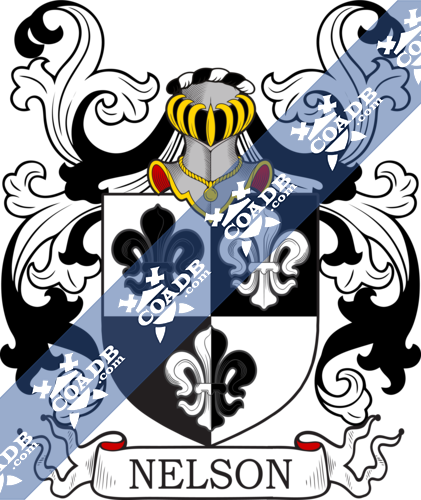 Nelson Coat of Arms Gallery
Don't know which Coat of Arms is yours?
We can do a genealogical research. Find out the exact history of your family!
Learn More
This surname is a baptismal name meaning "the son of Eleanor", derived from the nickname for Eleanor: Nell. Another origin is that it is a baptismal name meaning "the son of Neil or Nel", or the Irish given name "Niall", or the Scottish "Neal". Another author states it means "the son of Nigel", which was an old Norman personal name. Foreign equivalents include Neilson (Danish), Nielsen (Swedish), and Nelson and Nelzon (Dutch). Spelling variants include Nelsan, Nellson, and Neleson. One author claims the surname was originally used by the Scandinavians in the form Njal, and they introduced it into northern England, East Anglia, and Ireland.
In his book, Homes of Family Names, H.B. Guppy writes "Nelson is a name found in Cumberland and Westmoreland, Lancashire, Yorkshire, Lincoln, and Norfolk. The naval hero of the name was son of a Norfolk rector. Nelson is a Lancashire town" and "The Eairhurst Nelsons, who owned Fairhurst Hall,
Eccleston, during the last and in the present century, belong to an ancient family, a branch of which held lands in Mawdesley as far back as the reign of Richard II. Nelson is a Lancashire town. Richard Nelson was mayor of Lancaster in 1512".
Early people bearing this name recorded in the Hundred Rolls of 1273 AD include Nel Fakwes (Cambridgeshire), John filius Nel (Cambridgeshire), and Adam Nel (Oxfordshire). Others include Thomas Nellson recorded in 1379 in the Poll Tax of Howdenshire, William Neleson recorded in the Rolls of Parliament, and Thomas Nelson or Neilson recorded in the Testamenta Eboracensia. A Willelmus Nigelli was recorded in the Domesday Book of 1086 AD in Berkshire. It is believed Nelson is possibly a corruption of Nigelli. A Willelmus Nele was listed in the Subsidy Rolls of Yorkshire in 1304 AD. Early marriages involving this last name include Henry Nelson to Sarah Raby in 1687.
In his book Surnames of the United Kingdom, Henry Harrison writes "The immediate progenitor of the Norfolk Nelsons is supposed to have left Lancashire in the suite of the youngest son of the 1st Earl of Derby when he was appointed Bishop of Ely A.D. 1506-7."
Several pages of the famous British genealogist Bernard Burke's book Peerage and Knights dedicates several pages to this discussion of the Earl of Nelson. The first person mentioned is  Edward Agar Horatio Nelson (born 1860) who was from Trafalgar and Merton and was a Lieutenant in the Wiltshire Regiment. He married Geraldine Save in 1889 and had the following children: Albert Francis Horatio, Henry Edward Joseph, Charles Sebastian Joseph, George Joseph, and John Marie Joseph. He traces the lineage back to Thomas Nelson, of Fairhurst, who was the son of Richard Nelson of Mawdesley who descended from Richard Nelson of the same place living in 1377 AD. Thomas married Cecilia Maxey and had five children, the youngest of which was William Nelson of London. William married Judith Clinton and had three children: Michael, William, and Thomas. The youngest was Thomas, born in 1580, who had children Edmund and Elizabeth with his first wife Elizabeth, and also had one child named Edmund Nelson with his second wife Anne Williams. Edmund of Wendling married Joann (last name unknown) and had two children: Edmund, Joann, and Anna, and also had children with his second wife Alice: William, John, and Bridget.
Mottoes this family bears include amicitae virtutisque foedus, which means "the league of friendship and virtue, as well as Palmam qui meruit ferat, which means "let him who has earned it bear the palm". Of the latter motto, the book Elvin's Handbook of Mottoes, "This motto is borne by the Nelson family, and was most appropriately granted to the illustrious Horatio, the first Earl. The word "Trafalgar " inscribed across the arms commemorates that illustrious victory: " San Josef" on the stem of a Spanish line-of-battle ship, which forms the second crest of the family, refers to the daring capture of the San Josef, and another vessel of equal force, by Nelson, at the battle of Algesiras; while "Faith and Works" above this second crest, may point out his faith to his God and to his country, and his daring in action."
Early settlers in America bearing this surname include 1) John Nelson of Boston, son of William, who was captain of an artillery company in 1680 during the French and Indian war, 2) Matthew Nelson of Portsmouth recorded in 1684 who married Jane (last name not given), 3) Thomas Nelson of Rowley recorded as a freeman in 1638, who brought two sons from England with him: Philip and Thomas, and also had other children with his wife Joana named Mercy and Samuel, and 4) William Nelson of Plymouth recorded in 1640 who married Martha Ford who likely had children Johnand  Jane or Joan. Other early immigrants include Francis Nelson (Virginia 1606), George Nelson (Virginia 1623), and Miche Nelson (Pennsylvania 1627). Three Nelsons arrived in North Carolina in 1702: Mary, Joan, and John. Joseph Nelson left the port of London to Virginia in 1635 aboard the Plaine Joan.
Notes on grantees of arms listed under this name: 1) Nelson to Rycroft, Rev. Richard, of London, [1783], 2) Nelson, Rear-Adm. Sir Horatio, K.B. [17 May 1797], son of Edmund, Rector of Burnham Thorpe, co. Norf., [1797] Vol. XX, fol. 40 ; Supporters, fol. 43 ; Augmentation, [1798], 3) Viscountess (Woodward), widow. Escutcheon of pretence, [1805], 4) Earl [20 Nov. 1805] William, D.D. Augmentation and Supporters, [1807], 5) Earl Thomas [sue. 1835]. Arms and Supporters,6) of Garsdale.co.York., and 7) March with Buckle.
One of the most famous Nelson's of history was Vice Admiral Horatio Nelson, Lord Nelson  (1758-1805), who was Duke of Bronte and the First Viscount Nelson. He was well known for his naval success during the Napoleonic Wars, most notable the Battle of Trafalgar. He was the son of Reverend Edmund Nelson.
Blazons & Genealogy Notes
1) (Earl Nelson). Motto—Palmam qui meruit ferat. Or. a cross flory sa. a bend gu. surmounted by another engr. of the field, charged with three bombs tired ppr. on a chief (of honourable augmentation) undulated ar. waves of the sea, from which a palm tree issuant betw. a disabled ship on the dexter, and a battery in ruins on the sinister all ppr. Crests—On the dexter (as a crest of honourable augmentation), on a naval crown or, the chelengk, or plume of triumph, presented to Horatio, Viscount Nelson, by the Grand Signior, or Sultan, Selim III.; and on the sinister the family crest, viz., on a wreath of the colours, upon waves of the sea, the stem of a Spanish man of war all ppr., thereon inscribed "San Joseff." Supporters —Dexter, a sailor armed with a cutlass and a pair of pistols in his belt ppr. the right hand supporting a staff, thereon hoisted a commodore's flag gu. and in his left a palm branch ppr.; sinister, a lion ramp. reguard. in his mouth two broken flag-staffs ppr. flowing from one a Spanish flag or and gu. and from the other a tri-coloured flag, in his dexter paw a palm branch ppr.
2) (Chaddleworth, co. Berks, 1576; Anne, eldest dau. and co-heir of Thomas Nelson, Esq., of Chaddleworth, m. Richard Walter, Esq., her son, Richard Walter, succeeding, on the decease of his aunts, to his grandfather's property, assumed the name and arms of Nelson, but dying unm. in 1805, he devised the Chaddleworth estate to the youngest son of his only sister, Mary Walter, by her husband, John Kerr, Esq., George Kerb, Esq., who assumed the additional name and arms of Nelson). Paly of six ar. and gu. a bend vairé or and sa.
3) (Mandesley and Fairhurst. co. Lancaster, 1664). Ar. a cross flory sa. over all a bend gu.
4) (Lord Mayor of London, 1766). Gu. on a bend az. a cross formée ar.
5) (Bedale, co. York; Abbaham Nelson, Esq., of Gray's Inn, one of the Cursitors in Chancery, and a Gentleman of the Privy Chamber to Charles II., son of William Nelson, gent., of Chancery Lane, also one of the Cursitora in Chancery, and grandson of William Nelson, gent., of Bedale. Visit. Middlesex, 1663). Per pale ar. and sa. a chev. betw. three fleurs-de-lis counterchanged.
6) (Plymouth Dock). Same Arms. Crest—A dexter arm in armour, couped and erect ppr. holding a fleur-de-lis, as in the arms.
7) (Secretary of the Navy Office, d. 1820). Per chev, ar. and or, in chief two sinister hands couped at the wrist gu. and in base a sword in pale ppr. point downwards, hilt and pommel or. Crest—A dexter arm erect holding a tilting spear all ppr.
8) Same Arms. Crest—A dexter hand erect ppr. the first finger and thumb pointing to a crescent or, the others clenched.
9) (Grimston, co. York). Per pale ar. and sa. a chev. betw. three fleurs-de-lis all countercharged. Crest—A cubit arm quarterly ar. and sa. holding in the hand ppr. a fleur-de-lis per pale ar. and sa.
10) Or, a cross patonce sa. betw. four mullets gu. a bendlet of the last. Crest—A lion's gamb erect ppr. holding an escutcheon sa. thereon a cross patonce or.
11) (or Nealson). (Thomas Nelson, or Nealson, Clerk of the Council Chamber of Munster; impalement Fun. Ent. Ulster's Office, 1632, of his son-in-law, Michael Browne, Sheriff of Dublin). Quarterly, ar. and sa. three fleurs-de-lis counterchanged.
12) (Edinburgh, 1872). Motto—Virtute et votis.(Edinburgh, 1872). Ar. two sinister hands couped gu. in chief, and a dagger, point downwards, hilted and pommelled or, in base. Crest—A dexter arm in armour embowed ppr. the hand grasping a dagger erect also ppr. hilted and pommelled or.