Orduna Family Crest, Coat of Arms and Name History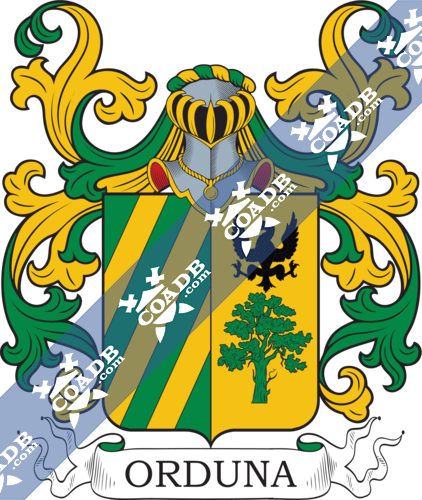 Orduna Coat of Arms Gallery
Don't know which Coat of Arms is yours?
We can do a genealogical research. Find out the exact history of your family!
Learn More
We don't yet have this section of research completed for this name. If you are interested in being notified when research becomes available, please use this form to contact us and we will let you know as soon as we have something!
Blazons & Genealogy Notes
Source for 1: Repertorio de Blasones de la Comunidad Hispanica
Source for 2-7: Blasonari.net.
1) Partido, 1, En sinople, tres barras de oro, y 2, En oro, un arbol de sinople, superado de un aguila de sable
2) Juan Carlos de Guerra describe también como propio de los Orfuña, este otro escudo: En campo de oro, una cruz de gules, acompañada, en el franco derecho de un castillo, y en el franco izquierdo, de un león rampante. Omite algunos esmaltes.
3) Otros Orduña, de Alicante, traen: En campo de oro, un árbol de sinople, y sobre su copa, un águila de sable. Estas son las mas antiguas y generalizadas y así constan en la ejecutoria de nobleza de la familia Orduña, descendiente del solar de este linaje en la villa de Guadalest.
4) Las ramas de Panticosa, Huesca y Zaragoza, en Aragón, traen: En campo de gules, un castillo aterrasado con tres almenas, saliendo por el del centro un águila a cada lado del castillo, una estrella de plata.
5) Otros traen: En campo de plata, una faja de gules, cortada, bretesada e inclinada, y en el jefe, un ave de tres cabezas, andante, apoyando sus patas en las almenas bretesadas.
6) Según una ejecutoria de 1677, describiendo un escudo cuartelado de alianzas se dice: «y 4º, cinco corazones o panelas, y trece estrellas en campo de azur, que es de Orduña».
7) Radicado en Madrid: En campo de gules, un lunel, contornado, de azur.