Orton Family Crest, Coat of Arms and Name History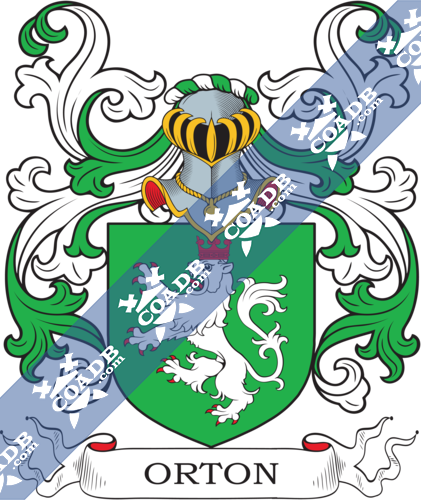 Orton Coat of Arms Gallery
Don't know which Coat of Arms is yours?
We can do a genealogical research. Find out the exact history of your family!
Learn More
This interesting surname is of Anglo-Scottish origins.  If English it is usually locational from any one of the different places called Orton but noted in the famous Domesday Book of England in 1086 as Ovretone, Ovretune and Worton.  All these share the same second component of the pre 7th-century word "tun", meaning a farm or settlement, but the first component in each example is more difficult to determine. More common variations are: Oerton, Oreton, Oarton, Ortton, Yorton, Ortona, Ortone, Ortoni, Ortoan, Uorton.
The surname Orton first appeared in Cumberland, Where they held a family seat from very early times as Lords of the Estate of Orton, some say before the Norman Invasion in 1066 AD. The very first recording spelling of the family was shown to be that of Aethelweard de Ortun, dated 1051, in the "Old English Byname Register". It was during the reign of King Edward, who was known as "The Confessor" dated 1042-1066.  Surname all over the country became a necessity with the introduction of personal taxation.  It came to be known as Poll Tax in England.  Surnames all over the country began to develop with unique and shocking spelling varieties of the original one.
Some of the people with the name Orton who arrived in the United States in the 17th century included Thomas Orton, who arrived in Massachusetts in 1636. People with the surname Orton who landed in the United States in the 18th century included Christopher Orton, who landed in Georgia in 1741.   People with the surname Orton who landed in the Canada in the 18th century included John Orton, who arrived in Nova Scotia in 1749.
Blazons & Genealogy Notes
1) (Orton, co. Cumberland; the heiress in. Skelton). Vert a lion ramp. ar. crowned and armed gu.
2) (Lea, co. Leicester). Ar. a bend sa. betw. a rose in chief and a fleur-de-lis in base gu. Crest—A tower ppr. cupola and flags gu.
3) (co. Kent) Or, a squirrel sejant gu. cracking a nut ppr.
4) (Frense, co. Norfolk). Ar. a lion ramp. guard. vert, crowned or.
5) Az. a lion ramp. or.
Az. a leopard ramp, ar. crowned or.