Padilla Family Crest, Coat of Arms and Name History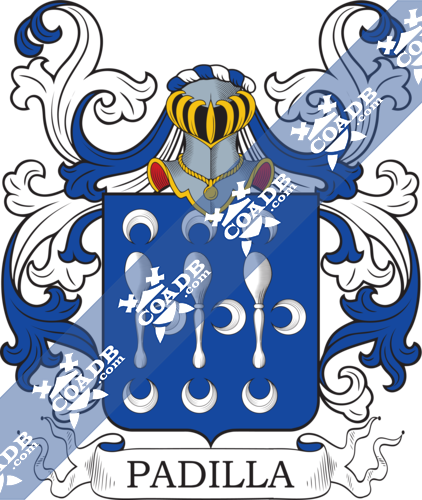 Padilla Coat of Arms Gallery
Don't know which Coat of Arms is yours?
We can do a genealogical research. Find out the exact history of your family!
Learn More
Padilla Surname Name Meaning, Origin, History, & Etymology
This name developed as a habitational surname denoting a person from any of several places named Padilla, from the Spanish word padilla, meaning "frying pan" or "bread pan", a word ultimately from the Latin or Roman word patella, meaning "shallow dish". It is believed the towns/villages were named Padilla due to their its land having a slight depression in elevation, like the dip of a frying pan. An alternate theory is the name referenced to the hot temperate of the location. Such places are located in Burgos (there is a city named Padilla in Castrogeriz), Valladolid, and Guadalajara.
The Padilla surname first established itself in the Kingdom of Castile, a powerful state located on the Iberian Peninsula (modern day Spain) during the Middle Ages that existed between 1065-1230 AD, and existed as the County of Castile beginning in the 800s AD. Spelling variants of this name, or names with similar origins/etymologies, include Paddilla, Padiila, Puadilla, Paadilla, Padula, Padilha, Pattillo, Padillo, and Patillo.
One of the earliest recorded bearers of this surname was Godoy Padilla who was born in 945 AD. He married a daughter of the Rodriguez and Benavides family and had a son with her named Ruy. This son, Ruy Diaz Padilla, was born around 1000 AD. He married Elvira Biedma and had a son with her named Diego Nunez Padilla. Diego's grandson was Gutierre Padilla who was born in 1133 AD.
Father Juan de Padilla was born in 1500 in Toledo, Andalusia, Spain. He was a Roman Catholic missionary who spent many years in North America with the famous explorer Francisco de Coronado known for his expeditions through the southwestern United States. He died in 1542 in what is now Kansas.
According to this website, "Pedro de Padilla, from Burgos, settled in Vergara in Guipuzucoa. A descendant of Pedro de Padilla later moved to Viscaya where his family were ennobled.In 1647, one Antonio Garcia de Padilla of Valencia in Southern Spain was awarded a military honour by King Philip IV".
Popularity & Geographic Distribution
The last name Padilla ranks 345th in popularity in the United Status as of the 2000 Census. The name ranks particularly high in the following six states: New Mexico, California, Arizona, Colorado, Nevada, and Texas. Padilla ranks in the top 300 names in each of these states.
In Spain, the name ranks 156th. In Portugal, it ranks 7,402nd. The surname Padilla frequency/commonness ranks as follows in the Latin and South America: Mexico (79th), Panama (288th), Colombia (167th), Honduras (31st), Venezuela (213), Argentina (391st), Nicaragua (100th), Ecuador (184th), Cuba (329th), Peru (178th), Chile (283rd), Bolivia (83rd), Uruguay (598th), Paraguay (3,871st), Guatemala (179th), Dominican Republic (197th), Costa Rica (146th), Puerto Rico (81st) and El Salvador (201st). It also is present in Asia, where it ranks 42nd in the Philippines.
Padilla Family Tree & Padilla Genealogy
Some bearers of this surname during the time of the Middle Ages to the early modern period include:
1) Pero Lopez Padilla was born in 1256 AD and married Maria Gonzalez Leiva
2) Maria Diaz Padilla, daughter of Juan Garciez Padilla, was in Sevilla, Andalucia, Spain in 1318 AD and married Pedro Alfonsez Castilla
3) José de Padilla Villasenor, son of Diego, who was born in Queretaro, Reino de Mexico, Reino de Nueva, Spain in 1649 and he married Maria Lopez
4) Juan de Padilla, son of Anton Martin Matajudios, was born in Seville, Andalucia, Espana in 1561 and married Ana de Rogas
5) Diego Padilla de Rojas, son of Juan, was born in Ciudad, Mexico in 1585 and he married Ana Maria de Porras de Cabrera
6) Esteban Padilla, son of Diego, was born in El Puero de los Padillas, Virreinato de Nueva Espana in 1720 and he married Jacinta Martina Delgado
7) Cristóbal Padilla, son of Fernando, wwas born in Ciudad Hidalgo, Michoacán, México around 1668
8) Joachin Padilla was born in Senecu Del Paso, New Mexico in 1689
9) Andrea de Padilla was born around 1635, married Marco Perez Romero, and had a son named Josefa Padilla
10) Ysidro Padilla, son of Francisco, was born c. 1730 and he married Ana Maria Marquez
Some marriages involving the Padilla last name include:
1) Francisco de Paz y Padilla married Luisa del Castillo in Granada, Spain in 1630
2) Domingo Vicente Padilla married Vicenta Josefa Maria del Carmen Molina in Granada, Spain in 1816
3) Manuel Padilla married Pascuala Lopez in Santa Maria, Lachixio, Oaxaca, Mexico in 1865
4) Francisco Valentin Padilla married Mariana Josefa del Arco in Granada, Spain in 1794
5) Ysavel Ramona Padilla married Thomas Antonio De Santa Maria in Santa Maria de la Asuncion, Puebla, Mexico in 1772
6) Jose Padilla married Gregoria de la Cruz in Asuncion, Pachuca, Hidalgo, Mexico in 1715
7) Nicolas Padilla married Kather Pfeifer in St. Joseph, Michigan in 1910
8) Francisco Padilla Y Boret married Dominga Gonzalez in Monroe, Florida in 1878
9) Jose G. Padilla married Guadalupe Lugo in Los Angeles, California in 1888
10) Gregoria Padilla married Estevan Sedillo in San Felipe, Albuquerque, New Mexico in 1824
Ignacio Padilla was born around 1780. He married Antonia Marquez and had a son with her. This son, Hilario Padilla, was born in Jalisco, Mexico around 1800. In 1820, he married Merced, dauhger of Jose Joquin Gurierrez de Laris, and had a son with him named Juan. Juan Neopmuceno Padilla was born in Carizo, San Juan de los Lagos, Jalisco, Mexico in 1832. In 1857, he married Maria Sabas Gutierrez and had a son with her named Ramon. Ramon was born in Jalisco in 1868. In 1895, he married Paula Munoz and had a daughter son with her named Jose. Jose Refugio Padilla was born in the 1910s.
Early American and New World Settlers
Some of the earliest bearers of this name who came to the new world were Gregorio Padilla Villalbos and Hernando de Padilla, who arrived in 1512 and 1517, respectively. In the coming decades, several more members of the family were documented as arriving: Rodrigo Padilla (Cartagena, Colombia 1535), Luis de Padilla (Peru 1579), and Diego de Padilla (Pero 1592).
Several thousand members of the Padilla family came to the United States through Ellis Island, during the nineteenth century, including:
1) Jose M. Padilla came from Spain in 1880 aboard the Trinaeria
2) Vincenza Padilla came from Italy in 1880 aboard the Castalia
3) Manuel Padilla came from Spain in 1905 aboard the Koning Albert
4) Isabel Padilla came from Spain in 1913 aboard the Havana
5) Aurelia Padilla came from Spain in 1884 aboard the Valencia
6) Alberta Padilla came from Guatemala in 1914 aboard the La Savoie
7) Flora Padilla came from Spain in 1882 aboard the Newport
8) August Padilla came from Mexico in 1874 aboard the Bothnia
9) Juan Padilla came from Salvador in 1884 aboard the Acapulco
10) Cajitano came from Zurich, Switzerland in 1903 aboard the La Touraine
Notables
There are hundreds of notable people with the Padilla surname. This page will mention a handful. Famous people with this last name include:
1) Admiral José Prudencio Padilla López (1784-1828) who was a Colombian military leaders born in Riohacha who fought in the Spanish American Wars of Independence war, best known for his victory at the Battle of Lake Maracaibo, where he defeated a royalist Spanish fleet in 1823
2) José Padilla Sánchez (1889-1960) was a Spanish pianist and composer, known as Maestro Padilla, who was born in Almeria and was best known for songs such as "La Violetera" and "El Relicario"
3) Jesús Padilla Gálvez (1959) who was a Spanish philosopher born in Almeira who worked in areas of language, logic, and science, having worked/studied at places such as the University of Cologne, University of Murcia, University of Vienna, and the University of Oxford
4) Juan Gutiérrez de Padilla (c. 1590-1664) who was a Spanish composer in Mexico, born in Malaga, Spain with over 700 pieces of surviving work
5) Heberto Padilla (1932-2000) who was a Cuban poet that was imprisoned for criticizing the government, having supported Castro early on, but changed his mind in the 1960s and 1970s.
6) Blanca Padilla (1995) who is a Spanish model known for being the face of Dolce & Gabbana, born in Collado Villalba, Madrid
7) Carlos Antonio Padilla Velásquez (1934-2014) who was a Honduran soccer (football) player whose career spanned the 1950s, later becoming a coach for many teams from 1960-2004, born in Caridad, Honduras
8) David Padilla Arancibia (1927-2016) who was a military general who served as the 64th President of Bolivia from 1978-1979, born in Sucre, Bolivia.
9) Alejandro Javier Garcia Padilla (1971) who was the 11th Governor of Puerto Rico from 2013-2017, born in Coamo
10) Robinhood Ferdinand Cariño Padilla (1969) who is a Filipino actor, director, producer, and screenwriter known as a cultural icon, receiving nicknames such as "James Dean" and the "Bad Boy" of Philippine cinema, born in Manila
Padillas America Civil War Veterans
There were about 100 soldiers with the last name Padilla who served in the American Civil War, including:
1) Patrucio Padilla fought for the Union as part of the 1st Battalion, Arizona Infantry
2) Pedro Padilla fought for the Union as part of the 1st Battalion California Native Cavalry
3) John Padilla fought for the Union as part of the 1st Battalion California Native Cavalry
4) Alagandro Padilla fought for the Union as part of the 2nd Regiment New Mexico Infantry
5) Alagandro Padilla fought for the Union as part of the 1st Regiment New Mexico Infantry
6) Esteban Padilla fought for the Union as part of the 1st Regiment New Mexico Cavalry
7) Tibursio Padilla fought for the Union as part of the 1st Battalion, Arizona Infantry
8) Conception Padilla fought for the Union as part of the 5th Regiment, New York Heavy Artillery
9) Antonio Padilla fought for the Confederacy as part of the Mexican Volunteers
10) Jesus Padilla fought for the Confederacy as part of the Mexican Volunteers
Blazons & Genealogy Notes
1) Castille – Bandé de gueules et d'argent de quatre pièces au chef d'azur ch d'une fleur-de-lis d'or. English: Bendy gu.and ar., four pieces, on chief az. a fleur de lis or.
2) Azure, three spoons palewise between three crescents, all Argent.