Patrick Family Crest, Coat of Arms and Name History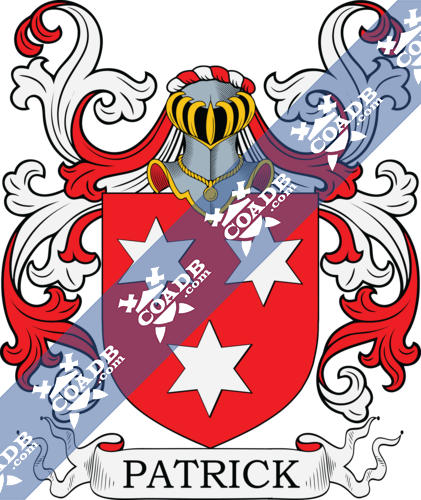 Patrick Coat of Arms Gallery
Don't know which Coat of Arms is yours?
We can do a genealogical research. Find out the exact history of your family!
Learn More
Patrick Origin:
England, French
Origins of Patrick:
This interesting name is of early English and Old French origin acquired from the Middle English word "pertrich," which means partridge, from the Old French "perdriz," itself from the Latin "perdix, perdicis." As a surname, Partridge or its variant forms, Partriche and Partrick, may be either a metonymic professional name for a hunter or catcher of a partridge (the bird", or it may acquire from an old nickname given to a person who had some fancied similarity to a partridge. Professional surnames originally expressed the real profession of the named ancestor, and later became inherited, while a sizeable group of early European surnames were slightly formed from the continual use of nicknames. The nicknames given in the first example related to a variety of features, like physical characteristics or singularities, or supposed similarity to an animal's or bird's appearance or disposition. In some cases, the name may be topographical, given in the first example to someone living in a house identified by the sign of a partridge. The surname development since 1176 contains as John Perdrich (1244, Staffordshire), Philip Partrich (1260, Cheshire), Sibil Partryge (1332, Staffordshire) and John Pattridge (1622, Suffolk). One John Partridge was an early traveler to the American Colonies, departing from London on the "Assurance" in July 1635, bound for Virginia.
Variations:
More common variations are: Parterick, Partric, Bartrick, Pretrick, Portrick, Pratrick, Partrica, Paretarik, Porttrick.
England:
The surname Partrick first appeared in Kent where they held a family seat from old times and given lands by Duke William of Normandy, their true King, for their exceptional assistance at the Battle of Hastings in 1066 AD.
The very first recording spelling of the family was shown to be that of Ailward Pertriz, dated about 1176, in the "Pipe Rolls of Devonshire," It was during the time of King Henry II, who was known to be the "The Builder of Churches," dated 1154-1189. The origin of surnames during this period became a necessity with the introduction of personal taxation. It came to be known as Poll Tax in England.
Ireland:
Many of the people with surname Patrick had moved to Ireland during the 17th century.
United States of America:
Some of the people with the surname Patrick who arrived in the United States in the 19th century included William Patrick came to Maryland in the year 1669.
Here is the population distribution of the last name Patrick: United States 246; Tanzania 85; England 70; Canada 28; Australia 9; Kenya 2; Germany 2; Northern Ireland 2; France 2; Ghana 1.
Notable People:
Alan Patrick (born 1991), is a Brazilian football player.
Alf Patrick (born 1921), is an English football player.
Alice Patrick (born 1948), is an American muralist.
Allen Patrick (born 1984), is an American football running back.
Allen Russell Patrick (1910–1995), was a Canadian political leader.
Andrea Patrick (born 1961), is an American model.
Andrew G. Patrick (1907–1955), was an American designer.
Arthur Patrick (born 1934), is an Australian philosopher and professor.
Ben Patrick (born 1984), is an American football tight end.
Bill Patrick (footballer) (born 1932), is a Scottish football player.
Bill Patrick (sports anchor) (born 1955), is an American sportscaster.
Bob Patrick (1917–1999), was an American baseball outfielder.
Brenda Jean Patrick (born 1955), is an American educational consultant.
Bronswell Patrick (born 1970), is an American baseball relief pitcher.
Blazons & Genealogy Notes
1) (Lord of Malpas, co. Chester). Gu. three mullets of six points ar.
2) (Erdiswick). On the seal of William Patrick, father of William Patrick, who m. Beatrix de Malpas, three pheons.
3) (Durham City). Gu. a lion ramp. ar. within a bordure of the last, charged with eight cinquefoils of the first. Crest—An arm in armour embowed ppr.
4) (Ralston-Patrick, of Roughwood, co. Ayr, 1861). Quarterly, 1st and 4th, ar. a saltire sa. on a chief of the second two roses of the first, all within a bordure gu., for Patrick; 2nd and 3rd, ar. on a bend az. three acorns or, (or Ralston. Crests—A dexter hand erect, holding a saltire sa., for Patrick; A falcon looking to the sinister ppr., for Ralston. Motto—Ora et labora, for Patrick: Fide et Marte, for Ralston.
5) (Crowneast, near Worcester). Gu. three mullets or. Crest: A dexter hand ppr. holding a cross crosslet Fitchee (maybe gu).