Pettus Family Crest, Coat of Arms and Name History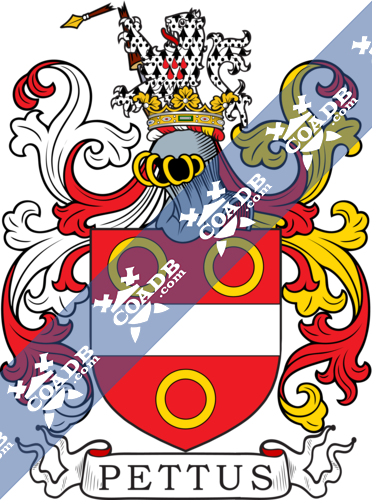 Pettus Coat of Arms Gallery
Don't know which Coat of Arms is yours?
We can do a genealogical research. Find out the exact history of your family!
Learn More
Pettus Origin:
England
Origins of Pettus:
According to early recordings, this surname has many different spellings such as Pitt, Pitts, Pett, Petts, Pott, Potts, Pettus, Pates, Patis, Patise, Pettis, and Pettys. It is a surname of early 7th century Olde English and Anglo-Saxon origins. It is usually geographical and derives from the Olde English pre 7th-century word "pytt" which mean a hole or empty place, and where relevant combined with the word '-hus' which mean a house. It is also idiomatically 'disguised' as -es, -en, – ys, or -ise. In this case, the name may also be locational from one of the areas called Pitt in Hampshire, or Pett in East Sussex. Early examples of the surname listings contain Thomas de la Pitte in the 1225 Assize Court Rolls of Somerset, and Roger de Petts in the London rolls of 1276. Other interesting listings of the surname showing its advancement over the centuries contain William Bitheputte of Somerset in 1277, Johan atte Pitte of Surrey in 1294, and Thomas in the Pyt of Worcestershire in about 1300. James Pettes at St Michael Cornhill, in 1562, and John Patyes at St Andrews Holborn, all are in the city of London, and are all examples of the latest combination of spellings. The most familiar of the name holders was perhaps William Pitt, the youthful (1759 – 1806), the youngest ever prime minister of England, from 1783 to his death.
Variations:
More common variations are: Pettius, Peuttus, Petteus, Pettues, Peattus, Petts, Petus, Pettis, Pettes, Pettas.
England:
The origins of the surname Pettus found in Norfolk where people held a family seat from early times as Kings of Palace. After the War of Hastings in 1066. William Duke of Normandy, having conquered over King Harold, donated most of Britain to his many conquering Barons. It was not usual to find a Baron, with 60 or more lordships stretched all over the country. These he provided to his son, nephews and other offspring of his family and they became familiar as under-tenants. After many difficult battles between his Barons, Duke William, authorized a poll of all of England in 1086, arriving once and for all, who held which estates or lands. He named the census the Domesday Book, explaining that those bearers recorded would hold the estates till the end of time. So, finally, the surname is descended from the tenant of the estates of Rackheath, made by Godric, Steward of the Lord who was registered in the Domesday Book census of 1086.
The very first recording spelling of the family was shown to be that of Geruase de la Puette, dated about 1182, in the Pipe Rolls of Sussex. The origin of the surnames during this period became a necessity with the introduction of personal taxation. It came to be known as Poll Tax in England. Surnames all over the country began to develop, with unique and shocking spelling varietions of the original one.
United States of America:
Individuals with the surname Pettus settled in the United States in two different centuries respectively in the 17th, and 19th. Some of the people with the name Pettus who settled in the United States in the 17th century included Theodore Pettus arrived in Virginia in 1622-1623. Thomas Pettus, Eliz Pettus, and Stephen Pettus all are arrived in Virginia respectively in the years 1638, 1657 and 1664.
Some of the people with the surname Pettus who settled in the United States in the 19th century included Joseph Pettus landed in Mobile, Ala in the year 1858.
Here is the population distribution of the last name Pettus: United States 6,070; South Africa 1; New-Zealand 5; Spain 1; Cyprus 1; Japan 1; China 2; France 2; Canada 28; India 1
Notable People:
Edmund Pettus was an army General in the American Civil War.
John J. Pettus was a 19th-century United States lawmaker and politician. He played a major role in politics with his outstanding services, and he is also a congressman.
Blazons & Genealogy Notes
(Rackheath, co. Norfolk, bart., extinct 1772). Gules a fesse argent between three annulets or. Crest—Out of a ducal coronet or, a demi lion ermine vulned and holding erect a piece of a broken tilting spear proper.