Petz Family Crest, Coat of Arms and Name History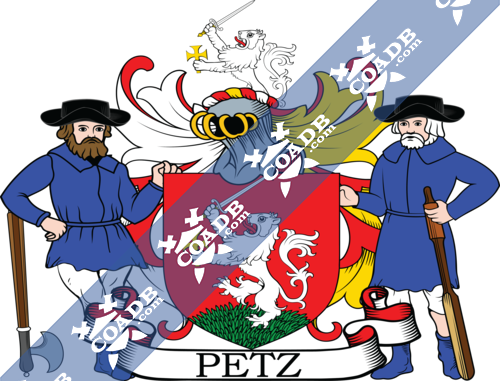 Petz Coat of Arms Gallery
Don't know which Coat of Arms is yours?
We can do a genealogical research. Find out the exact history of your family!
Learn More
Of all the surnames which acquire from the saints and disciples of the Christian church, 'Petros' meaning 'The Rock'  provided the world with the greatest number of both given names and the later old surnames.  In their different spellings ranging from Peter, Pieter, and Pierre, to patronymics Peterson, Peters, Peres, Perez, Peers, and even the Armenian Bedrosian, to diminutives such as Poschel, Piotrek, Petrenko, and Pietrusska, there are estimated to be over seven hundred spellings.  At least one form appears as a popular surname in every European country. More common variations are: Pietz, Peitz, Puetz, Peetz, Paetz, poetz, Petiz, Petzi, Petza, Peutz.
The surname Petz first found in Bavaria, where the name Betz.was anciently related to the tribal struggles of the area.  The very first recording spelling of the family was shown to be that of Ralph Peter, dated 1195, in the Pipe rolls of the county of Hertford. It was during the reign of King Richard 1st, who was known as "Lionheart", dated 1189-1199.  Surname all over the country became a necessity with the introduction of personal taxation.  It came to be known as Poll Tax in England.  Surnames all over the country began to develop with unique and shocking spelling varieties of the original one.
Some of the people with the name Petzwho arrived in the United States in the 17th century included  Johann Petz, who landed in Pennsylvania in 1753.  Michael Petz, who arrived in Pennsylvania in 1765.
Blazons & Genealogy Notes
1) Galicie – (An., 1806) – D'or à l'aigle éployée de sable becquée et membrée de gueules Casque couronné Cimier un croissant figuré tourné d'or entre un vol de sable
2) Allemagne De gueules au lion d'argent lampassé de gueules soutenu d'une terrasse de sinople tenant de sa patte dextre une épée d'argent garnie d'or et de sa senestre une croix latine d'or les bras dextre et senestre et le sommet pattés Casque couronné Cimier le lion issant Lambrequin à dextre d'argent et de gueules à senestre d'or et de gueules Tenants deux matelots habillés de pourpoints d'azur et de pantalons blancs et coiffés de chapeaux à larges bords de sable celui à dextre s'appuyant sur une hache d'abordage celui à senestre embrassant une rame mise en pal. English: Gules a lion argent langued gules upon a mount vert holding in its dexter paw a sword argent hilt and pommell or and in the sinister a latin cross or the dexter and the sinister arms and the top part pattee [curving outwards at the ends, see cross pattee] Crowned with a helmet Crest: the lion issuant Mantling: to the dexter argent and gules to the sinister or and gules Supporters: two sailors dressed in jerkins azure and trousers [pants] white wearing broad brimmed hats sable that to the dexter leaning on an attacking axe [battle axe?] that to the sinister embracing [holding tightly] an oar in pale.
3) de Lichtenhof – Bavière – (Nob. du St-Empire, 15 déc 1628) Parti au 1 de gueules au lion d'argent au 2 d'or à deux chevrons de sable Casque couronné Cimier une tête et col de chien braque d'argent colletée et bouclé d'or entre un vol l'aile dextre coupée d'argent sur gueules l'aile senestre aux armes du 2 Lambrequin à dextre d'argent et de gueules à senestre d'or et de sable. English: Per pale 1st gules a lion argent 2nd or two chevrons sable Crowned with a helmet Crest: the head and shoulders of a pointer [dog] argent collared and buckled or between a pair of wings the wing to the dexter per fess argent over gules the wing to the sinister with the arms of the 2nd Mantling: to the dexter argent and gules to the sinister or and sable.