Phipps Family Crest, Coat of Arms and Name History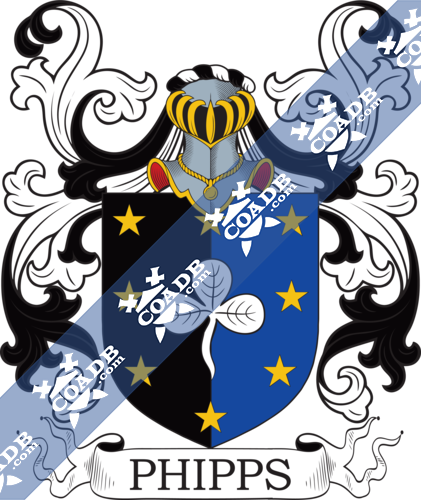 Phipps Coat of Arms Gallery
Don't know which Coat of Arms is yours?
We can do a genealogical research. Find out the exact history of your family!
Learn More
Surname Name Meaning, Origin, and Etymology
This English last name is a baptismal one meaning "the son of Philip" from the nickname Phip, a reduced form of the personal (first) name Philip. The given name Philip was a frequently used given name throughout Christendom in medieval times: it was born by numerous kings such as Philip I of France whose reign began in 1060 AD and King Philp I  "the Handsome" of Castile whose reign began in 1506, and was the name of one of Jesus' Twelve Apostles in the Bible, but the name is ancient and predates Christianity, as Alexander the Great's father, Philip II of Macedon, who lived in the 300s BC, bore the name, and it was found throughout ancient Greece and Asia Minor. An even more ancient bearer was King Philip I of Macedon who lived several generations prior. The Greek spelling was Philippos, and derives from the Greek words philein (to love) and hippos (horse), and hence literally translates to a person who was a "friend of horses". The name was introduced into England through the Norman Invasion of 1066 AD.
Another source (author naked Halliwell) claims the origin has to do with a sparrow, as the word phip means sparrow, or the noise/chirp made by a sparrow, although Charles Wareing Bardsley, in his book, A Dictionary of English and Welsh Surnames, disagrees with this origin theory.
Spelling Variations
Common spelling variants or names with similar etymologies include Phips, Phillips, Phillipps, Philip, Phelps, Philp, Phillipson, Phippes, Phippis, Phipson, Phippen, Phippin, Fipps, and Pherps. Foreign equivalents include Philippus (Norse), Philipps/Philipsen (Dutch), Phlups (Flemish), Philp (Swedish), Filippi (Italian), Felipe (Spanish), Felip (Catalan), Philippe (French), and Philippos (Greek). It is also an Anglicized form of Gaelic surname MacFhilib.
Popularity & Geographic Distribution
The last name Phipps ranks 1,429th in popularity in terms in the United Status as of the 2000 Census. The name ranks particularly high in the following ten states: Wyoming, Iowa, Maryland, Kentucky, Oklahoma, Missouri, Indiana, Tennessee, Virginia, and Ohio. The surname is even more common in England, where it ranks 1,035th. It ranks highest in the following counties:  Oxfordshire, Herefordshire, and Hertfordshire. The name is common throughout the English speaking world:  Scotland (2,233rd), Wales (934th), Ireland (2,023rd), Canada (4,023rd), New Zealand (1,265th), Australia (1,902nd), and South Africa (5,812nd). The 1890 book Homes of Family Names by H.B. Guppy, states the following in regard to this surname: "Phelps and Phipps similarly raise the counties of Gloucester and Worcester considerably in the scale. The absence Or rarity of Phillips in Warwickshire and Northamptonshire is supplied, or compensated for, by Phipps; and Cornwall receives from Philp a further lift in position. Taking all the forms of the name of Philip together, we find that they distinguish different regions and counties in the following order : first comes South Wales and Monmouthshire, then Cornwall and Gloucestershire, then Herefordshire and Worcestershire, then Staffordshire, and after it Devon and Somerset".
Early Bearers of the Surname
A one Roger Phippes was documented in the county of Gloucestershire in the Register of the University of Oxfordshire in 1583 AD. Early marriages involving this last name was John Fipp to Catherine Easterbye in London in 1587 AD and Mary Phips to Henry Black at St. George Hanover Square in 1765. The Hundred Rolls of 1273 AD, a census of Wales and England, known in Latin as Rotuli Hundredorum lists two bearers of this surname: Alicia Philippes in county Huntingdonshire and Henry Phelipe in county Norfolk. A one John Phippes was listed in the Calendar of Plea and Memoranda Rolls in 1364 AD.
History, Genealogy, and Ancestry
The famous genealogist Bernard Burke's book "The Landed Gentry" discusses five branches of this family: 1) Phipps of Leighton House and 2) Phipps of Chalcot and Dilton Court.
The first begins with a mention of Richard Leckonby Hothersall, Esq. of Leighton House, who was born in 1842. In 1871, he married Julia, daughter of Henry Alcock of Aireville, and had a son with her named John Lewis (1872). He was educated at Harrow and Oxford. Burke traces the Phipps genealogy back to a family that was long settled in county Wiltshire. Henry Phipps lived during the reign of Henry VIII and owned lands at Westbury and Charlford. His son was Nicholas Phipps, who lived in 1568, and had estates in the parish of Westbury, and was the Lord of the Manor of Leigh. He had three sons: Nicholas (ancestor of the Phipps of Heywood House), 2) Thomas, and Paul. His middle son Thomas had a son named Thomas, who in turn had a son named Paul. His second son was Thomas. Thomas Phipps was Esquire of Leighton House, Wilts, Justice of Peace, High Sheriff 1734 and a member of Parliament for Westbury. In 1705, he married Christian, only daughter of Thomas Warner of Warminster and Sutton Magna, and had a son with her, also named Thomas. This Thomas was an Esquire of Leighton House, Justice of the Peace, General of Wiltshire, and High Sheriff in 1774. He married Jane, daughter and co-heir of Henry Hele of Sarum, and had two issue with her: Maria (married Bryan Edwards) and Thomas. His son Thomas Hele Phipps was an Esquire of Leighton House. In 1774, he married Penelop, daughter of Lewis Clutterbuck of Widcombe House near Bath, and had the following children with her: Thomas Henry Hele, Charles Lewis (Lieutenant Colonel of the Wiltshire Yeomanry Cavalry, married Sophia Hales), and Paul (Lieutenant Colonel, married widow of Benjamin Kingston). His son Thomas Henry Hele Phipps was an Esquire of Leighton House, Justice of Peace, Deputy Lieutenant, and High Sheriff in 1804. He was born in 1777 and in 1799, he married Mary, daughter of William Leckonby of Great Eccleston and Horthersall Hall, and had seven children with her: Thomas Henry Hele, John Lewis, Richard Leckonby, Edward James, Arthur Constantine, Charles Paul, Emma, and Mary Jacintha. He died in 1841 and was succeeded by his son, Thomas Henry Hele Phipps, who was born in 1800 and in 1827 married Hester, daughter of William Hall of Barton. His oldest son was Thomas Henry Leckonby Hele Phipps who was an Esquire of Leighton House in Wiltshire. In 1859, he married his cousin Jacintha Penelope, but died without issue. He was succeeded by his uncle, John Lewis Phipps. John Lewis was Justice of the Peace, Deputy Lieutenant, and High Sheriff in 1864. In 1834, he married Mary Anne Barney, and had a son with son with her named Richard (mentioned at the beginning of this paragraph). The Phipps family crest is blazoned as follows in heraldry: Sable, a trefoil slipped between eight martlets argent.
The second branch begins with a mention of Charles Paul Phipps, Esquire of Dilton Court, Wiltshire, who was a Deputy Lieutenant and High Sheriff in 1875, as well as a member of Parliament for Westbury in 1869. He was born in 1815, and in March of 1844, he married Emma Mary, daughter of M. Benson of Liverpool, and had six issue with her: Charles Nicholas Paul (born 1845, married Clare Emily Bathurst), William Wilton (born 1846, married Jessie Duncan of New York), Thomas Hele (born 1848, Captain 7th Hussars), Frederick Hothersall (born 1856), Etheldreda, and Susan Jacintha. He was the son of Thomas Henry Hele Phipps, mentioned in the preceding paragraph. The Phipps Coat of Arms has the following heraldic blazoned: Sable a trefoil between eight mullets argent, with a crest that is a lion's jamb couped erect sable, holding a mullet slipped argent.
A one John Phipps was born in Worcester, England in 1580. He married Elizabeth Neighbour and ended up going to the America. He died in Virginia in 1712, and had one son named James Washington. His son James W. was born in Bristol, England in 1606 and he married Mary _____, with whom he had six issue: Ann, John, Margaret, Mary, John, and William. His son John Phipps was born in 1634 in Burton Dasset, England. He married twice, first to a woman named Rebecca, and second to a woman named Elizabeth Gent. He had four children, including sons John and James, prior to his death in Maine, USA, when he was killed by Indians. His son John was born in Sheepscot, Maine, in 1668. He married Mary Underwood and had numerous children with her: Anna, John II, Mary, Elizabeth, Sarah, Margaret, Anne, William, Elizabeth, and Margaret. His son John II was born in Wrentham, Massachusetts in 1696. He married Hannah Bullen and they had the following issue: William, John, Jedediah, Moses, Aaron, Hannah (Plympton), Jason, Samuel, Aaron, and David. His son Deacon Aaron Phipps was born in 1730 and he married Zerviah Haven, with whom he had the following issue: Samuel, Aaron, Anna, Jonathan, Moses, Joseph, Mary, and William. His son William was born in 1771 in Holliston, MA. He married Lucretia Plympton and he had two issue: John Curtis and William Lauren. His son William Lauren Phipps was born in 1805 in the same town, and he married Mary Arvilla Clements and they had three issue: Mary L., Daniel, and Arvillia. His son Daniel was born in 1846 and he married Abigail D. Adams. They had one daughter named Nurella Esther Phipps, born in 1882, who married Wilbur Nelson and had a son with her named Laura A. Nelson (Gilmore). (Sources: The ancestors and descendants of John Phipps, of Sherborn, WikiTree, Geneanet, & New England Marriages Prior to 1700.)
A one Robert Phipps was born between 1458 to 1578 and he married Isabell Bromley. They had a son named George who was born between 1497-17617. He had three issue: Francis, James, and Joane. His son Francis in turn had a son named Sir Constantine Henry Phipps, who was born in 1656 in Gloucestershire, England. He married Catherine Sawyer and he had two issue with her: William and Catherine. His son William was born in 1698 in London and he married Lady Catherine Annesley. They had a son: Constantine Phipps, 1st Baron Mulgrave who was born in 1722 in Lythe, North Yorkshire. He married Lepell Hervey and had numerous issue with her: Constantine, Captain Charles, Henry, Henrietta, Augustus, and Edmund. His son Captain Charles Phipps of the Royal Navy was born in 1753.
Early American and New World Settlers
The book Genealogical Guide to the Early Settlers, mentions 7 people bearing this surname:
1) James Phipps or Phips was a gunsmith from Briston, England, who settled near the mouth of the Kennebeck River (in Maine) prior to 1649 who had 21 sons and daughters.
2) John Phips of Reading, by Eaton classed among the earliest settlers
3) Solomon Phips of Charlestown in 1641, a carpenter who was admitted of the church and became a freeman in 1642. He married Elizabeth and had the following issue with her: Elizabeth (1643), Solomon, Samuel, Mehitable, Mehitable (again), Joseph, and maybe others.
Thomas Phipps, age 15, came to the Barbados in November 1635 aboard the Expedition.
Sir William Phips (1651-1695) was born as a shepard boy in Massachusetts Bay Colony. He had an interesting life as a shipwright, ship's captain, treasure hunter, Major-General in the Second Indian War, and the first appointed governor of the colony. He is also known for having over-ruled and disbanded the court presiding over the Salem Witch Trials. He earned instant knighthood and wealth when he found a treasure from a sunken Spanish galleon. Further, he led a successfully military campaign to against Port Royal, capital of Acadia, as well as a failed attempt to capture the French-Canadian city of Quebec.
Other early settlers were Jon Phipps (Virginia 1650) and John Phipps (Mississippi 1798). One of the earliest settlers in Australia bearing this name was George Phipps, a convict from Kent, England, who was sent aboard the Aboukir in 1851 and settled in Van Diemen's Land (a penal colony in Tasmania). A family (James, Mary, David, Ann Elizabeth, and Caroline) bearing the last name Phipps came to Nelson, New Zealand in 1843 aboard the London.
Early Americans Bearing the Phipps Family Crest
Charles Bolton's American Armory, published in 1927, contains six entries for the surname Phipps:
1) Sa a trefoil slipped bet 8 mullets arg Crest: a lion's gamb sa holding a trefoil of the field. State House, Boston. In color in a window, 3d floor. On a doc. in Mass. Archives 1692, vol. 61, p. 330.
2) [Sa] a trefoil slipped bet 8 mullets [arg] Crest: a gamb erect holding a trefoil [both sa].           Motto: Virtute Quies. On David Wood's tomb, No. 55, 1762. Phipps Street Yard, Charlestown, Mass. Heral. Jour., vol. 1, p. 47. See vol. 4, p. 29, for Samuel Phipps's use of the Bradway arms, a chev bet 3 bunches of grapes.
3) [Sa] a trefoil slipped bet eight mullets [arg] Crest: a lion's gamb erect holding a trefoil.  Engr. on "A Prospect of the Colledges in Cambridge" &c dedicated by W. Price about 1739 to Spencer Phipps. Mass. Historical Society, Boston. See also Oliver's West Indian bookplates, 1914, Nos. 696, 697.
4) Sa a trefoil slipped erm bet 8 mullets arg Crest: a bear's paw sa holding a trefoil slipped erm. Seal on Sir William Phips's will, 1695, in the Suffolk Registry. Heral. Jour., vol. 1, p. 47, 120, 153.
Mottoes
The Phipps family motto in Latin is Virtute quies, meaning "Repose through valour".
Grantees
We have 8 coats of arms for the Phipps surname depicted here. These 8 blazons are from Bernard Burke's book The General Armory of England, Ireland, and Scotland, which was published in 1848. The bottom of this page contains the blazons, and in many instances contains some historical, geographical, and genealogical about where coat of arms was found and who bore it. People with this last name that bore a Phipps Coat of Arms include:
1) Constantine Phipps, Baron Mulgrave, of county York, 1767
2) Phipps to Waller, of Braywrick Lodge, Berkshire, 1814
Notables
There are hundreds of notable people with the Phipps surname. This page will mention a handful. Famous people with this last name include: 1) Henry Phipps Jr. (1839-1930) who was an American businessman born in Philadelphia known for his involvement with Carnegie Steel and his relationship with Andrew Carnegie himself as well as being a prominent real estate investor, 2) Constantine Phipps, 1st Baron Mulgrave (1722-1775) who was an Irish Peer, 3) Charles Phipps (1753-1786) who was an officer in the British Navy during the American Revolution, 4) Lawrence Cowle Phipps (1862-1958) who was a Senator from Colorado, 5) Sir William Phips or Phipps (1651-1695) who was a shepherd boy who became the first Governor of Massachusetts, 6) Michael Elston Phipps (1947) who was a quarterback in the NFL who played in the 1970s and 1980s for the Cleveland Bears and Chicago Bears, as well as other teams, and 7) Bess Phipps Dawson (1916-1994) who was an American painter from Mississippi.
Blazons & Genealogy Notes
1) (Marquess of Normanby). Quarterly, 1st and 4th, sa. a trefoil slipped betw. eight mullets ar., for Phipps; 2nd (by grant from James II. to his illegitimate dau. Lady Catherine Darnley), the royal arms of England, temp. James II., a bordure compony ar. and az.; 3rd, paly of six ar. and az. a bend gu., for Annesley. Crest—A lion's gamb erect sa. holding a trefoil slipped ar. Supporters—Dexter, a unicorn erm.; sinister, a goat erm. each armed and unguled or, gorged with a chaplet of roses ppr. Motto—Virtute quies.
2) (Selscy, co. Sussex). Sa. a trefoil within an orle of mullets ar. Crest—A lion's gamb sa. holding a trefoil ar.
3) (granted 1767). Same Arms. Crest—A lion's gamb erect and erased sa. holding erect a trefoil slipped ar.
4) Same Arms. Crest—Two laurel branches issuing from the wreath ppr.
5) (Heywood House, Westbury, co. Wilts; derived from Nicholas, eldest son of Nicholas Phipps, of Westbury, living in 1568). Sa. a trefoil slipped betw. eight mullets ar. Crest—A lion's gamb erect sa. holding a trefoil slipped ar.
6) (Leighton House, co. Wilts; descended from Thomas, second son of Nicholas PBIPPS, of Westbury, living in 1568). Same Arms, &c.
7) (granted by Betham, Ulster, to Dame Anne Catherine Prevost, widow of Lieut.-Gen. Sir George Prevost, Bart., and dau. of Major-Gen. John Phipps, and her issue). Per pale sa. and az. a trefoil slipped ar. within an orle of eight mullets or.
8) (London; granted 22 July, 1656). Ar. on a pile issuing from the dexter chief to the sinister base sa. a lion ramp. of the first. Crest—A demi lion ramp. ar. holding in both paws a palm branch vert.