Piers Family Crest, Coat of Arms and Name History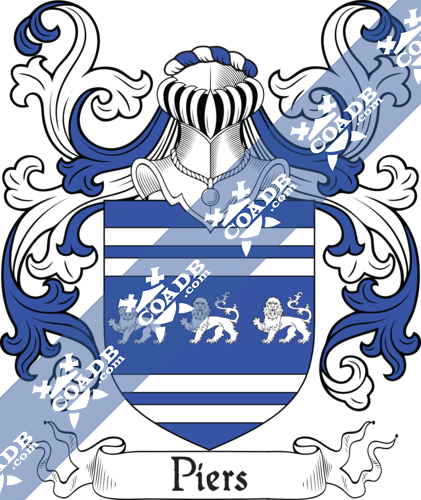 Piers Coat of Arms Gallery
Don't know which Coat of Arms is yours?
We can do a genealogical research. Find out the exact history of your family!
Learn More
Piers Origin:
England, France
Origins of Piers:
It is an English surname created from the famous and old – established particular name "Peter," which in old England more usually appeared as "Piers." "Peter" acquires from the Greek "Petros," which means "rock," and was the name given by Jesus to Simon to be symbolic of steadfastness in belief. St. Peter was the beloved saint of the old parish and his name famous all over the Christendom during the Middle Ages. The version "Piers" is the French one, originally brought over by the Normans at the time of the invasion in 1066. There are at least sixteen various spellings of the name in the new era, from Pierce, Pearce, and Piers, to Peers, Peres and Perse. One "Danyell Pierce" was an early immigrant in America, departed from Ipswich on the "Elizabeth," bound for New England, in 1634. The Royal symbol given to the family in 1641, has the blazon of a silver shield, two bars dark, in the mid of the six red estoiles (stars) three, two and one. The Peak being an arm in guard holding a lance, with the monogram as Cadenti porrigo dextram, changing as – I extend my right hand to the falling.
Variations:
More common variations are: Pierse, Piears, Pieris, Pieros, Pieres, Piersa, Pieras, Peiers, Pierso, Piersy.
England:
The surname Piers first appeared in Somerset where they held a family seat from old times and their first records showed on the poll rolls derived by the early Kings of Britain to decide the rate of taxation of their services.
The very first recording spelling of the family was shown to be that of Gilbert Perse, dated about 1250, in the "London Pipe Rolls." It was during the time of King Richard I, who was known to be the "Lackland," dated 1216 – 1272. The origin of surnames during this period became a necessity with the introduction of personal taxation. It came to be known as Poll Tax in England. Surnames all over the country began to develop, with unique and shocking spelling variations of the original one.
Ireland:
Many of the people with surname Piers had moved to Ireland during the 17th century.
United States of America:
The following century saw more Piers surnames arrive. Some of the people with the surname Piers who arrived in the United States in the 18th century included Thomas Piers settled in Pennsylvania in 1772
Canada:
People with the surname Piers who settled in Canada in the 18th century included Lewis Piers, who arrived in Halifax, Nova Scotia in 1749. Mary Piers, who landed in Nova Scotia in 1750. Temple Piers, who arrived in Nova Scotia in 1776.
Here is the population distribution of the last name Piers: South Africa 402; United States 396; France 269; Belgium 252; Netherlands 230; Canada 194; England 167; Australia 58; Rusia 46; Ukraine 16.
Notable People:
Dennis Walter Piers (May 1929–September 2005) was a South African cricket player who played two first-class matches for Orange Free State during the 1947-48 season.
Rear Admiral Desmond William Piers, CM DSC CD (June 1913–November 2005) was a rear-admiral in the Royal Canadian Navy. He was born in Halifax and long-time resident of Chester, Nova Scotia. He gave services in the RCN from 1932 to 1967. In 1930, he was the first graduate of the Royal Military College of Canada (student # 2184) to join the RCN. He became minister of Nova Scotia in the United Kingdom in 1977.
Harry Piers (1870–1940) was a Canadian archaeologist. He was a long-serving and prominent archaeologist and scientist at the Nova Scotia Museum in Halifax, Nova Scotia. Piers was born in February 1870 in Halifax.
Henry Piers (1568–1623), was an Anglo-Irish Member of Parliament, administrator, and author.
Sir Henry Piers, 1st Baronet (1629–1691), was an Anglo-Irish officer and historian.
John Piers (1522–1594), was an Archbishop of York.
Sir John Piers, 6th Baronet (1772–1845), was a famous playboy and duelist.
Julie Piers (born 1962), is an American golfer.
Sarah Piers (died 1719), was an English literary leader, political writer, and poet.
To receive a complete surname meaning report by PDF you can order our SURNAME MEANING PACKAGE for $129.   This report is great to share with family and friends.  It includes everything you see above plus any other information we can find on the specified surname.  It does take approximately 10 to 15 days for us to complete this custom report.
To receive a direct lineage & coat of arms search for your specific line(s) you can order one of our GENEALOGY PACKAGES ranging in price from $249 to $999.   All research is completed by a professional genealogist with over 30 years' experience.  All reports and coat of arms files are sent by email in PDF and JPG format.
Blazons & Genealogy Notes
1) (Fun. Ent. Ulster's Office, 1595, Captain Henry Piers, buried in Christ Church, 4 Aug. that year, leaving a son, William Piers). Az. three lions pass. guard. in fess ar. betw. two bars gemellee of the last.
2) Sa. a bend wavy ar. betw. two unicorns' heads erased or. Crest—A griffin or, winged ar.
3) Sa. a chev. erm. betw. three lions' heads erased ar.
4) Vert six eagles displ. or.
5) (Archbishop of York, 1588). Az. a pelican in her piety ppr.