Pinner Family Crest, Coat of Arms and Name History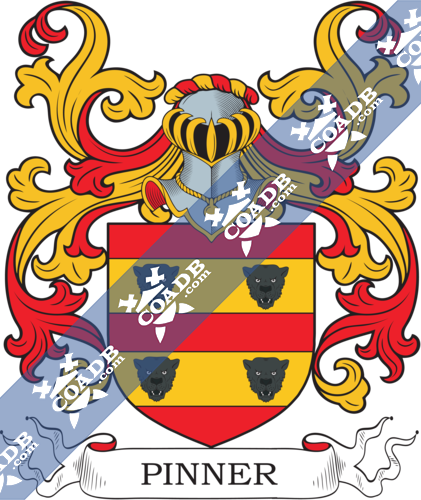 Pinner Coat of Arms Gallery
Don't know which Coat of Arms is yours?
We can do a genealogical research. Find out the exact history of your family!
Learn More
Pinner Origin:
England
Origins of Pinner:
This old surname is frequently professional. It acquires from the Olde English 'pinn' which means a needle or pin, or in an alternative sense of a pine tree. A few name owners will have geographical sources from the hamlet of Pinner in Middlesex, however, even then the name means 'the place of the pin manufacturers' or possibly 'the pine trees.' A 'pinner' was a highly skilled profession, and not just bound to pins and needles, but also wire items like baskets and bird enclosures. There are many forms of the name containing as Pinner, Piner, Pinor, Pinar, Pyner, Pynner and Penner, as well as the French spellings of Pinar, Pineaux, and Pinard. Previous documentations contained Richard de Pinner of London in 1275, and there cannot be much doubt where he came from, though Walter Le Pinnere, also of London in 1281, was most surely a pin manufacturer. Edward le Peniur of Norfolk in 1275 was obviously a comb producer, and this form acquires from the French 'peignour,' brought by the Normans after 1066. However, over the centuries the name spellings have become scattered to the point where it is frequently impossible to be certain of the origin. After that, church documentations contain as Wynifred Pynner named at St Margarets, Westminster, in October 1595, Ann Penner, named at St Marys Parish, Putney, in June 1625, and Catherine Piner, who married John Turner at St James Church, Westminster, in April 1772.
Variations:
More common variations are: Pinneri, Pinnero, Pinnere, Pinneru, Painner, Pinnera, Pinnear, Piner, Pinneer, Pinneiro.
England:
The surname Pinner first appeared in Cheshire where they held a family seat from old times and their first records were found in the poll rolls derived by the old Kings of Britain to decide the rate of taxation of their services.
The very first recording spelling of the family was shown to be that of Adam Le Pinare, dated about 1244, in the "Pipe Rolls of the City of Worcester". It was during the time of King Edward III, dated 1327-1377. The origin of surnames during this period became a necessity with the introduction of personal taxation. It came to be known as Poll Tax in England.
Ireland:
Many of the people with surname Pinner had moved to Ireland during the 17th century.
United States of America:
The following century saw more Pinner surnames arrive. Some of the people with the name Pinner who arrived in the United States in the 17th century included Richard Pinner, who came to Maryland in 1637. James Pinner who settled in Virginia in 1643. James Pinner, who arrived in Virginia in 1643. Thomas Pinner, who came to Maryland in 1658. Roger Pinner, who landed in Virginia in 1661.
Here is the population distribution of the last name Pinner: United States 2,270; England 1,328; Australia 468; Germany 202; Nicaragua 167; Austria 105; Mexico 105; Canada 85; Israel 47; Wales 45.
Notable People:
Adolf Pinner (August 1842 – May 1909) was a German chemist. He got his early education at the Jewish Theological Seminary at Breslau and the University of Berlin (Ph.D. in Chemistry (Doctor der Chemie), 1867). In 1871, he became a private instructor at the University of Berlin. In 1873, he became an assistant professor of chemistry at the University of Berlin, and in 1874 professor of chemistry at the veterinary college of that city. In 1884, he was selected as a representative of the German patent office, and in the following year, of the industrial district of the Prussian section of Commerce. He has received the title "Geheimer Regierungsrat."
Artose Deonce Pinner was born in January in the year 1978. He is an old American football running back. He was originally drafted by the Detroit Lions in the fourth round of the 2003 NFL Draft. He played college football at Kentucky.
Michael Lutrell "Pinball" Clemons Oont was born in January in the year 1965. He is an American-Canadian Vice-Chair for the Toronto Argonauts of the Canadian Football League (CFL).
Blazons & Genealogy Notes
1) (London; granted 12 Aug. 1577). Az. a chev. ar. betw. three lions' heads erased erm. ducally crowned or. Crest—A stork pass. ar. ducally gorged or.
2) (Bury St. Edmund's, co. Suffolk, and co. Sussex; granted 2 May, 1612). Gu. two bars or. on each as many leopards' faces sa.