Playford Family Crest, Coat of Arms and Name History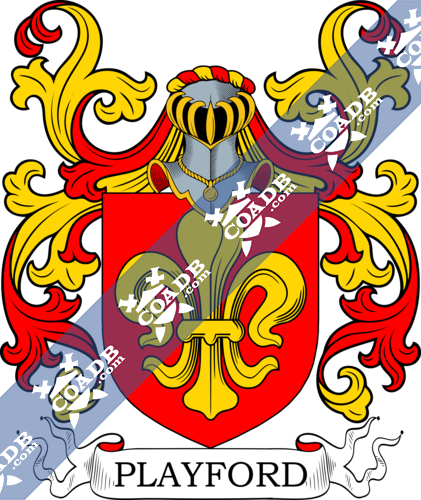 Playford Coat of Arms Gallery
Don't know which Coat of Arms is yours?
We can do a genealogical research. Find out the exact history of your family!
Learn More
Playford Origin:
England
Origins of Playford:
According to the early recordings of the name, this interesting and unique name was listed as Playford and the dialectals Playfote and Playfoot, this is an English geographical surname. It started from Playford in Suffolk and noted as "Plegeforda" in the Domesday Book of 1086. The translation of Hamlet name from the pre 7th century Olde English is the "plega" which means "sport" and "forda", which means a shallow river crossing. It shows a place where sporting contests were held, and close to a ford. Related games in the sense of team sports did not exist until the 18th century, so 'Playford' was probably an area set aside for archery or running or possibly horse racing, and so, the advancement eventually became Playfoot. The surname from this origin was first listed in the first half of the 12th Century, while later recordings derived from existing church records and charters contain as Richard Playfote of Colchester in Essex, in the year 1310, and Andrew Playford, who named at Ingham, Suffolk, in November 1545, in the reign of King Henry VIII. The blazon of the Royal symbol given in Suffolk, has a green field charged with silver lion rampant, on a red chief, a gold fleur de lis between two silver castles.
Variations:
More common variations are: Plaford, Playford, Blayford, Palyford, Pulford, Pilford, Pelford, Blaford, Polford, Palford.
England:
The origins of the surname Playford appeared in Cheshire where people held a family seat from old times. Some say better before the success of Normans and the entrance of Duke William at Hastings1066 A.D.
The very first recording spelling of the family was shown to be that of Fulcher de Pleiforda, dated about 1130, in the "Pipe rolls of the county of Suffolk". It was during the time of King Henry I, who was known to be the "The Lion of Justice", dated 1100-1135. The origin of surnames during this period became a necessity with the introduction of personal taxation. It came to be known as Poll Tax in England. Surnames all over the country began to develop, with unique and shocking spelling variations of the original one.
Ireland:
Many of the people with surname Playford had moved to Ireland during the 17th century.
Canada:
People with the surname Playford who settled in Canada in the 19th century included Arthur Playford, a gentleman, arrived in Saint John, New Brunswick in 1833 aboard the brig "Retrench" from London, England.
Australia:
Some of the individuals with the surname Playford who landed in Australia in the 19th century included John Playford arrived in Holdfast Bay, Australia aboard the ship "John Renwick" in 1837,
Here is the population distribution of the last name Playford: England 1,043; Australia 577; United States 465; Canada 457; Wales 56; New Zealand 47; Scotland 39; Spain 13; Zimbabwe 5; France 2.
Notable People:
Henry Playford (1657 – c. 1707) was an English music publisher, the younger son and only known remaining child of John Playford, with whom he entered into business. He resided in Arundel Street in London and had a shop near Temple Church 1685–1695 then in Temple Change 1695–1704 and finally in Middle Temple Gate in 1706. Many of his publications were of a transient nature and aimed at favorite songs and instrumental pieces for public entertainments, such as the pleasure garden concerts much in vogue.
John Playford (1623–1686) was a London bookseller, journalist, minor writer, and member of the Stationers' Company, who published books on music theory, instruction books for many instruments, and books with tunes for singing in churches. He is perhaps best known today for his publication of The English Dancing Master in the year 1651.
Francis Playford (1825 –September 1896) was a British rower who won the Wingfield Sculls in 1849 and the pairs cars at Henley Royal Regatta.
Herbert Harlee Playford (1831 –January 1883) was a British rower who won the Wingfield Sculls and the Diamond Challenge Sculls at Henley Royal Regatta. He was instrumental in founding London Rowing Club and the Metropolitan Regatta.
Blazons & Genealogy Notes
1) (cos. Kent, Norfolk, and Suffolk). V ert a lion ramp. ar. on a chief gu. a fleur-de-lis or, betw. two castles of the second. Crest—A leopard sejant ppr.
2) Gu. a fleur-de-lis or.