Pool Family Crest, Coat of Arms and Name History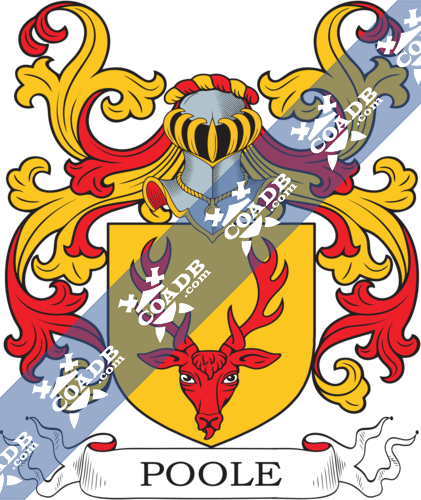 Pool Coat of Arms Gallery
Don't know which Coat of Arms is yours?
We can do a genealogical research. Find out the exact history of your family!
Learn More
POOL
The surname Pool comes from one of three sources. The first source states the name is English and topographical in origin, named for any of the places bearing the name Poole or Pool found in Dorset, Devon, or Gloucestershire. The second source states the name is a medieval Anglicized version of Paul. In this context the name would be patronymic. The third source is a topographical name of Germanic-Dutch origin. Derived from the German Pohl, Puhl, or Pfuhl, it identifies a native of Poland.
Surnames had various sources of origins. Some people may have been identified by their given name plus their occupation while others may have been identified by their given name and one of their parent's names. There was an endless supply from which surnames were culled, in addition to the use of patriarchal/matriarchal names or reference to the individual occupations, there were things such as defining physical traits, a familiar geographical location or a topographical landmark found near the individuals home or birthplace, the name of the village in which the person lived, and much more. Soon, surnames would come not just to represent an individual but whole families.
The use of surnames was not a common practice in Europe, except among the noble classes, until the mid-sixteenth century. The popularity in the use of surnames developed out of necessity, clarity, and practicality. As populations in European cities grew, it became necessary for clarity's sake to add a qualifier to a person's given name to distinguish them from another's who may share the same common name. For practical purposes, governments found the use of surnames made the recording and tracking of people for census, taxation, and immigration purposes easier, as well.
The task of record keeping was primarily the responsibility of the churches, priories, and government as literacy was often a skill found only among the wealthy, the clergy, and those in government. Even so, there often existed multiple variations of names which was attributed to a number of factors; the origins of the surname, the lack of guidelines which existed for spelling, and the fact that many scribes and clergy members who were charged with record keeping spelled phonetically, among other things. Some of the early variations of this surname include; Pool; Poole; Pooley; Pole; and Pull, among others.
The earliest record of any variation of this surname is that of Mauritius de la Pole which appears in the Devonshire tax rolls from 1176. These rolls, were a series of census and tax records kept by the English Treasury by order of King Henry II, with the oldest dating back 700 years to the 12th century. They hold the distinction of being the oldest consecutive set of records detailing English governance in the United Kingdom.
Some of the first recorded immigrants to America bearing the surname was William Pool who arrived in 1649 and settled in New England. George Pool landed and settled in Virginia in 1650 and David Pool arrived and settled in Virginia in 1655.
There were also immigrants to the British Commonwealth countries of Canada, Australia, and New Zealand bearing the surname Pool. John Pool and his children James, Mathew, Ann, and Jane landed in 1784 and settled in Quebec, Canada. John Pool was one of the early settlers to Australia, arriving in 1847 and settling in Adelaide. Jane Pool was one of the early settlers to New Zealand in 1871 and settled in Auckland.
Worldwide, the highest concentration of people with the surname Pool are found in the Netherlands, New Zealand, the United States, Australia, and the United Kingdom. By state, the largest percentile of those with the surname Pool live in Texas, Arkansas, and Oklahoma.
There are many persons of note who bear the surname Pool. Judith Graham Pool was a noted scientist who was a pioneer in researching and developing treatments for hemophiliacs. Pool was born in Queens, New York.
Pool attended the University of Chicago where she completed her undergraduate and her graduate work. She served as an assistant in her department. While completing her dissertation, she taught at Hobart College in Geneva, New York. After receiving her doctorate, she moved to California where she had a research position at Stanford Research Institute. She began work on her studies for hemophilia in 1953 qt Stanford School of Medicine, shortly thereafter, she received a Fulbright research fellowship which took her to Oslo, Norway. Upon her, she returned to Stanford, where in 1956 she was made a senior research associate. In 1970, she was promoted to senior scientist, and in 1972, she was promoted to a full professor.
To receive a complete surname meaning report by PDF you can order our SURNAME MEANING PACKAGE for $129.   This report is great to share with family and friends.  It includes everything you see above plus any other information we can find on the specified surname.  It does take approximately 10 to 15 days for us to complete this custom report.
To receive a direct lineage & coat of arms search for your specific line(s) you can order one of our GENEALOGY PACKAGES ranging in price from $249 to $999.   All research is completed by a professional genealogist with over 30 years' experience.  All reports and coat of arms files are sent by email in PDF and JPG format.
Blazons & Genealogy Notes
(co. Chester). Az. semée-de-lis or, a lion ramp, of the last, on a canton argent a ship in full sail proper. Crest—A mermaid in profile proper holding in her hands a Saxon coronet or.