Pride Family Crest, Coat of Arms and Name History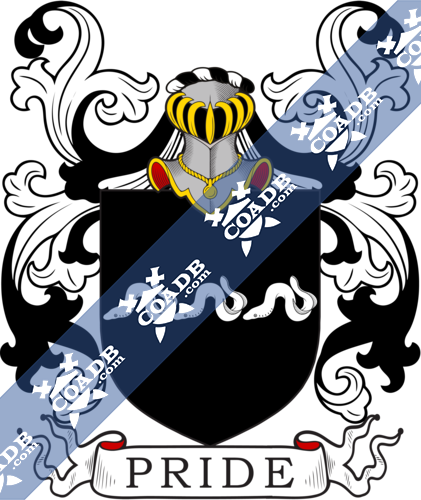 Pride Coat of Arms Gallery
Don't know which Coat of Arms is yours?
We can do a genealogical research. Find out the exact history of your family!
Learn More
This interesting and long-established surname is of Anglo-Saxon origin and belongs to that sizeable group of early European surnames that gradually formed from the habitual use of nicknames. These nicknames were originally given concerning a variety of personal characteristics, such as physical qualities or peculiarities, and mental and moral characteristics. More common variations are: Pridie, Pridey, Priede, Paride, Peride, Priode, Pridue, Praide, Poride, Preide.
The surname Pride first found in Lanarkshire (Gaelic: Siorrachd Lannraig) an old division in the central Strathclyde region of Scotland, now divided into the Cabinet Areas of North Lanarkshire, South Lanarkshire, and the City of Glasgow, where they held a family seat. The very first recording spelling of the family was shown to be that of John le Pride, dated 1208, in the "Pipe Rolls of Devonshire". It was during the reign of King John, who was known as "Lackland", dated 1199-1216.  Surname all over the country became a necessity with the introduction of personal taxation.  It came to be known as Poll Tax in England.  Surnames all over the country began to develop with unique and shocking spelling varieties of the original one.
Some of the people with the name Pride who arrived in the United States in the 17th century included John Pride, who arrived in Salem, Massachusetts in 1637.  Benjamin Pride, who landed in Virginia in 1657.  Andrew Pride who settled in North America in 1660.  Margaret Pride, who settled in Barbados in 1670. People with the surname Pride who landed in the United States in the 18th century included David Pride, who settled in Philadelphia, Pennsylvania in 1775.  David Pride, aged 18, who arrived in Philadelphia, Pennsylvania in 1775.
Blazons & Genealogy Notes
(Shrewsbury, co. Salop). Sable three preeds or small lampreys haurient in fess argent.