Radford Family Crest, Coat of Arms and Name History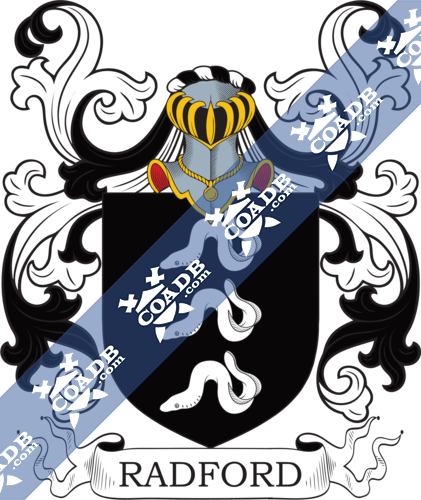 Radford Coat of Arms Gallery
Don't know which Coat of Arms is yours?
We can do a genealogical research. Find out the exact history of your family!
Learn More
Surname Name Meaning & Origin
This Anglo-Saxon surname is a local one meaning "Radford", referring to various hamlets and villages in counties Nottinghamshire, Oxford, and Warwick. It originated in county Nottinghamshire and later spread into Derbyshire, Chesire, and Lancashire. Radford, a parish in county Dorset, may be the chief source of the surname. Another author notes it rarely derives from "Rada's Ford". A place named Reddeford was recorded in the Assize Court Rolls of Devonshire in 1249 AD. A place called Redeford was recorded in Notttingham in the Domesday Book of 1086 AD, which was a survey of England and Wales ordered by King William the Conquerer.
Surname Etymology & Spelling
The surname derives from the Old English word read (red) and ford (ford). It is also possible the first part of the name derives from the Old English word ridan (ride), referring to a person who crosses a river (fords) a river on horseback. Spelling variants of this surname include Ratford, Radeford, and Redford. Another spelling corruptions, more commonly found in the Unites States, is the surname Redfoot.
Early Bearers of the Surname
There are numerous early people bearing this surname. The earliest person documented with this surname was John de Radeford, recorded in the Pipe Rolls of Nottinghamshire in 1209 AD. The Hundred Rolls of 1273 AD, a census of Wales and England, known in Latin as Rotuli Hundredorum, includes Ralph de Radeford in county Oxfordshire, Adam de Radeford, Serlo de Radeford in county Nottinghamshire, and William de Radeford in county Nottinghamshire. Thomas de Ratford and John de Raddeford were recorded in county Somerset in Kirby's Quest during the reign of King Edward III of England. Watter de Redford was recorded in Berkshire in1230 AD and Nicholas atte Rydeford in Sussex in 1296 AD.
Later persons bearing this last name include Katherine Radforth in 1584 AD in Chester and Ralph Radford, a tanner recorded in Chester in 1595 AD.
Early American and New World Settlers
Henrie Radford came to St. Christopers from the port of London aboard the John in October of 1635. Cornelius Radford was recorded as being a prisoner transported from Taunton in 1685, who was part of Monmouth's Rebellion. A one John Radford was recorded as being buried in the parish of St. Michaels Barbados in 1678. Others include George, William, and Richard Radford (Virginia 1637), John Radford and (Virginia 1652). Early marriages including this name include Catharine Radford, of Shelby County Kentucky, born in 1834, to Francis Wilson in 1858. A Sarah (Radford) Allen was recorded in Franklin Virginia in 1771, and A John Radford was recorded in Cumberland, Virginia in 1828 AD.

Genealogy and Ancestry
The famous genealogist Bernard Burke's book "The Landed Gentry" discusses one branch of this family: Radford of Smalley Hall. The discussion begins with a mention of Arthur Radford, Esq. of Smalley Hall and Etwall Lodge in county Derby, born in 1848, who was Captain of the Derbyshire Yeomanry Cavalary and succeeded his father in 1866. In 1974, he married Henrietta Maria, the youngest daughter of Francis Hurt of Alderwasley, and had two issue with her: John (1877) and Evelyn Vaughan (1875).
Burke traces the lineage back to a family seat in the county Derby and states it's a younger branch of Radford of Radford in county Nottinghamshire. Thomas Radford of Stanley in county Derby had a first wige named Elizabeth, with whom he had a son named John and a daughter named Elizabeth. When Thomas died in 1755, he was succeeded by his son John. John married Rachel Hieron and had the following children with her: John, Elizabeth, and Martha. John, his only son, was an Esquire of Smalley Hall and High Sheriff in 1784. John married Theophilla Vaughan, the daughter and heiress of Alexander Vaughan, in 1776 and with her had the following children: John, Alexander (who married Augusta Norcop and had children with her), William (a Lieutenant who married Ann Weaver), Samuel Richardson, Thomas (who married Isabella Wilson), Edward (who married Eliza Diana), and Henry (who married Miss Freer of Atherstone). His son John was his heir that succeeded him upon his death in 1834. John married Mary Buttle, the co-heir and daughter of James Dowker, and with her had the following children: 1) John, a Lieutenant in the Derby Militia, 2) Constance Mary who married Robert William Burnaby, and 3) Alice Marian who married James N. Hunt in 1876.  John died in March of 1866.
There are notes on two people with this surname who were granted arms: 1) Radford-Norcop, Alexander William, of Belton Hall, Market Drayton, Shropsh.,[1862] and 2) Radford, Herbert George (s. of Daniel), of East Sheen, co. Surrey, 18
Mottoes
The family motto is possunt quia posse videntur, which means "they can because they think they can".
Notables
Famous people who bore the last name include: 1) William Radford (1896-1973) an Admiral in the United States Navy who served in World War II and the Korean War, 2) Ernest William Radford (1857-1919) who was an English poet and critic, 3) William Radford (1809-1890), a rear admiral in the United States Navy who served in the Mexican-American War and the American Civil War, and 4) Nicholas Radford (died 1455 AD),who was a lawyer and member of Parliament.
Blazons & Genealogy Notes
Source for 1-5: Sir Bernard Burke's General Armory, 1884
1) (Whitcchurch, co. Devon; Robert Radford, Esq., of Whitechurch, Visit. Devon, 1620, son of John Radford, Esq., of Chudley, and grandson of John Radford, Esq., of Rockbeare, all in same co.). (Cheynstone, co. Devon). (Smalley Hall, co. Derby). Sa. three lampreys or man tigers in pale ar.
2) Quarterly, 1st and 4th, gu. a fess vair betw. two chev. of the second; 2nd and 3rd, sa. three boys' heads couped at the shoulders ppr. snakes enwrapped about their necks vert. Crest—A partridge holding an ear of wheat in the beak ppr. Motto—Possunt quia posse videntur.
3) (Irby). Ar. a fret and canton sa. (another, a chief sa.). Crest—An escutcheon per pale ar. and sa. betw. two laurel branches in orle vert.
4) Az. fretty or, on a chief gu. three bells of the second (another, ar.).
5) Radford, or Ratford – Per bend ar. and sa. a lion ramp. counterchanged.