Ranton Family Crest, Coat of Arms and Name History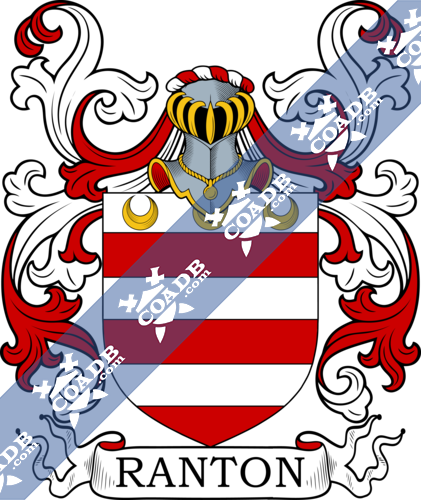 Ranton Coat of Arms Gallery
Don't know which Coat of Arms is yours?
We can do a genealogical research. Find out the exact history of your family!
Learn More
Meaning, Origin & Etymology:
The surname Ranton is of local origin, being one of those names that was descriptive of the place where the original bearer once lived or held land. In this case, the name Ranton is derived from Renton, a small town in Dumbartonshire. The original bearer of this surname Ranton therefore, hailed from this place. Records of this surname in England date back to the thirteenth century. An example of this is Matthew de Reneton of Devonshire, who was mentioned in the Hundred Rolls of 1273. The same source also mentions one Robert de Reyndon. The prefixes "de" in these surnames, meaning "of" or "from" was often found in names of local origin. Further references to the surname that we find indicate that Abigail Ranton was married July 24, 1603, in Norfolk, England.
Variations:
More common variations are: Rainton, Reanton, Rantono, Rantoni, Rianton, Raniton, Rantona, Rantone, Raynoton, Rantn.
England:
The surname Ranton first appeared in Berwickshire where they held a family seat from early times and their first records found on the early poll rolls taken by the early Kings of Scotland to decide the rate of taxation of their problems.
Australia:
Some of the individuals with the surname Ranton who landed in Australia in the 19th century included Joseph Ranton arrived in Adelaide, Australia aboard the ship "Countess of Yarborough" in the year 1850.
To receive a complete surname meaning report by PDF you can order our SURNAME MEANING PACKAGE for $129.   This report is great to share with family and friends.  It includes everything you see above plus any other information we can find on the specified surname.  It does take approximately 10 to 15 days for us to complete this custom report.
To receive a direct lineage & coat of arms search for your specific line(s) you can order one of our GENEALOGY PACKAGES ranging in price from $249 to $999.   All research is completed by a professional genealogist with over 30 years' experience.  All reports and coat of arms files are sent by email in PDF and JPG format.
Blazons & Genealogy Notes
Barry of six ar. and gu. in chief three crescents or.