Reath Family Crest, Coat of Arms and Name History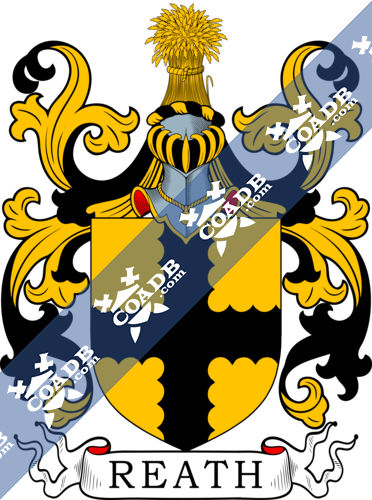 Reath Coat of Arms Gallery
Don't know which Coat of Arms is yours?
We can do a genealogical research. Find out the exact history of your family!
Learn More
Variations:
More common variations are: MacCrae, MacCraith, MacCrath, MacCraw, MacCray, MacCrea, MacCree, MacCreight, MacCrie, MacReagh, MacRae, MacRay, MacRie and much more
Scotland:
The surname Reath first appeared in Inverness-shire (Gaelic: Siorrachd Inbhir Nis) parted between the present day Scottish Cabinet Areas of Highland and Western Islands, and consisting of a large northern mainland area and different island areas off the west coast, the shire was anciently both a Pictish and Norwegian stronghold, but their old history often clouded with opinion.  It appears certain that they resided before the 14th century at Clunes, to the west of Inverness in the areas of the Fraser Tribe. Consequently, the family has always been friendly towards that Tribe.  From about 1400, they moved to the location with which they readily associated, Kintail.
United States of America:
Individuals with the surname Reath landed in the United States in the  19th century.  Some of the people with the name Reath who arrived in the United States in the 19th century included Michael Reath at the age of 45, landed in New York in the year 1812.
Motto:
The motto was originally a war cry or slogan.  Mottoes first started to be shown with arms in the 14th and 15th centuries but were not in general use until the 17th century.  Thus the oldest royal symbols do not include a slogan.  Mottoes sometimes form part of the grant of arms as Under most heraldic authorities, a slogan is an optional element of the coat of arms, and can be added to or changed at will; many families have chosen not to present a motto. Motto: Fortitudine Motto Translation: With fortitude.
Blazons & Genealogy Notes
(Edmistoun). Motto—Industria ditat. Or, a cross engr. sa. Crest—A sheaf of wheat or.