Redford Family Crest, Coat of Arms and Name History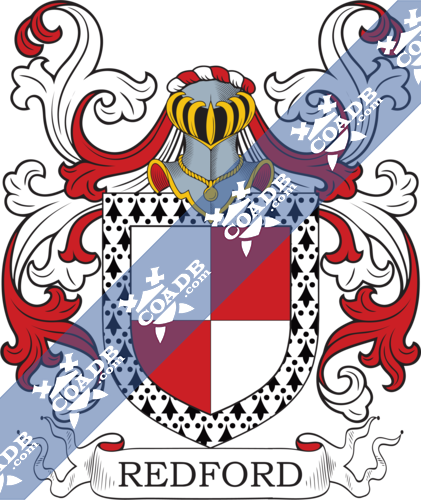 Redford Coat of Arms Gallery
Don't know which Coat of Arms is yours?
We can do a genealogical research. Find out the exact history of your family!
Learn More
Surname Name Meaning, Origin, and Etymology
This is a local surname meaning "of Radford", various places in Nottingham, Devon, Warwickshire, Oxfordshire, and Worcestershire. It can also be from other places, such as a locale in county Nottinghamshire named East Retford or Redeford. There are also places in Scotland so named,: Redford in Angus, in Dystart, Fife, and in the parish of Colinton, Midlothian. The Old English word read, means red, and the word ford means a location where a river can be crossed. In other words, it means a river crossing with red soil or dirt. Another theory is that it derives from the Old English word rad, which meaning riding, and could refer to a ford that can be crossed on horseback.
Spelling Variations
Common spelling variants include Radford, Retford, Redfoord, Redeford, Redfurd, and Reidford.
Popularity & Geographic Distribution
The surname Redford ranks 10,278th in terms of popularity in the United States as of the 2000 Census.  The name Radford is much more common, as it ranks 2,636th. It is most common in five states: Virginia, Utah, Texas, California, and Washington. In England, this last name ranks 3,714th in terms of popularity where it is most prevalent in Lancashire and Northumberland. The name can also be found in Canada and Australia.
There is a township in Michigan known as Redford, which has about 50,000 people and shares a border with the more famous city of Detroit. The name was chosen because Native Americans and pioneers forded the River Rouge where the river runs through Redford. The French word rouge, means red.
Early Bearers of the Surname
The earliest recorded bearer of this last name was Walter de Redford who was listed in the Pipe Rolls of Berkshire in 1230 AD. A one Hugo de Retford appears in the Hundred Rolls of Nottinghamshire in 1275 AD. The Placita de Quo Warranto documents one William de Redford in county Northumberland during the reign of King Edward I (1272-1307 AD). A one John de Radeford appeared in the Pipe Rolls of Nottinghamshire in 1209 AD. Early marriages involving this surname include Ann Redford to Thomas Fowler in 1804 at St. George's Hanover Square in London.
History, Genealogy, and Ancestry
One source states the family was first found on the Scottish/English borders. A one William Redford or Radford was born in 1750 in England. He had children named Jesse Sr., Polly (Bohannon), Hannah (Sisk), Edith E. (Sisk), and Nancy Elizabeth (Sisk). His son Jesse Sr. was born in 1770 in North Carolina. He married Francis Sanders and later Mary Epperon. He left the following issue prior to his 1855 death in Mointeau: Rhoda, Arthur, Jesse Eli, Sarah, Noah, Edith (Pennington), Andrew James, Frances, Elizabeth, William D., John, George Washington Sr., Mary Ann, and Lucy. His son Jesse Eli Redford was born in 1801 in Stokes County, North Carolina. He married Nancy Ann Nelson in 1822 and had the following children with her: Rufus, Letita D. (Harris), Susannah, Gabriel, Nathan, Alfred B., Aaron, Jesse Eli, Elizabeth, Nancy Ann (Pennington). His son Alfred B. was born in 1832 in Cole (Motineau), Missouri. He married Sara A.T. Lawless in 1852 and they had two children: Eli Oliver Redford and Margaret Ellen (Redford) Moran.
A one Roberti Redford was born in July of 1609 in Preswich, England. In 1631, he married Alizia Berche and was the father of Margret (Wardle). John Redford was born in Rockbear, England and he has a son named John. The son John was born in 1540 in Chudleigh and also spelled the name as Radford. He had a son named Robert Radford with his wife Mary Bennett. Robert was born in 1570 and he married Alice Leich in 1590. He had a son named Francis. Francis was born in 1626 in Rockbeare. He married Ann Lawrence in Charles City County, Virginia. They had three children together: Francis, Francis, and John.
Early American and New World Settlers
A one John Redford (or Reeford) came to Bermuda in September 1635 aboard the Dorst. The name has high density in Bermuda to this day. Other early settlers include Martha Redford (Virginia 1664), Charles Redford (Salem 1692), and Grace Redford (Salem, MA 1692).
Notables
Famous people with this last name include: 1) Sebastian Redford (1701-1763) who was an English Jesuit educated at St. Omer, 2) John Redford (1500-1547) who was an English organist and composer in the Tudor era, 3) Alison Merilla Redford (born 1965) who was the 14th Premier of Alberta, Canada, and Charles Robert Redford Jr. (born 1936) who is an American actor and producer from California.
Blazons & Genealogy Notes
Source for 1-3: Burke's General Armory
1) Ar. on a pile vert three quatrefoils of the first. Crest—A quatrefoil gu.
2) Quarterly, ar. and gu. a bordure erm.
3) (quartered by James Redfoord Bulwer, Esq., Q.C., Recorder of Cambridge, Treasurer of the Inner Temple, Lieut.-Col. Inns of Court Rifie Volunteers, son of Rev. James Bulwer, Rector of Hunworth-cum-Slody, co. Norfolk, deceased, by Eliza Redfoord, his wife, also deceased, only dau. and co-heiress of Bryan Mansergh, of Grenane, co. Tipperary). Ar. a fesse wavy gu. in chief three piles vert, each charged with a quatrefoil of the field. See also under Mansergh.