Redman Family Crest, Coat of Arms and Name History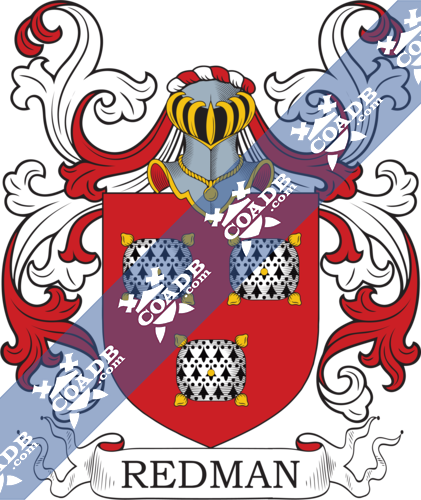 Redman Coat of Arms Gallery
Don't know which Coat of Arms is yours?
We can do a genealogical research. Find out the exact history of your family!
Learn More
Surname Name Meaning & Origin
This surname has two origins. First, it is a baptismal name meaning "the son of Redmond", which many times was corrupted into Redman, in the same manner that Wyman derived from Wymond and Mayman derived from Maymond. Seocnd, it is a of local origin meaning "of Redmain", which is a township in the parish of Isell, in county Cumberland.
The name is often found in Westmoreland and Cumberland, and from the 1300s to the 1500s AD, several of the Redman family members were sheriffs of those counties (ex. Redman of Redman was sheriff in Cumberland during the reign of King Richard II of England). Additionally, between 1649-1760 AD, six mayors of the city of Kendal bore the surname. In his book, Homes of Family Names, H.B. Guppy writes "The Redmans and Redmaynes of the West Riding, and the Readmans of the North and East Ridings, who are referred to under those regions, evidently hailed originally from the ancient Cumberland family". During the 1600s AD, the Redmaynes were a knightly family of Thornton-in-Lonsdale in West Riding.
Another source states the surname was first documented in County Wexford (founded as Waesjford by Vikings) in the Irish province of Leinster. The first person to bear the surname was Alexander Redmond who was related to the Earl of Pembroke whom he accompanied to Ireland in 1770 AD.
Surname Etymology & Spelling
One source states that it is an English variant of the surname Read, and a translation of the Jewish surname Rothman, Rottman, Roitman, and Reitman. Another source states it's from the Old Gaelic word rat-mund, meaning a counsellor. Yet another source states it derives from the Old English word read (red) and man (man), and also states it possibly comes from the Old English word roedemann, meaning a horseman. It also may have derived from the nickname for someone with red hair of a red complexion. Lastly, it may have referred to a cutter of reeds (or a thatcher) from the Old English word hreod.
Common spelling variants include Redmond, Redmayne, Radman, Redmaine, Reddman, Reddmon, Redman, Redmund, and numerous others. The earliest forms of the name were De Redman, De Redeman, and De Redmain. Foreign equivalents include Radmadr or Radmann (Norse), Raadman (German), Redeman (Flemish), Rederman (Anglo-Saxon, and Rathmann (German).
Early Bearers of the Surname
Early bearers of this last name include 1) Norman de Redman, recorded during the reign of King Henry II of England in the History of Westmoreland and Cumberland, 2) Matthew de Redman, recorded from the aforementioned source, 3) Thomas de Redeman, from the same source, recorded during the reign of King Edward III, 4) Mathew de Redeman in county Lancaster recordedrecorded in the Testa de Neville, sive Liber Feodorum, 5) Henry de Rydeman recorded in county Westmoreland in the Placita de Quo Warranto. Others include Robert Redman who was documented in the Hundred Rolls in Essex in 1274 AD and John Redman recorded in the Hundred Rolls of Hampshire in 1275 AD. Later bearers of the name include John Redman or Redmond, recorded in 1537 in the Register of the University of Oxford.
Early American and New World Settlers
Early settlers bearing this surname include William Redman (Virginia 1636), George Redman (Philadelphia 1746), Thomas Redman (Barbados 1635), and Mathew Redman (South Carolina 1820).
Genealogy and Ancestry
Henry Redman was born in 1320 AD in Lonsdale. He was the son of Matthew Redman (born 1190 AD, parents unknown) and Annabel Stuteville. He had one son named: Matthew Redman who was born in 1250 AD in West Riding, Yorkshire, England and died in 1318 AD. His wife was Goditha De Camberton, and they had married in 1294 AD. They had one child together named Sir Matthew, who was born in 1295 AD in Westmoreland, England and died in 1360 AD. His wife was named Margaret Moriceby and with her he had Matthew Redman or Redmayne who was born in 1324 in Harwood Tower. This Mattew died in 1390 in Newcastle Upon Tyne, but left behind three issue: Richard, Felicia, and Margaret.
Mottoes
The family motto for Redmond is pie vivere, et Deum et patriam diligere, which means "to live piously, and to love both God and out country".
Notables
Famous people with this last name include: 1) Reginald Redman (1892-1972) an English composer and conductor, 2) John Redman (1499-1551) who was the first Master of Trinity College at Cambridge, 3) John Redman (1722-1808), a physician who was the first president of the College of Physicians in Philadelphia, and 4) Lawrence V. Redman (1880-1946) who was a Canadian chemist who helped pioneer the applications of plastics.
Blazons & Genealogy Notes
Source for 1-7: Burke's General Armory
1) (cos. Berks and Kent, and Harwood, co. York). Gu. three cushions erm. buttoned and tasselled or.
2) (Thornton, co. York, and London; William Redman, gent., pewterer, of London, son of John Redman, and grandson of James Redman, both of Thornton. Visit. London, 156S). Same Arms, a fleur-de-lis for diff.
3) (cos. Chester and York). Gu. three cushions or.
4) (co. Norfolk; granted 1 May, 1595). Gu. a cross ar. betw. four enshions erm. tasselled or. Crest—Out of a mural coronet or, a horse's head ar. maned gu.
5) (Tulford, co. York). Gu. a chev. ar. betw. three cushions erm. tasselled or. Crest—On a cushion gu. tasselled or, a horse's head couped ar. crined gold.
6) (London; Fun. Ent. Ulster's Office, 1686, Elenor, dau. of James Redman, Esq., and wife of Lieut.-Col. John Joyner, of Ballylinch, co. Kilkenny). Gu. three cushions ar. tasselled or.
7) Redmayn (co. York). Erminois three triangular harrows conjoined in the fess point and interlaced by an annulet sa.