Rhys Family Crest, Coat of Arms and Name History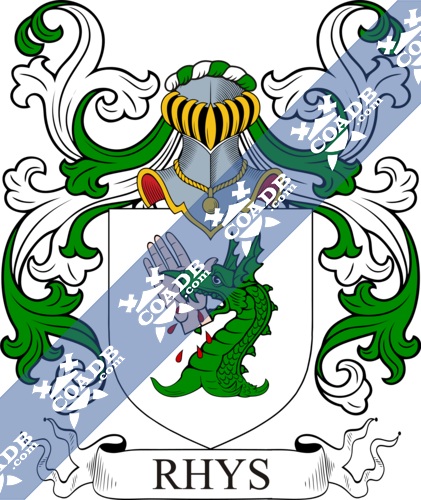 Rhys Coat of Arms Gallery
Don't know which Coat of Arms is yours?
We can do a genealogical research. Find out the exact history of your family!
Learn More
This section has not yet been completed. If you are interested in having your genealogy done, we offer an affordable research service that traces your lineage so you can learn more about your ancestors, where they came from, and who you are.
Blazons & Genealogy Notes
1) Rhys Goch – (Ystradyw, South Wales). Ar. a dragon's head and neck erased vert holding a bloody hand.
2) Rhys Grug – (South Wales). Ar. a lion ramp. sa. crowned with an antique crown gu.
3) (Rûg in Edeirnion, co. Merioneth; derived through Howel ap Rhys, of Rûg, from Bleddyn, Lord of Dinmael, third eon of Owen Brogyntyn, Lord of Edeirnion, Dinmael and Abertanat, in Powys; Margaret, dau. and heir of Ievan ap Rhys, Baron of Rûg. m. Pyers Salusbury, Esq., of Bachymbyd, co. Denbigh). Same Arms as Hughes, of Gwerclas, viz., Ar. a lion ramp. sa. armed and langued gu.
4) (ap Ievan) (Chwioren, Esquire of the Body to Edward IV., derived from Hedd Molwyngg). Same Arms as Hedd Molwyngg, viz., Sa. a hart pass. ar. attired or.
5) (ap Marchan) (Lord of Duffryn Clwyd, whose dau. and heir, Gwenllian, m. Efnydd ap Gwenllian, one of the XV. Peers of North Wales and Powys). Az. three nags' heads erased in fess or.
6) (ap Tewdwr Mawr, or the Great) (King of South Wales; Founder of the II. Royal Tribe of Wales; derived from Cadelh, King of South Wales, second son of Rhodri Mawr, King of Wales. From Rhys, descended the Princes and Lords of South Wales, whose male line terminated with Thomas ap Llewellyn, last Lord of South Wales; his dau. and heiress, Ellen, m. Griffith Vychan, Lord of Glyndwrdwy, representative of the Princes of Powys, and was mother of: I. Owen Glendoweb; II. Tudor at Griffith Vychan, Lord of Gwyddelwern, from whom derived, maternally, the Hughes's, of Gwerclas). Gu. a lion ramp. or, a border indented of the last.
7) (ap Edryd) (descended from Marchudd, Lord of Abergelleu, founder of the VIII. Noble Tribe of North Wales and Powys. Descendants: 1) Conways, of Brynewirn; 2) Conways, of Nant; 3) Conways, of Pulh-y- Crithan; 4) Conways, of Croes Einion; 5) Pughs, of Cefn-y-Garlleg; 6) Lloyds, of Diserth; 7) Lloyds, of Dol-yn-Edeirnion; 8) Wynnes, of Dyffryn-Aled; 9) Lloyds, of Forest; 10) Lloyds, of Pontriffith; 11) Lloyds, Lords Mostyn). Or, on a chief gu. three roses ar.